The Latakia front has continued to witness fighting between Syrian government forces and the rebels. On the side of the Syrian government forces are some fighters in Iranian-backed formations. I have already documented one such case of a fighter from the 313 Force who was killed on the Latakia front recently. A few days ago, a fighter from the ranks of another formation- Fawj Qamr Bani Hashim ('The Moon of Banu Hashim Regiment')- was killed on the Latakia front. Fawj Qamr Bani Hashim is part of the Local Defence Forces and is tied to Iran's Islamic Revolutionary Guard Corps (IRGC). The slain fighter's name is Mamdouh Abd al-Lateef Afdheel.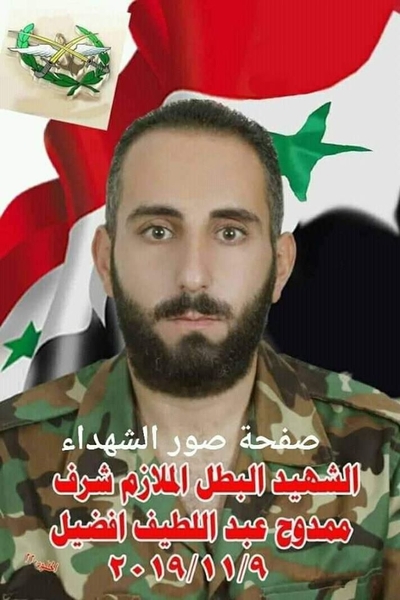 Mamdouh was born in 1988 and was originaly from the Ehsim area in Idlib countryside. He bore arms from 2013 and initially worked in the ranks of the forces affiliated with Hezbollah and then moved to the IRGC-affiliated forces. Among the areas he fought in prior to the Latakia front: the Idlib and Ariha battles in 2015 (when the rebels took over the area) and the Deir az-Zor campaign in 2017 (including the recapture of the eastern Deir az-Zor town of al-Mayadeen).
Mamdouh was killed on 9 November 2019 in the Tallat Rasha area in north Latakia countryside. He was killed while on a reconnaissance operation as a result of enemy mortar rounds.