As I have noted the Latakia front has seen fighting recently in which Iranian-backed formations have participated, such as Fawj Qamr Bani Hashim and the 313 Force. Saraya al-Ra'ad is also participating, and earlier today lost a commander on the Latakia front called Rabi' Ziyad Albam, commander of Saraya al-Ra'ad's third squadron.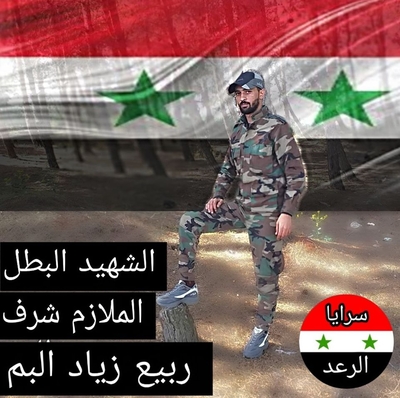 Originally from Ma'arat al-Nu'man in Idlib and born in 1989, Rabi' was originally in the Republican Guard before joining Saraya al-Ra'ad approximately from the time of its inception. Rabi' had fought in the following areas prior to the Latakia front:
- Damascus countryside
- Deraa
- Hama
- Palmyra
- Deir az-Zor
The latter three engagements were of course during his time in Saraya al-Ra'ad.
Rabi' was killed as a result of mortar fire on the al-Kabbani front in north Latakia countryside.