Time and again, we hear reports of Israeli strikes against various personnel and installations in Syria, and we hear that these strikes are against Iranian/Hezbollah or 'Iranian-linked'/'Hezbollah-linked' targets. The world generally accepts these strikes as a matter of routine and moves on, with no real accountability for Israel's actions or the claims made regarding those attacks, even when they have real world impacts on e.g. civilians who were unable to use Damascus International Airport for a time on account of damage inflicted by Israeli strikes. The only line Israel is not supposed to cross is hitting Russian, Turkish or U.S.-led coalition military personnel and assets in Syria.
Should we really take Israeli claims regarding its strikes and associated rumours that seemingly support those claims at face value? Is the intelligence and information Israel acts upon in conducting those strikes always correct? After all, the world does not simply take the United States' word regarding every strike it has conducted in conflict zones like Iraq, Syria and Afghanistan. Indeed, with regard to Afghanistan for example, it has now been established that the last drone strike the United States conducted in that country misidentified the target as a supposed terrorist. So on what basis should we accept that the target of every Israeli strike in Syria is as Israel and the country's supporters claim it to be? It would seem to me that Israel has very little to lose by conducting a strike based on erroneous information, because from Israel's perspective, such a strike could be seen as embodying a 'better safe than sorry approach,' and there is no real accountability and there is no real prospect of independent investigative work into the strikes and their targets. A more cynical reading could view apparently erroneous strikes as simply deliberately punitive against the Syrian government.
One recent case to consider is Israel's assassination of Farid Fu'ad Mustafa (Abu al-Walid), who hailed from the Druze village of Hadr in Quneitra province. The village of Hadr has well over 100 'martyrs' during the Syrian civil war, and remained steadfast with the Syrian government even as considerable parts of the province fell out of its control. The insurgents, some of whom received Israeli support, launched multiple attacks in the direction of Hadr, all of which were repelled. Farid was among the defenders of Hadr and he was known by the nickname of "the scorpion" (al-'Aqrab). For the outline of his life here, I am mainly relying on the testimony of a close friend of his who spent time with him and is himself supportive of Hezbollah and the 'resistance' in general.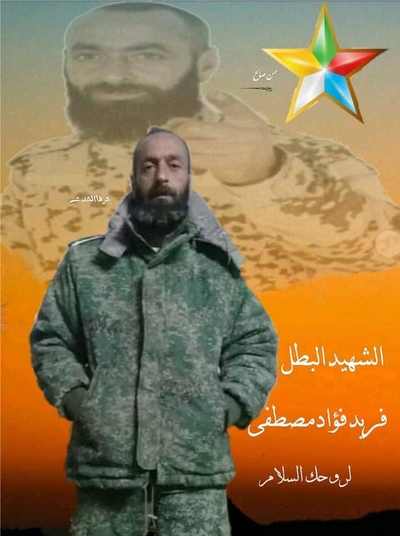 Farid was born on 20 November 1976. He ran a service taxi taking passengers from Hadr to Damascus and was a poor man. He completed Syrian army service prior to the outbreak of the war. He had four children: three daughters and one son. With the onset of the war, he enlisted with the local popular committees affiliated with the Syrian military intelligence branch located in Sa'sa' (220). Of course one may simply dismiss this as some kind of cover or front for Hezbollah etc, or say that he was affiliated with Hezbollah. But I myself have seen records of the office for the affairs of the martyrs and wounded in Hadr. These records include documentation of people who died fighting for "auxiliary" forces, and those records include a number of people who died defending Hadr and were affiliated with branch 220 auxiliary forces. Given the proximity of Sa'sa' to Hadr, it would make sense that the military intelligence branch was involved in organising auxiliary forces for defence of the locality.
Further, I see no reason to deny an affiliation with Hezbollah (per his friend's testimony) if he had indeed been affiliated. After all, when Mashhur Zaydan (also from Hadr) was assassinated by Israel in 2019, the testimony I gathered regarding his life did not hide the Hezbollah-link but on the contrary it was a source of pride. So also for the case of Ala' Nasib Shibli, who was from Hadr and part of the al-Wa'ad al-Sadiq Forces formation affiliated with Hezbollah (again, a source of pride from the testimony I gathered). He died fighting in Deraa in 2015 but is listed in the Hadr martyr records as having been part of the auxiliary forces of branch 217 (Badiya branch) of the military intelligence, in an anomaly that stands out from the other entries for those from Hadr who died fighting for auxiliary forces. In a similar vein note that Mashhur had a working relationship with the Republican Guard.
It may be claimed that Farid was some kind of "collaborator" or "cooperator" with Hezbollah or "close" to Hezbollah rather than being strictly affiliated, but a claim like this is vague and means very little without further information. What specifically was he doing if he was a collaborator or cooperator? Was he recruiting people for the group, and if so to do what exactly? Was he providing intelligence on Israeli positions in the occupied Golan, and if so what information would he have had that Hezbollah could not have gotten from elsewhere or through simple observation of the Golan? Was he raising money for Hezbollah, and if so, how would such efforts have really helped the group in any way? And what evidence substantiates these claims? One claim I have seen thus far that goes along the collaborationist line (as opposed to claiming he was affiliated with Hezbollah) seems to suggest that he was engaged in drug dealing and drug smuggling to raise money for Hezbollah. If so, that seems a very trivial basis on which to assassinate him. I have also been notified since publication of another claim that he acted as lookout and helped make explosives, but again, we should know the proper basis for this claim, particularly as it goes back to Israeli outlet Channel 12 that in turn just seems to be drawing on general Arabic-language social media rumours.
I raise these questions to highlight the importance and need for specific information rather than generalised assertions when it comes to cases like this. On multiple occasions also we see assassinations in Deraa and accompanying claims that those assassinated are Hezbollah "agents" or "collaborators," but we similarly see very little specific detail and evidence to substantiate those claims. I myself have seen some of the nonsense that can be spun in this sort of field: here for example is a report claiming I am affiliated with Iraq's Hashd Sha'abi and have visited the Yarmouk Basin in west Deraa countryside to plant cells and encourage conversion to Shi'i Islam. I have also seen a friend in Deraa threatened on the basis of similar false rumours.
Turning back to Farid's life: Farid participated in all the battles to defend Hadr. His military specialisation was operating the 12.7 mm machine gun, and the 'scorpion' was the nickname he used on military communications. In addition, he participated in the defence of Suwayda' province against the attacks of the Islamic State in 2018. There is no evidence he participated in any fighting outside the areas of Quneitra and Suwayda' (unlike Mashhur and Ala'). After the Suwayda' events and the restoration of Syrian government control over southern Syria, he left military work and returned to the civilian life, working on a minibus that he did not own. He sometimes spoke rhetorically about liberating the Golan from Israel's occupation, and he was well known among the insurgents.
I write this post not as an arrogant assertion that my accounts of events are always right but as a call for greater openness and debate. I believe the time has come for observers to raise more demands for information and calls for accountability regarding Israeli strikes in Syria, rather than just taking Israeli claims and associated rumours at face value, accepting those strikes as implicitly legitimate and normalising them like the weather. It may well be impossible to conduct the kinds of independent investigations that have been done regarding e.g. U.S. strikes in Iraq, Afghanistan and Syria, but that does not mean we should not make some efforts at further inquiry where feasible. Such an approach is not only in the interest of accountability but also preserving and advancing historical memory.
Below I include some more photos of Farid and his funeral.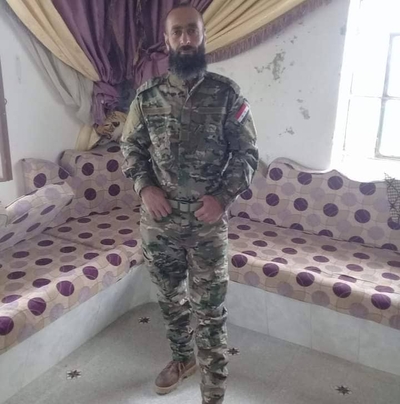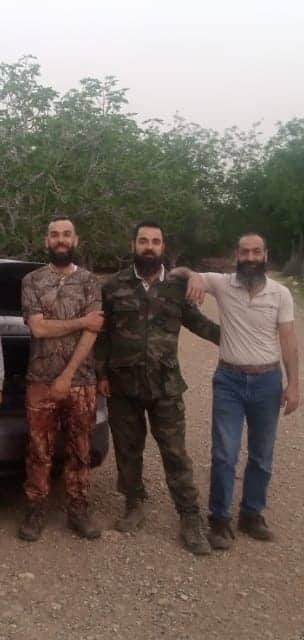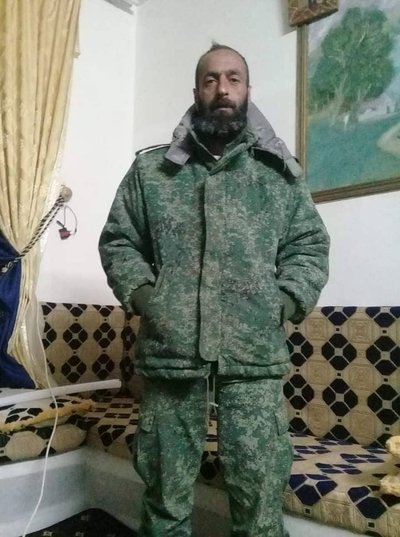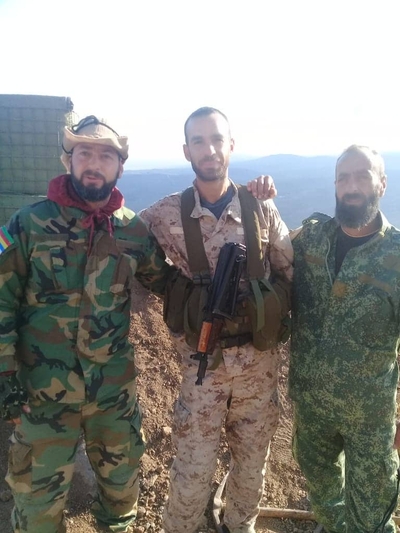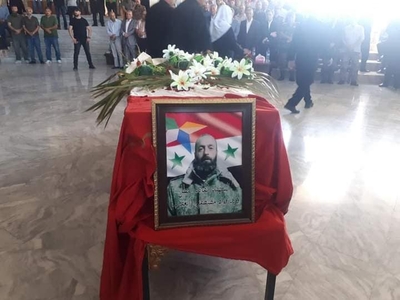 [NB: this post has been updated as of 8 July 2022].