It is important to encourage local voices on the ground in various parts of Syria to write articles to convey events in their localities. In this case, I present to you an article by a friend who is from the originally Druze village of Qalb Lawza in the Jabal al-Summaq region of north Idlib countryside (which is presently controlled by Hay'at Tahrir al-Sham) and still resides there.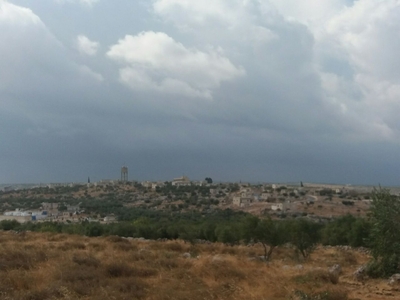 Qalb Lawza 2019:
This beautiful village is located in the northwest of Syria and in Idlib province at a distance of 5km from the Syrian borders. It is affiliated administratively with the Harem area: Qawqania district. There are 300 rural houses in the village, and around 3000 inhabitants. Its original inhabitants are of the Muwahhidun Druze and now residing in it are a number of the displaced Syrians from the Syrian provinces of Deir az-Zor, Raqqa, Aleppo, Homs and Hama in addition to Turkistani, Uzbek and Tajik muhajireen, after a number of its inhabitants fled as a result of the war.
Most of its people work in agriculture and agriculture of olives (mostly) and their material standard of living is poor. There is primary and intermediate education in the village. There is a hospital in the village.
Its people are suffering from the situation of lack of water and the difficulty of securing it with ease through tankers.
There is an electricity generator for the people of the village.
This village has been renowned for the presence of its wondrous ancient church that goes back to the 5th century AD and it is a unique building model in the world.
The naming of the village goes back to Qasr Lawza, as there was a big almond tree beside the church. As for the Roman name of the village, it is still unknown.
The village is at an elevation of 700m above sea level at the top of Jabal al-'Ala or what is called Jabal al-Anwar or al-Summaq previously.
In it grow all types of natural land flowers. And there are fig and almond trees.
Its inhabitants are concerned with raising sheep and goats. Its inhabitants are renowned for the good and simple nature and generosity and love for guests.
The weather is cold in the winter in the village. And in spring you find all colours in its lands. And the summer is very fine weather.
In 2015 the village was exposed to a massacre that took the lives of 31 innocent farmers who were killed at the hands of those of obscurantist takfiri thought.
A number of the village's sons are migrants in Lebanon, Suwayda' and Jaramana and among them are government employees and volunteers.
In 1812 the village was exposed also to an incident of forced displacement following which a great proportion of its families migrated to al-Sham.
Around the village are six archaeological villages affiliated with it and 20 rock olive oil pressers.