A previous post on this site looked at the situation in the originally Druze village of Qalb Lawza in the Jabal al-Summaq area of north Idlib countryside, featuring an article written by a friend still residing in Qalb Lawza. This post presents an article on the village of Banabel, also originally Druze and located in the Jabal al-Summaq area. Banabel contained a historic column that was destroyed in April 2018. The information for the article is derived from someone residing in Banabel.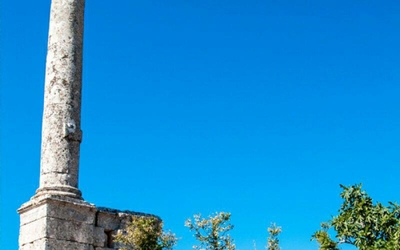 Banabel
The first village of the villages of Jabal al-Summaq, at an elevation of 650 metres above sea level. From the side of the north it is located above the town of Harem and is at a distance of 2 kilometres from the borders with Turkey.
Its original inhabitants are of the Muwahhidun Druze.
And in it are 100 households approximately and 1500 inhabitants. In it are Arab IDPs from north Homs countryside and from Aleppo countryside, and some households of Turkistanis.
Its people are simple and distinguished by the beauty of the face. They live a poor life and work in olive growing and gathering firewood. They are suffering from lack of water.
In the village are beautiful remains going back to the Roman era, and in it is a long antique column that lies to the south of the village: it was exposed in 2018 CE to destruction by ignorant people and thieves of archaeological heritage.
And the meaning of the name Banabel is the house of God as they say.
There are many of its sons who are migrants in search of a living in Lebanon and Damascus.