The southern Syrian province of Deraa has seen a military escalation as armed locals have seized a number of checkpoints of Syrian government forces in localities across the province and have taken many military personnel as prisoners. There are currently negotiations to resolve the crisis whose roots go back to the situation in Deraa al-Balad, but in the event of the failure of these negotiations a full-scale military campaign may be launched by Syrian government forces. To provide a perspective on these events, I interviewed today Firas Issa who is affiliated with the Syrian army's Fourth Division. Any parenthetical insertions in square brackets are my own.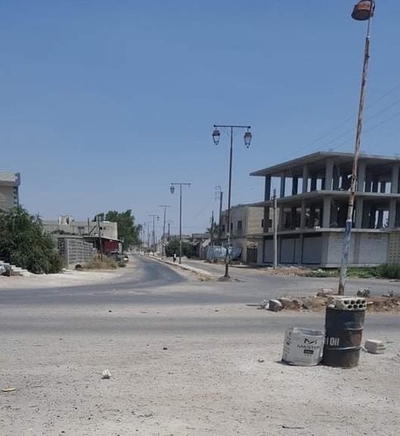 Q: What is the current situation in summary? And what are the reasons for the recent problems?
A: The situation in summary is that the people and notables of Deraa al-Balad a week ago decided to hand us the arms of the insurgents [lit. 'armed men']. They broke their agreement and did not hand us the weapons. We undertook an assault operation on Deraa al-Balad after negotiations in which they violated all of the terms. The insurgents in all the areas of Deraa carried out an attack on checkpoints and military points, and they have asked to negotiate again. We have asked in our conditions for all the insurgents rejecting taswiya [regularisation of status] to be deported to northern Syria- Idlib, and for all weapons to be handed over and for security to enter Deraa al-Balad. And now there is a ceasefire until tomorrow. If they do not implement our conditions, we will restart the military campaign.
Q: Is it true that the insurgents have seized a large number of checkpoints of the Syrian Arab Army and taken prisoner a large number of military personnel?
A: It is true: there are points spread out for the Fifth and Ninth Divisions and the Military Security [military intelligence]. The insurgents seized a number of points. They [the personnel] were not expecting the attack to come on all the villages and points in Deraa.
Q: And with regards to the military campaign which forces will lead them? I mean in the event the negotiations fail.
A: The forces of the Fourth Division are leading the operations in Deraa, and if the negotiations fail, the Fourth Division will implement military work that will be a lesson for the one who does not heed.
Q: Finally do you have a message for the insurgents in Deraa?
A: Reconcile: it is the best state and it is better for the civilian people to avoid the fire of war. You are shielding yourselves through the civilians but in the end your losses will be great in this activity. The doer of evil can go to the north and engage in his brigandry there in Syria. We do not want brigands and assassinations and liquidations every day and other day.