The town of Palmyra in the Homs desert is renowned for its ancient ruins and also came to wider global attention when the Islamic State first seized control of the area in 2015. The town was then retaken by Syrian government forces, but fell to the Islamic State again in December 2016. Palmyra was retaken again by Syrian government forces in March 2017 and has remained under the control of the Syrian government since that time.
A more neglected aspect of coverage of Palmyra has been the extent of return of civilian life to the area. In this regard, on 16 February 2020, I conducted an interview with a member of the Syrian government-affiliated town council regarding the current situation in Palmyra. Any parenthetical insertions in square brackets are my own.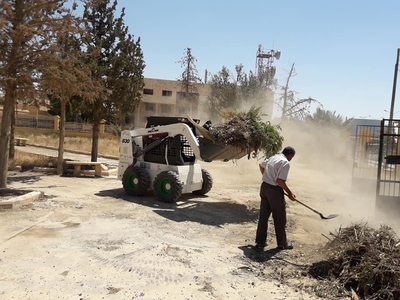 Q: Currently what is the number of inhabitants in Palmyra? And what was the number before the war?
A: Around 2000 inhabitants and there is daily increase. Before the war 100,000 inhabitants. There are 500 families: on average it has been reckoned 4 persons in each family.
Q: So there is only 2% of the original inhabitants currently?
A: The inhabitants are awaiting the end of the winter season in preparation for return.
Q: How is the situation of the national grid electricity and the water in the town?
A: The electricity is made available 24 hours and is rarely cut off. The water is available for this number [of people] in a very good sense and now an electricity transformer for al-Abar al-Ami [an area] is being installed that will supply the town and the quantity of water will be covering the whole town when the people return.
Q: What is the number of members of the Palmyra town council? And what are the most important projects of the council since the liberation of the town from the Dawa'esh [Islamic State guys]?
A: Their number is 7 with the head of the council. Renovating the municipal office building, removing ruins from the streets and neighbourhoods of the town, lighting up the streets.
Q: What are the biggest challenges in terms of the services and humanitarian situation?
A: All matters will be resolved when the people return. The return of the people is the aim currently.