As noted previously, Darayya lies to the southwest of the centre of Damascus city. It was subjected to extensive damage as a result of the war, though the Darayya town council has made some efforts to restore services to Darayya and facilitate the return of some of the original inhabitants.
For some additional testimony on the current situation in Darayya, I conducted a very brief interview on 2 September 2019 with Marwan Obeid, who is the head of the Darayya town council.
Any parenthetical insertions in square brackets are my own.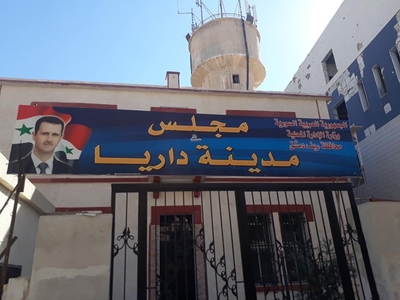 Q: Currently what is the number of inhabitants in Darayya town?
A: 10,000.
Q: What was the number before the crisis?
A: 300,000.
Q: How is the situation of electricity and water in the town?
A: The water and electricity are [at] 20%.
Q: Roughly how many hours does the national grid electricity come in the town?
A: 16 per day. But [it only covers] 20% of the area.
Q: The biggest accomplishments of the town council recently?
A: Renovating governmental buildings and removing ruins.
Q: The biggest challenges currently?
A: Cash flow for reconstruction.