Darayya lies to the southwest of the centre of Damascus city and was subjected to extensive damage as a result of the war in Syria. Indeed, for a while after Darayya was fully recaptured by the Syrian government in August 2016, the area remained a military zone that could only be visited with a special permit.
The situation today is different as the Syrian government now fully controls the Damascus area. While some people have returned to Darayya, it is only a very small proportion of the number of inhabitants who lived in the area prior to the war. Indeed, restoration of any ordinary life is proceeding very slowly, to say the least.
To learn more about the current situation in Darayya, I interviewed a member of the executive office in Darayya (through the page 'The Technical Office in the Town of Darayya'). This interview was conducted on 15 August 2019 and is slightly edited and condensed for clarity. Any parenthetical insertions in square brackets re my own.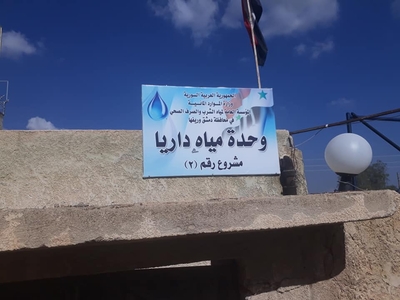 Q: Currently what is the number of inhabitants in Darayya? And what was the number before the events?
A: The number of inhabitants of the town before the crisis was more than 350,000. And now it is around 1500.
Q: What is the general services situation in Darayya?
A: Regarding the basic services: in the main streets the sewage lines are operational and there is electricity in the town centre. And work is being tracked daily. The water network has been pressurized in part of the town.
Q: In the centre of the town for how many hours does the national grid electricity come?
A: Like any other place for electricity.
Q: So ordinary rationing so the electricity comes for most of the time.
A: Yes ordinary rationing.
Q: Where are most of the displaced from Darayya?
A: Around Darayya town.
Q: For what reasons have most of the displaced not returned to the town?
A: Because it [the town] is not ready.
Q: And also many of the people do not have the money to repair their homes?
A: Of course the weakness of the material condition, and they cannot repair their homes.
Q: The one who wants to return to the town needs security agreement from the relevant authorities?
A: Yes.
Q: So from the 4th Division Security that is.
A: The relation with this matter is confined to the governorate.
Q: What are the main challenges from the realm of services and the humanitarian situation currently?
A: [Restoring] the basic service offices and the electricity and water network, as well as repairing the roads.
Q: Are there any international aid organizations helping you in the efforts to restore services to the town of Darayya?
A: Aid organizations have not entered the town of Darayya.