Hay'at Tahrir al-Sham's fighting capabilities are mainly embodied in four 'offensive armies' named for the first four Rashidun caliphs. There are however military forces for the organization that exist outside this framework, such as the group's 'North Brigade' (Liwa al-Shamal).
Earlier this month, Liwa al-Shamal posted a recruitment announcement, which I translate in full below.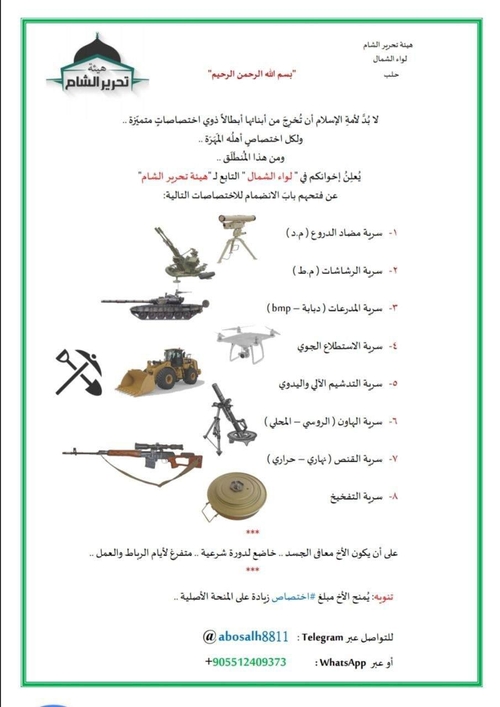 "Hay'at Tahrir al-Sham
Liwa al-Shamal
Aleppo
In the name of God, the Compassionate, the Merciful
The Ummah of Islam must produce from its sons heroes of distinguished specialities. And every speciality has its skilled people. And on this basis, your brothers in 'Liwa al-Shamal' affiliated with 'Hay'at Tahrir al-Sham' announce their opening of the door of joining for the following specialities:
1. Anti-armoured vehicles squadron (m.d)
2. Machine guns squadron (m.t)
3. Armoured vehicles squadron (Tank-BMP)
4. Air reconnaissance squadron
5. Automatic and manual fortification squadron
6. Mortar squadron (Russian-Local)
7. Sniper squadron (day-heat)
The brother must be of healthy body, subject to a Shari'i session, and free for days of ribat and work.
Note: the brother will be granted a speciality sum in addition to the original grant.
To contact over Telegram: @abosalh8811
Or WhatsApp: +905512409373"
Eight days ago, I contacted the WhatsApp number given in the advertisement. The contact explained that Liwa al-Shamal was formed a month ago and it performs ribat (frontline manning) in areas such as Rashideen and Mansoura in Aleppo province. It has also participated in operations in the Hama area. While Liwa al-Shamal is within Hay'at Tahrir al-Sham, it functions as an independent formation within its forces. This recruitment advertisement is for people already within Hay'at Tahrir al-Sham. As for the additional sum of money granted that is mentioned at the end, it is a sum of around 10,000 Syrian pounds. It is hoped this additional grant will be granted on a monthly basis for recruits. The normal monthly salary for a Hay'at Tahrir al-Sham fighter, it should be remembered, ranges from 38,000-45,000 Syrian pounds.