In the recent fighting in Idlib province and its environs, the insurgent groups lost ground to Syrian government forces, including towns such as Morek in north Hama province and Khan Sheikhoun in south Idlib province. This fighting also saw many fighters killed on both sides though the losses appear to have had a greater impact on the insurgent side.
In this context, it is unsurprising that Hay'at Tahrir al-Sham, the main insurgent group in the area, is launching a new recruitment campaign for its main forces. Today, the group disseminated a recruitment advertisement on social media, which I feature below with translation.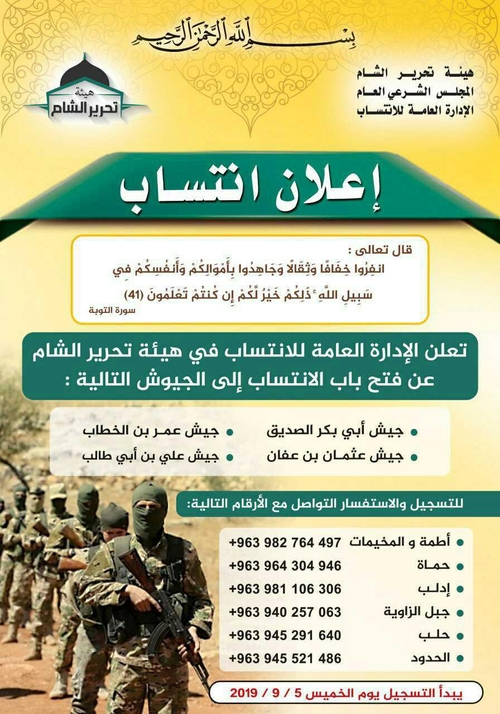 "In the name of God, the Compassionate, the Merciful
Hay'at Tahrir al-Sham
General Shari'i Council
The General Administration for Recruitment
Recruitment announcement
The Almighty has said:
"Go forth, lightly and heavily armed, and wage jihad with your wealth and lives in the path of God. That is best for you if you know" (41): Surat al-Tawba.
The General Administration for Recruitment in Hay'at Tahrir al-Sham announces the opening of the door of recruitment to the following armies:
. Army of Abu Bakr al-Siddiq
. Army of Omar bin al-Khattab
. Army of Othman bin Affan
. Army of Ali bin Abi Talib
To register and inquire, contact the following numbers:
. Atmeh and the Camps: +963 982 764 497
. Hama: +963 964 304 946
. Idlib: +963 981 106 306
. Jabal al-Zawiya: +963 940 257 063
. Aleppo: +963 945 291 640
Registration begins on Thursday 5 September 2019."
I myself inquired with one of the recruitment numbers about the recruitment conditions. The conditions, according to the recruitment contact, are as follows:
. The recruit should be above age 16.
. The recruit should be single and not married.
. The recruit should not have any ailments that obstruct him from undertaking 'his jihadi obligation.'
. The one recruited to the armies does not have a right to move to a brigade. He can only move within the armies.
For reference, the four Hay'at Tahrir al-Sham armies mentioned in the advertisement refer to the first four Rashidun ('rightly guided') caliphs in Islam. These four armies for Hay'at Tahrir al-Sham, as the recruitment contact explained, are 'offensive' forces for the organization. These armies 'resemble each other' more or less but within each army there are speciality functions.
I will add as a final note that 'sub-armies' have been documented within the four main armies: for example, Jaysh al-Jabal ('The Mountain Army'), which at one point was affiliated with the Army of Othman bin Affan and was then transferred to the Army of Abu Bakr al-Siddiq.
----------------------------------
Update (6 September 2019): Another of the recruitment numbers contacted specified that the conditions of recruitment are that the recruit should be of sound body and be vouched for. As for monthly salaries, the salary is 45,000 Syrian pounds for the married recruit and 38,000 Syrian pounds for the bachelor.