As noted in a previous post, the locality of al-Fu'a in Idlib countryside was evacuated of its original Shi'i inhabitants last summer. The village has since been resettled primarily by Syrian IDPs (Sunni Muslims, of course). A local council was formed in al-Fu'a to provide services to the people who now live in the village. This local council was recently reconstituted. Like other local councils in the area, it is affiliated with the Salvation Government that is backed by Hay'at Tahrir al-Sham.
To learn more about the services and humanitarian situation in al-Fu'a, I conducted an interview with the head of the reconstituted local council in al-Fu'a. This interview was conducted on 30 July 2019.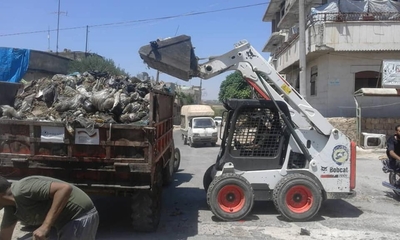 Q: Firstly can you give us a general overview of the situation in al-Fu'a?
A: Brother the situation of al-Fu'a is tired from every aspect: aid organizations, malnutrition, cleaning and many things like the water in the wells but there are no aid organizations to operate the wells. We need healthcare and children's milk and diapers. This is the situation from all aspects.
The number of inhabitants of al-Fu'a is 4700 families: averaging 27,000 people. 1450 families of new IDPs from Hama and south Idlib countryside.
Q: Can you tell me a little about the local council? The number of members and its offices? And what are the services the council is trying to offer?
A: 14 members. The offices:
Services office
Medical office
Relief office
Surveys office
Financial office
Public relations office
We don't have cleaning vehicles or aid organizations supporting cleaning. Cleaning is done through hiring.
The council is entirely composed of volunteers.
Q: And the people in the village pay symbolic rent fees to the council?
A: 15% of them. The remainder avoid doing so. And the council has cleaning debts. Of course the whole state of affairs of the people is tired and displaced. This is everything.
Q: And there are problems with the wells? The people have to buy water from tankers?
A: Of course people are buying water from tankers. The wells need general repair and submersible pumps.
Q: What is the electricity situation in the village? Are the generators affiliated with the council?
A: No the generators are private and not affiliated with the council.
Q: And the schools are open and operating?
A: Of course the schools are operating but there is no support for them and they need much servicing.
Q: Yes servicing like renovation etc.
A: Exactly.
Q: Generally is there a reason for lack of cooperation with aid organizations? The aid organizations are afraid to work in al-Fu'a?
A: No.
Q: I mean fear of bombing.
A: Until now praise be to God there is no bombing of al-Fu'a since it was liberated.
Q: Meaning its liberation from the Shi'a and Iranians.
A: Exactly.