The northwest of Syria has recently seen military operations by the Syrian government with support from Russia. During those operations, Syrian government forces recaptured a number of localities in north Hama countryside from the rebels (e.g. Qal'at al-Mudiq). As of the time of writing, a ceasefire has reportedly come into effect on the Hama and Idlib countryside fronts.
To understand the recent operations and their purpose, on the evening of 16 May I interviewed Fadhil Daghestani, a media guy for Russia's Anna News who has been on the fighting fronts in north Hama countryside. The main lesson here is that Russia will not tolerate continual flouting of its understandings with Turkey regarding the northwest region and an indefinite jihadist presence that harasses Syrian military and Russian positions.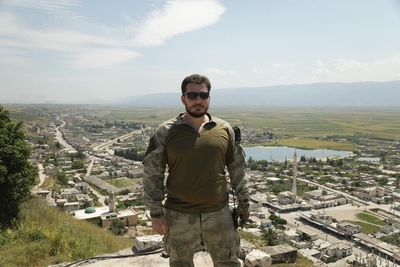 Q: What are the aims of the current operations? Liberating all of Idlib or specific areas only?
A: The insurgents have not complied with the Sochi agreement and have fired mortars on safe areas and Hmeimim airbase. They have also launched various attacks on the points of the Syrian army from their areas in north Hama, the al-Ghab plain and northeast Latakia countryside. This operation aims to put pressure on the insurgents and implement the agreement by force, while opening the Aleppo-Latakia and Aleppo-Damascus highway.
Q: Will the Turkish points from the north Hama countryside and south Idlib countryside?
A: The Turkish points have withdrawn from the areas attacked by the Syrian army.
Q: And what are the main forces participating in the attacks?
A: The elite forces in the Syrian Arab Army with air support from Syrian and Russian fighter aircraft.
Q: So there is no participation from Iranian forces or Hezbollah in the attack?
A: No, the forces on the ground are entirely Syrian.
Q: And the fighting is very fierce on the fronts and there are many martyrs for the Syrian forces?
A: The Syrian Arab Army is adopting a plan of fire clearing on the areas it assaults, and the insurgents target the advancing forces intensely with heat missiles. But fierce battles in the direct sense have not happened in most of the areas. After the clearing, the insurgents of the opposition and terrorist organizations withdraw, and their reliance is on explosives and counter-attack with inghimasis [commandos].
Q: And in the end does Russia support liberating all of Idlib?
A: Russia supports preserving the unity of Syrian lands and destroying the extremist terrorist organizations and in particular the Chechens and Turkistanis.