Readers may remember that back in 2017 I wrote an account of the small and obscure 'Islamic Resistance in Syria' group called al-Ghalibun. For that article I relied in significant part on the testimony of a friend who had been in the group.
Since it is always useful to have additional testimonies and compare details, on 30 May 2019 I interviewed my friend's cousin Ali Khaloof. He was also in al-Ghalibun and is presently a Syrian army reservist. The interview is slightly edited and condensed for clarity. Any parenthetical insertions in square brackets are my own.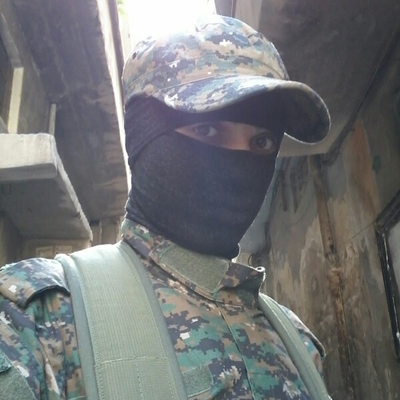 Q: When were you born and where do you live?
A: 1995. Dummar in Damascus.
Q: And how was life in Syria before the crisis?
A: By God it was good and the state of affairs excellent.
Q: It was a cheap life etc.
A: Yes of course. Livelihood was better.
Q: And when did you bear arms for the first time against terrorism?
A: From the beginning of the crisis. I was studying. I was studying in an intermediate industry institute. But in terms of real participation on the ground it was in 2012 that I began to do so most likely.
Q: So you left study to bear arms?
A: I was studying and fighting at the same time brother. And I took high marks, and I graduated in engineering. I was studying, and then at the time of exams I would go and do my exams and then return to the fighting. Praise be to God I graduated and I got through things smoothly.
Q: I see, but in what year did you graduate from the institute? 2012?
A: No. 2014/2015.
Q: I see. So you were a fighter and student at the same time.
A: Yes brother.
Q: Which formation did you join first?
A: The National Defence formation [NDF]: Damascus centre.
Q: And in which areas did you fight within this formation?
A: Ma'aloula, al-Mo'adhimiya, Quneitra, Jobar, al-Dukhaniya, Yabroud. By God we went to many places brother.
Q: And for what reasons did you bear arms? In defence of the homeland for example or this kind of thing.
A: Defending the homeland in the first instance of course.
Q: And after the NDF you joined al-Ghalibun?
A: Yes I left the NDF and joined al-Ghalibun.
Q: Why did you join al-Ghalibun?
A: Why did I leave and join them?
Q: Yes.
A: The leadership present in it was better, and work with them was better like thought, work on the ground. Our operations were better.
Q: And the salary was better?
A: It was better of course and the supply of ammunition was better. Also, what we sought was made available to us regarding ammunition. And we were fighters also working like an association so that what we lacked, we would buy at our expense. And in truth we were an entire contingent in the NDF: we left together. And we joined through a sayyid from Lebanon who was the one in charge of the entire NDF in Syria, and before we left, we were preparing a comprehensive plan for the formation and framework with the sayyid.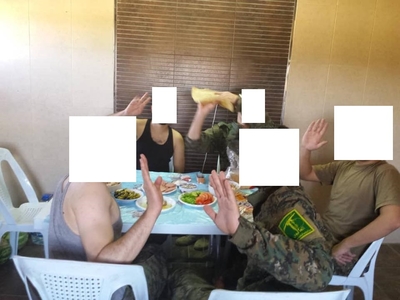 Members of al-Ghalibun. I have erased their faces from this photo to protect their identities.
Q: So you were a group within the NDF.
A: Yes and among them Abu al-Meqdad. He was the leader of my squadron in the NDF.
Q: I see. So we can say that the origin of al-Ghalibun was in the NDF?
A: Yes. We left and formed this formation through the sayyid and our support was from the Iranian Revolutionary Guard [IRGC].
Q: I thought al-Ghalibun was formed in 2012.
A: No no. In 2014, perhaps 2015. I don't remember brother.
Q: Yes exactly. So Abu al-Meqdad was the leader of your squadron in the NDF and he formed al-Ghalibun through one of the Lebanese hujjaj who has wasta with the Revolutionary Guard?
A: Yes, he was the intermediary between us.
Q: You mean the Lebanese guy.
A: We agreed with each other. Abu al-Meqdad between us and the Lebanese sayyid. The agreement and understanding in everything through him. And what the Lebanese agreed with him, of course would be carried out with the Iranian [IRGC].
Q: Yes.
A: Personalities on a high level from the real of thought, politics and ideology.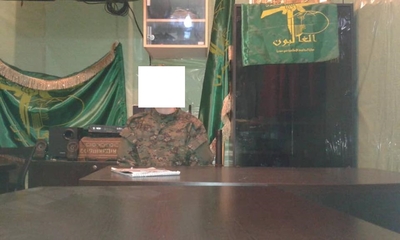 Q: Is it true Abu al-Meqdad converted to Shi'ism a long time ago and participated in the war against the Zionist entity [Israel] in 2006?
A: By God brother this is information I don't know even though we were good companions. And he relied on me as well. God knows best. God grant him success.
Q: It's fine. There is something I forgot to ask: when were you in the NDF, who was responsible for your training courses?
A: Brother we had training courses outside Syria. I did 8 courses. One only in Syria, and the rest in Lebanon and Iran.
Q: You mean the NDF courses.
A: Yes. Training of the party [Hezbollah] and the Iranians.
Q: And when you joined al-Ghalibun you did new courses?
A: No. We no longer had need for training. We became trainers. We trained ourselves by ourselves. We had a trainer's course.
Q: Yes I remember a video of training courses of the members from 2015.
A: Yes it was published on the page [of al-Ghalibun].
Q: This was in Syria as I recall.
A: Yes
Q: And in what areas did you fight within al-Ghalibun?
A: Quneitra and Suwayda' were our front at the time. These areas are where we operated.
Q: Yes. But I also saw that Abu al-Meqdad brought some of the youth from the Sahel [coastal areas] to al-Ghalibun.
A: Yes, your words are true. When we completed the foundations of the framework, a group [of new recruits] were brought.
Q: So new members were recruited.
A: Yes of course and they were trained by us.
Q: But the foundation of the formation is Abu al-Meqdad's squadron within the NDF?
A: Yes, true. But these new guys were because we needed a bigger number. And we trained them before they should participate in any work.
Q: Is it true that members had to be Shi'a to join in the beginning? And later it was allowed for members from all sects?
A: No no. We were all like each other when I was in it but after I left, I do not know what happened. The new recruits, their thought was like ours and everything was fine.
Q: Did you join al-Ghalibun from the beginning of its formation?
A: Yes, I and Abu al-Meqdad are among the founders, together at the same time.
Q: When did you leave al-Ghalibun and for what reasons?
A: You will want to excuse me from these things. There is something among them though: the time of my service came, the flag service [compulsory military service], and my status was not regularized with them [taswiyat al-wad']. I decided to leave and join the flag service. And there occurred some disturbances among us and some of the intentions of the people were shaken.
Q: You joined the regular army.
A: Yes of course. And now I a reservist military man. I finished my service and they have kept me in reserve now. It's been around 5 months for me.
Q: With which army division were you in compulsory military service?
A: 3rd division.
Q: In which areas did you fight within the 3rd division?
A: In Harasta, Jobar, al-Qabun, T4, Hama, Qaryatayn, Qara, and Latakia countryside as well. Jaroud Arsal.
Q: Were you wounded in the battles?
A: Praise be to God, not one wound.
Q: How do you assess the situation in Syria today?
A: Much better than before. Not much is left: Idlib and Hama countryside [to liberate]. The situation was very critical before and praise be to God and by the grace of the friends [foreign allies] and zeal of the youth and fighters among us, the danger has receded little by little. A little while before Syria was going in its entirety: some areas and some fields had entirely fallen but praise be to God now it's much better.
Q: Yes, but life is still expensive? And livelihood difficult? How has the economic siege impacted you?
A: Yes now it is difficult and more expense than before. There is a great impact. Livelihood has become difficult, but it [the difficult life] will disappear with the days if God wills. There are economic plans and there is Russian and Iranian support, except what has been granted in respite [Arabic expression: illa ma tafarraj]