I have previously written about some units of the Local Defence Forces (LDF). This post concerns another of them: Rijal al-Qa'im. The group was established in 2015 in the Latakia area but originally operated under another name: Owais al-Qarni, who was deemed to be one of the followers of Prophet Muhammad. The present name (meaning "Men of al-Qa'im") refers to the Imam al-Mahdi. From the beginning, the unit was affiliated with the LDF.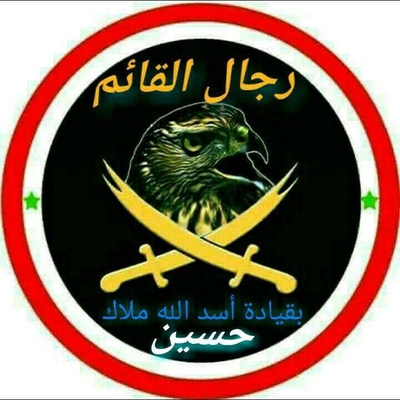 Emblem of Rijal al-Qa'im. The emblem is similar to that of Saraya al-Areen, another LDF unit. The inscription on the bottom reads: "Led by Assad Allah Malak Hussein."
Originally deployed in the Aleppo area, what became Rijal al-Qa'im has fought in a variety of places besides Aleppo, including Deraa, Idlib, Latakia and Hama, as well as the Albukamal area in Deir az-Zor on the border with Iraq. Such a wide range of deployments is common among LDF units. As far as casualties go, Rijal al-Qa'im counts one 'martyr' and some wounded personnel. At the present time, however, there are no assignments for Rijal al-Qa'im.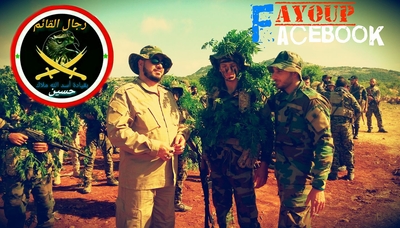 Members of Rijal al-Qa'im.
Like some other LDF units, Rijal al-Qa'im has relations with Iran's Islamic Revolutionary Guard Corps (IRGC). This fits in with the broader picture of the LDF as a joint project between the Syrian military and the IRGC.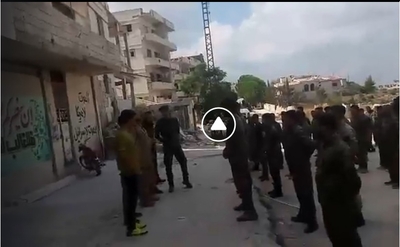 Screenshot from video of members of Rijal al-Qa'im. The graffiti in the background says: "Death to America. Death to Israel."