The Hazaras are a Shi'a ethnic group native to Afghanistan, though many Hazaras reside in other countries (primarily Iran and Pakistan). In the context of the Syrian civil war, Hazaras have become widely known in the media for their role in Iran's Islamic Revolutionary Guard Corps-affiliated Fatemiyoun Brigade, whose personnel are mainly recruited from Hazaras in Iran and Afghanistan.
Less widely known is the Hazara community residing in the Sayyida Zainab area of Damascus. This community predates the war and has been substantially reduced in size because of the war. To explore this community further, I conducted an interview with my friend Abd al-Rashid, who is of Hazara origin and resides in the Sayyida Zainab area. Born in Afghanistan, Abd al-Rashid came to Syria in 2010. He is a baccalaureate student and he is currently 19 years old.
This interview has been condensed for clarity. It was conducted on 25-27 October 2018. Any parenthetical insertions by me are in square brackets.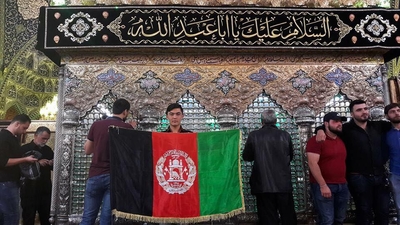 My friend Abd al-Rashid holding the Afghan flag.
Q: When did Hazaras begin coming to Damascus? And for what reasons did they come?
A: Most of them came in 2010. Many reasons. Because there was war in their country.
Q: 2010?
A: Some of them. And most of them present [now]. But there were many who had lived in Damascus for more than 40 years. But I am speaking about those present now. Now 70% are new[comers].
Q: Ah. So you mean that most of the Hazaras who are present right now in Damascus came in 2010? And most of the Hazaras who have left Syria were living in Syria before 2010?
A: Correct. Now present are some of them [who lived in Syria before 2010].
Q: Yes. In addition to the war in Afghanistan, for what reasons did the Hazaras come?
A: Good quality of life; so that their children might receive an education, because over there education is difficult. Their families were afraid. And some for reasons of employment and work.
Q: Yes. I heard that the first Hazaras came to Syria 100 years ago. Is this true?
A: Now you are saying the first Hazara: maybe 200 years ago. I got know to someone of Hazara origin who told me that his ancestors have been here for 120 years. And this person has forgotten our language.
Q: Approximately how many Hazara families were living in Damascus before the beginning of the war?
A: A year before the war began 200 families approximately.
Q: Yes. And how was life in Syria before the war? A lot better than Afghanistan?
A: Very much so: from the realm of education, work and quality of life.
Q: Currently how many Hazara families remain in Damascus approximately?
A: Around 75.
Q: And most of them are of the Hazaras who came to Syria in 2010.
A: Yes most of them.
Q: The Hazaras who fled Syria have have gone to which countries?
A: Most of them to Europe, and some of them to Iran, Iraq and Afghanistan.
Q: Yes. And you don't expect they will return to Syria?
A: There are 6 or 7 families who have returned.
Q: Yes. A small number.
A: Most of them [have gone] to Europe. They have settled there.
Q: During the war, have any Hazaras in Damascus joined the formations defending Sayyida Zainab?
A: There are some of them who have joined. And some of them have been martyred.
Q: How many martyrs approximately? And which formations did they join?
A: Fatemiyoun. 30 martyrs.
Q: Of course most of the mujahideen of Fatemiyoun are of the Hazaras of Iran and Afghanistan. Have any Hazaras from the Fatemiyoun and their families come to Syria in order to settle?
A: No. But some of them got married here.
Q: Ah. So they married the women of the Hazaras in Damascus?
A: Yes.
Q: But those who got married have not settled in Syria?
A: Some of them have gone to Iran, and some of them have settled.
Q: Yes. And there is no possibility that the Syrian government will give Syrian nationality to the Hazaras in Damascus?
A: No. From the outset, they [the Hazaras] have a problem in Afghan nationality. All of them: their passports are old. There is no Afghan embassy in Syria.
Q: Yes. And they don't want Syrian nationality?
A: No.
Q: Is this because Syrian nationality imposes military service?
A: This is one [part] of the problem. But they must firstly resolve the problem of their passports.
Q: Yes. You don't have a passport?
A: We are 8 people on one passport. We can't resolve this problem. We can't travel to any country. Now an old passport is not given a visa. Even Hazaras who have travelled to Iraq have remained for two days in Najaf airport [NB: this was in reference to travel for the Arba'een pilgrimage, which occurred in late October 2018 CE].*
Q: They were detained in Najaf airport? Because of old passports?
A: Correct.
Q: If you could travel to Europe to settle, would you go to Europe? Or do you want to remain in Syria?
A: I would travel [to Europe].
---------------------------------
*Update (18 January 2019): Additional parenthetical note inserted.