To recall, Jaysh Khalid bin al-Waleed is the Islamic State (IS)-linked organization based in the Yarmouk Basin of southwest Deraa province on the border with the Israeli-occupied Golan Heights. In light of the importance of clans in Deraa, it may be tempting simply to equate Jaysh Khalid bin al-Waleed with the clans of the Yarmouk Basin. Indeed, the initial roots of the Yarmouk Martyrs Brigade- the largest constituent group that came to form Jaysh Khalid bin al-Waleed in May 2016- lie in the land-owning al-Baridi clan of the Yarmouk Basin.
However, a number of key people who have been involved in Jaysh Khalid bin al-Waleed have actually come from areas outside the Yarmouk Basin and Jaysh Khalid bin al-Waleed's zone of control. Among these outsiders are the current amir of the group (Abu Tayyim Inkhil, whose name indicates he is from the Deraa town of Inkhil) and all three of his deceased predecessors, beginning from the group's first leader: Abu Hashim al-Shami (from Idlib), Abu Muhammad al-Maqdisi (not to be confused with the well-known jihadi ideologue) and finally Abu Hashim al-Rifa'i (from Tel Shehab). In this post I consider the life of another key figure in Jaysh Khalid bin al-Waleed who was from outside the Yarmouk Basin and Jaysh Khalid bin al-Waleed's zone of control: Abu Qasura Kanakari.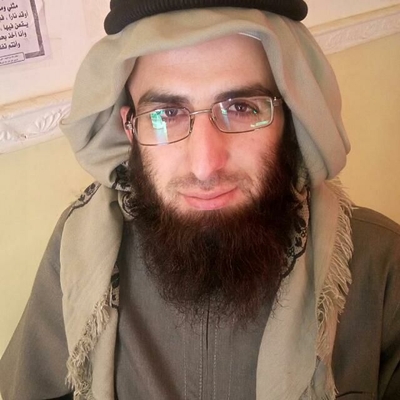 Abu Qasura Kanakari
Abu Qasura Kanakari was among those killed in what was likely a coalition airstrike targeting a meeting of the group's leadership at the end of June 2017. The incident also led to the death of Abu Hashim al-Rifa'i and the appointment of Abu Tayyim Inkhil. As the kunya suggests, Abu Qasura Kanakari is originally from the south Damascus countryside town of Kanakar, which is currently controlled by the regime after agreement to a 'reconciliation' in December 2016. Kanakar is a town with a population of around 25,000 people, most of whom work in agriculture. The main families in it are:
- al-Houri
- al-Sheikh Suleiman
- al-Masri
- Rasheed
- al-Atrash
- Abbas
- Ashour
For most of the details of Abu Qasura Kanakari's life, I am reliant on what I have been told by his father, who is an IS supporter and currently resides in the Yarmouk Basin.
Abu Qasura Kanakari was born in 1992 in Kanakar. He completed secondary education and studied for the first and second year at the Shari'a College in Damascus University. While he was studying in the college, the demonstrations against the regime began (i.e. 2011), and Abu Qasura Kanakari participated in the demonstrations and was arrested. Detained for around 4 months, he was released and then decided to abandon his studies.
It appears that Abu Qasura Kanakari was a jihadist from the outset, influenced by his religious background. At some point in 2012, he joined Jabhat al-Nusra in the Khan al-Shih area that lies to the north of Kanakar along the highway connecting Damascus and Quneitra. Unlike Khan al-Shih, there was no Jabhat al-Nusra presence in Abu Qasura Kanakari's home town. Abu Qasura Kanakari took up a role as a Shari'i official in the organization. During his time there, he apparently played a founding role in the Tajammu' Khan al-Shih operations room and the first Shari'i court for the area.
Around mid-2013, Abu Qasura Kanakari was wounded and left for Jordan to receive treatment. He suffered a spinal injury and thus became partly paralysed. Having left for Jordan, he did not return to join Jabhat al-Nusra. One question that may arise here though is how Abu Qasura Kanakari got into Jordan, which from the time of the establishment of the MOC in Amman to provide support for vetted factions aimed to block jihadists from being able to traverse the borders for reasons such as medical treatment and maintained tight supply lines (in contrast with the Turkey-Syria border in the north). The answer is that in that time, a lot of the rebels with origins in Kanakar belonged to the al-Furqan Brigades, whose founder and leader is from Kanakar, and would enter Jordan in the name of this group. Abu Qasura Kanakari appears to have done the same thing, shedding light on the debates regarding whether Israel and Jordan deliberately let jihadists into their territory to receive treatment: it is possible for rebels to misrepresent their affiliations, with outsiders unable to verify the truth.
Abu Qasura Kanakari remained in Jordan for around 18 months. During this time, it became clear that he was a supporter of IS as he advised his father and his brothers to join IS. Around the beginning of 2015, Abu Qasura Kanakari returned to Syria but did not go to IS' territories in the north and east of Syria or in the south Damascus suburbs, likely on account of difficulty of traversing territory and Abu Qasura Kanakari's injury. Instead, he joined the Yarmouk Martyrs Brigade in its territory in the Yarmouk Basin, knowing that it was connected with IS. This account, it should be noted, conflicts with what otherwise seems to have been the only publicly available information about Abu Qasura Kanakari: namely, the claim he was an amir of Abu Mus'ab al-Fanousi's IS-linked group Jaysh al-Jihad (aka Saraya al-Jihad) from Quneitra that had mostly taken refuge in the Yarmouk Basin by around mid-2015 after being defeated by the rebels in Quneitra. The claim of Abu Qasura Kanakari's affiliation with Fanousi's contingent was denied by Abu Qasura Kanakari's father.
Abu Qasura Kanakari took up residence in the Yarmouk Basin town of al-Shajra. Within the Yarmouk Martyrs Brigade, Abu Qasura Kanakari taught Shari'i courses, unable to play a role in fighting on the frontlines on account of his injury. He taught in the institute of Shari'i sciences in al-Shajra. He also taught students inside his house in al-Shajra and in the mosques in the localities under the control of the Yarmouk Martyrs Brigade. After the formation of Jaysh Khalid bin al-Waleed, he was appointed as a security judge (i.e. dealing with cases concerning internal security: such as those suspected of spying against the organization). He remained in this role until his death.
---------------------------
(28 January 2018): The spokesman for the Furqan Brigades drew my attention to a video in which Abu Qasura Kanakari appeared. His real name was Issam Abbas (hence his father's kunya Abu Issam). The video in question is from Jordan and features Issam meeting his brother Asim. See the screenshot of Issam below.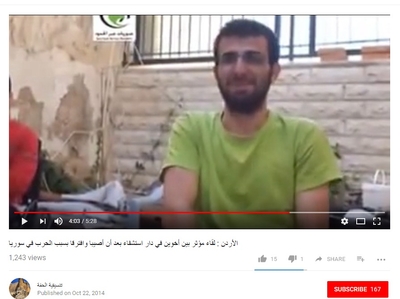 It also appears that Issam Abbas is in the photo below, not wearing his familiar glasses.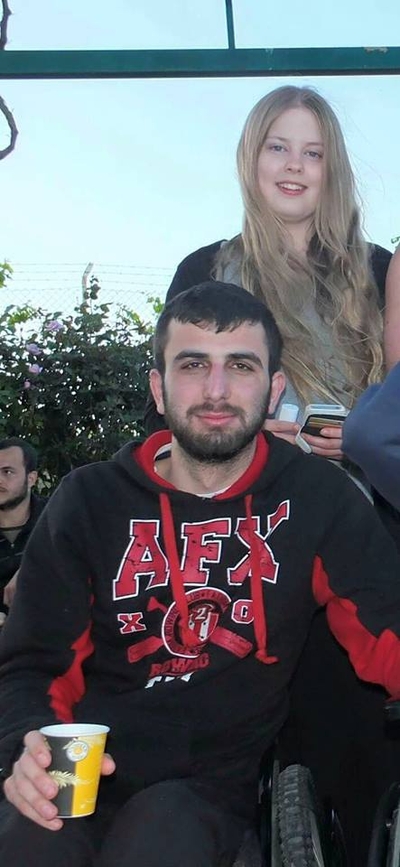 For his part, the Furqan Brigades spokesman says that Issam Abbas used to be in Ahrar al-Sham, though he corroborated that he was wounded in Khan al-Shih and became paralysed. Another account also says that he used to be in Ahrar al-Sham but defected to Jabhat al-Nusra. In any case, in the end he joined what became Jaysh Khalid bin al-Waleed.