Western Neo-Aramaic refers to the Aramaic language as spoken by the peoples of the villages of Jubb'adin, Ma'loula and Bakh'a in the Qalamoun region of Syria. Of these three villages, Bakh'a regrettably became depopulated as a result of the war, while many of the original inhabitants of Ma'loula have still not returned to the village, which was briefly seized by the insurgents in 2013. Jubb'adin on the other hand remains the most vibrant of the three villages.
One sometimes finds descriptions of the 'language of Jesus' being spoken today in reference to the Eastern Neo-Aramaic languages, but in fact linguistically it is the Aramaic of Jubb'adin, Ma'loula and Bakh'a that is closer to what Jesus would have spoken.
In my view, it is important to preserve written recordings of the language. There is of course some scholarly literature that has already done this, though it is not easily accessible for the layperson. The best book dealing with the grammar of Western Neo-Aramaic is Das Neuwestaramäische Grammatik by Arnold Werner and published in 1990, though one should note that the grammar is in German and utilizes the Roman transliteration that is employed for Arabic. More recently, a long English-language textbook by Anas Abou Ismail- a doctor of Syrian origin- was published on the Jubb'adin dialect of Western Neo-Aramaic, which utilizes the Roman transliteration as well as the Arabic and Syriac scripts for recording the language. Although I personally prefer Werner's study for learning the grammar, I recommend Anas Abou Ismail's textbook in particular for the one unacquainted with German but also in general to be studied side-by-side with Werner's grammar if possible.
In this post, which will be a continual project that I will update when possible, I will provide written examples of Western Neo-Aramaic in the Arabic script. My hope is to provide accessible records of the language.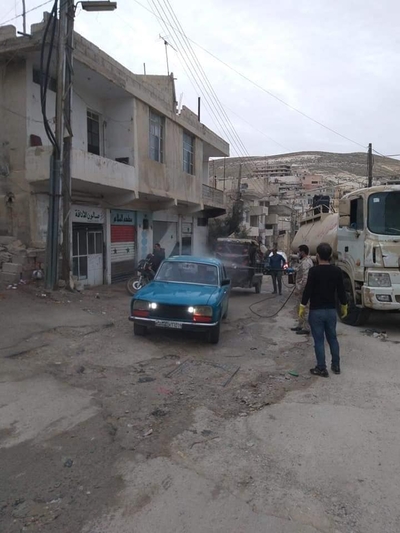 Jubb'adin in 2020.
------------------------------------
Specimen A: On the locality of Jubb'adin (in the Jubb'adin dialect)
غبعود بعيذا مع ذمسك أوث شيت كيلو لكب شمولا
Jubb'adin is some 60 km to the north of Damascus.
اويث باه اوث اعصرلف
In it also are around 10,000 inhabitants.
أورب عيلوثا تـ بلوتا هنن عمّش و طويل و علوش و عبوده وحلبو و ظومن و عيسى و خحولا
The biggest families of the village are Ammash, Tawil, Aloush, Abouda, Halbo, Zhouman, Eisa and Khahoula.
اومثا مشتغلا بصفرا و بتولثا و بزروعا و اويث حبونا خيت بغوربثا .
The majority work in transportation service, the state and agriculture. Also many are in exile.
--------------------------------------------
Specimen B: On the locality of Bakh'a (in the Bakh'a dialect)
بخعة هي قريثا زعورة وحليا حيلا وتيذوه محكين سريونيه
Bakh'a is a small and beautiful village and its people speak Aramaic.
اشم أيمن وعمر عسرواشبع اشن ونرحملا لبخعة
My name is Aymenn and I am 27 years old and I love Bakh'a.
--------------------------------------------
Specimen C: The martyrs of Jubb'adin (in the Jubb'adin dialect)
اسچهت چولحچول شبع وحمشا شهید بغوباعوذ بحربا
Some 75 martyrs have been martyred in Jubb'adin in the war.
----------------------------------------------
Specimen D: Study (in the Jubb'adin dialect)
انا نكور بجومعثا
I study at college
(or انا نتورس بجومعثا, though this expression is considered more influenced by Arabic)
------------------------------------------------
Specimen E: Love (in the Jubb'adin dialect)
انا نرحملخ
I love you
هاچ چرحملي
You love me