Mu'assasat al-Turath al-'Ilmi (Knowledge Heritage Foundation) remains keen to preserve the legacy of what it sees as the sound heritage of Islamic knowledge ('Ilm) and scholarship that existed in the earlier years of the Islamic State. One institution considered to represent that good trend was the Research and Studies Office, which presently does not exist in the organization.
Recently Mu'assasat al-Turath al-'Ilmi released a special internal fatwa published by the office. Unsurprisingly, the fatwa, which deals with the issue of mosques built over tombs, orders for those mosques to be destroyed as the tombs are deemed places of idolatry. The fatwa came in response to a query from people in Aleppo province as such mosques continued to exist in the Tadef area. Note this fatwa was issued in 2015 CE. The fatwa also shows that despite the name change of the institution from 'Research and Fatwa Issuing Diwan' to 'Research and Fatwa Issuing Committee' and then 'Research and Studies Office' (the last name used in this document), the body did not lose its ability to issue fatwas.
I give the original text in full below with translation.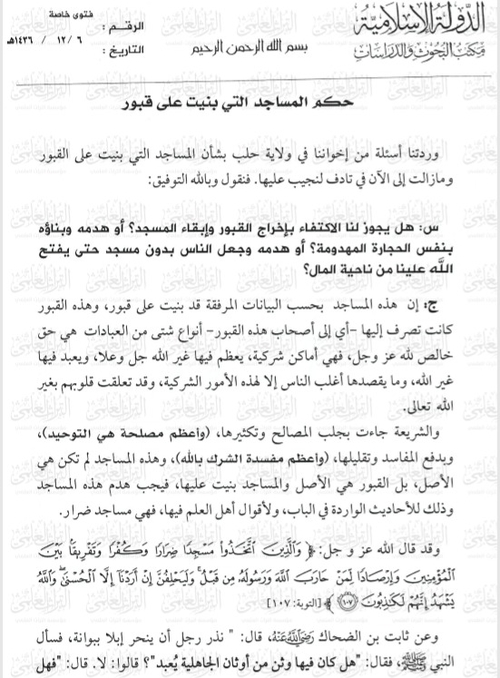 Islamic State
Research and Studies Office
Special fatwa
No.
Date: 6 Dhu al-Hijja 1436 AH
In the name of God, the Compassionate, the Merciful
Ruling on the mosques that have been built over tombs
We have received questions from our brothers in Wilayat Halab regarding the mosques that have been built over tombs and remain until now in Tadef, so we should respond to them. So we say and in God is success:
Q: Is it allowed for us to suffice with removing the tombs and preserving the mosque? Or is it to be destroyed and be built from the destroyed stones? Or is to be destroyed and the people should be left without a mosque until God grants us the financial means?
A: These mosques according to the attachment statements were built over tombs, and unto these tombs were rendered- that is, rendered unto the people of these tombs- different kinds of acts of worship that are an exclusive right for God (Almighty and Exalted is He), so they are places of idolatry, in which one besides God (Exalted and Lofty is He) is glorified, and one besides God is worshipped. And most of the people only intend these places for these matters of idolatry, and their hearts have become attached to one besides God Almighty.
And the Shari'a has brought about interests and augmented them (and the greatest interest is Tawheed) and rejected acts of corruption and minimized them (and the greatest act of corruption is idolatry against God). And these mosques were not the origin, but rather the tombs were and the mosques were built over them, so these mosques must be destroyed and that is for the ahadiths that have come in this regard and the words of the Ahl al-'Ilm, for they are mosques of harm.
God the Almighty and Exalted has said: "And those who have taken a mosque as a place of harm, disbelief and sowing division between the believers and as a station for those who have waged war on God and His Messenger previously, and they will surely swear: 'We only wanted the best.' And God bears witness that they are liars" (al-Tawba 107).
And on the authority Thabit bin al-Dahhak (may God be pleased with him): he said: A man vowed to sacrifice a camel in Bawana, so he asked the Prophet (SAWS).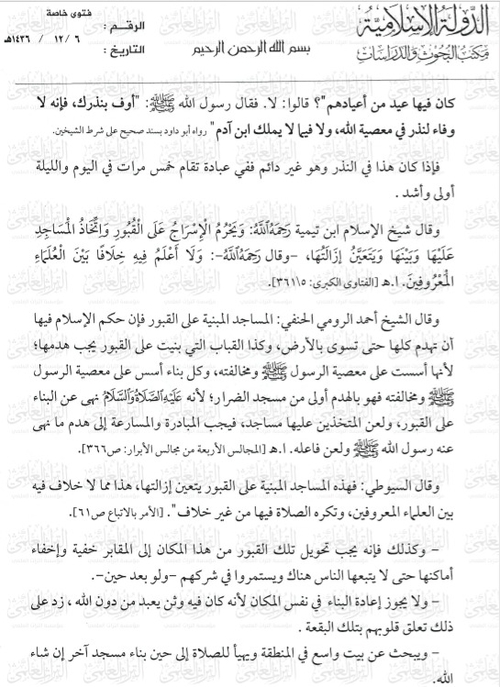 So he said: "Has one of the idols of Jahiliya been worshipped in it?" They said: No. He said: "Has one of their festivals been held in it?" They said: No. So the Messenger of God (SAWS) said: "Fulfil your vow, for there is no fulfilment of a vow in an act of disobedience against God, nor in what the son of Adam does not possess"- narrated by Abu Dawud in an authentic chain on the condition of the two sheikhs.
So if this applies to the vow that is not lasting, it applies all the more so and more strongly to an act of worship established five times in the day and night.
The Sheikh of Islam Ibn Taymiyya (may God have mercy on him): "It is forbidden to place a lamp upon the tombs and take up the mosques over them and between them, and they must be removed." He- may God have mercy on him- also said: "I do not know of a disagreement on that among the well-known 'ulama"- (al-Fatawa al-Kubra 5/361).
And Sheikh Ahmad al-Roumi al-Hanafi said: "The mosques built over tombs: the ruling of Islam upon them is that they must all be destroyed so they are level with the ground, and likewise the domes that were built over the tombs must be destroyed, because they have been established on disobedience and contravention of the Messenger (SAWS). And every building established on disobedience and contravention of the Messenger (SAWS) must be destroyed even before the mosque of harm, because he (prayers and peace be upon him) forbade building over tombs, and cursed those who took up mosques upon them, so one must take the initiative and hurry to destroy what the Messenger of God (SAWS) forbade and the doer of which he cursed" (al-Majalis al-Arba'a Min Majalis al-Abrar p. 366).
And al-Suyuti said: "These mosques built over tombs must be removed. There is no disagreement on this among the well-known 'ulama, and prayer in them is disliked without disagreement" (al-Amr bil-Itba' p. 61).
- And likewise those tombs must be transferred from this place to the cemeteries secretly and their places should be concealed so the people do not follow them there and continue in their idolatry- even after some time.
- And it is not allowed to rebuild in the same place because there was an idol besides God being worshipped in it. Also note their hearts were connected with that place.
- One should look for a wide house in the area and have preparations made for prayer until another mosque is built if God wills.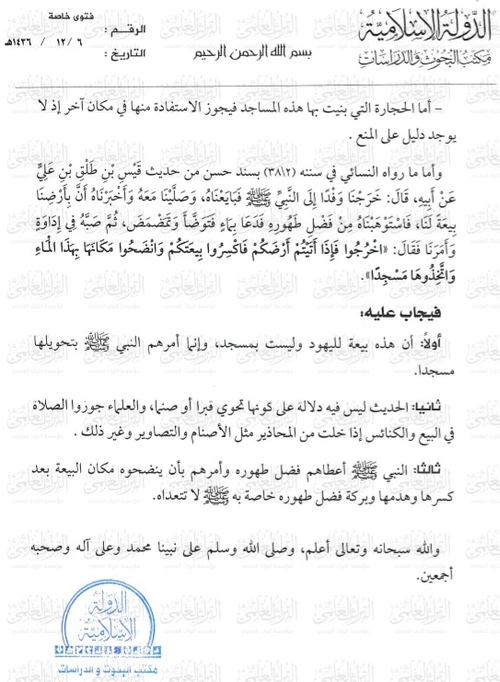 - As for the stones by which these mosques were built, one can make use of them in another place as there is no evidence of prohibition.
As for what al-Nisa'i related in his Sunan (2/38) in a sound chain from a hadith of Qays bin Talaq bin Ali on the authority of his father: he said: We went out as a delegation to the Prophet (SAWS) and gave allegiance to him, and we prayed with him and we informed him that we have a synagogue in our land, so we requested a gift from the grace of his cleanliness so he summoned for water and performed wudu' and rinsed, then he poured it into a container and ordered us saying: "Get out, for when you come to your land, break your synagogue and spray its place with this water and take it up as a mosque."
In response to this:
1. This is a synagogue for the Jews and not a mosque, and the Prophet (SAWS) ordered them to turn it into a mosque.
2. The hadith has no evidence for the notion that the synagogue had a grave or idol, and the 'ulama permitted praying in the synagogues and churches, if they are devoid of perils [/taboos] like idols and images and the like.
3. The Prophet (SAWS) gave them the grace of his cleanliness and ordered them to spray it on the place of the synagogue after breaking it and destroying it and the blessing of the grace of his cleanliness is particular to him (SAWS) and no one else.
And God the Exalted and Almighty knows best, and God's blessings and peace be upon our Prophet Muhammad and all his family and companions.
Islamic State
Research and Studies Office