As the insurgent group Hay'at Tahrir al-Sham (HTS), which evolved out of al-Qa'ida affiliate Jabhat al-Nusra, has consolidated its control over Idlib and its environs, an important question for local and international observers has been the group's relations with other jihadist groups. HTS has most notably cracked down on the al-Qa'ida-loyalist group Hurras al-Din ever since the group formed the 'So Be Steadfast' operations room with a few other jihadist groups. This crackdown is best explained by HTS' desire to assert and solidify its hegemony over Idlib and its environs: thus, the formation of an independent operations room was viewed as an unacceptable challenge to HTS' authority.
Critics of HTS tend to take a more cynical line. In their view, this crackdown is only part of a wider turn against the jihadists and foreigners ('muhajireen') inside the area more generally, all as part of doing the bidding of the West and/or Turkey. These issues have come to the forefront recently with the case of Muslim (al)-Shishani and his small long-standing and independent group 'Junud al-Sham' ('Soldiers of al-Sham'), one of whose fighters (a German) I interviewed in 2019. Shishani was recently summoned by the HTS-controlled 'Public Security Apparatus' and a rumour has emerged claiming that Shishani and his group were asked to leave Idlib (something claimed by Shishani himself). HTS and its supporters deny that this is the case however, asserting that members of 'Junud al-Sham' have been involved in cases pertaining to security disturbance and criminality. It is also denied that the controversy surrounding Shishani and his group is part of a wider crackdown on muhajireen.
As part of this post I present in full translation the relevant primary sources on this controversy. I will update if necessary.
Specimen A: Public Security Apparatus Notification to Muslim al-Shishani
Public Security Apparatus
Jisr al-Shughur Sector}
No. 003437
Notification document
Date: / / 14[42] AH
Corresponding to: 22 June 2021 CE
To the one-called Muslim al-Shishani, father's name...from area Jadida
As-salam alaykum wa rahmat Allah wa barakatuhu
You are asked to attend the security office Hajiz al-Zanbaqi on Wednesday 23 June 2021 CE, at 12 noon. If you do not attend, the appropriate measures will be taken.
Name of the official and his capacity:
Stamp:
Public Security Apparatus
Jisr al-Shughur area: official of the al-Janoudiya detachment
A carbon copy will be bored on the page of 'arrest report' in the end that the one notifed is subjected to detention.
Specimen B: Statement by 'Taqi al-Din Omar' on the Controversy (29 June 2021)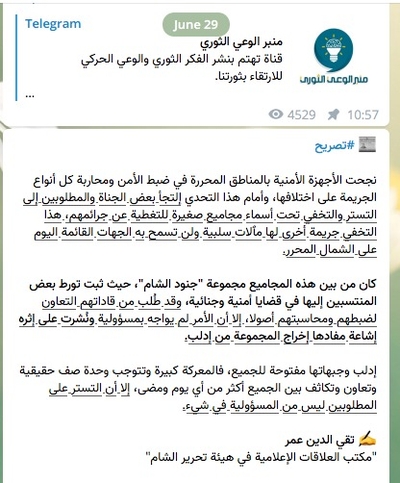 Statement:
The security apparatuses in the liberated areas have succeeded in regulating security and waging war on all various types of criminality. And before this challenge, some of the criminals and wanted persons have resorted to veiling and hiding themselves under names of small groups to cover their crimes. This self-concealment is another crime that has negative ramifications and the acting authorities today will not permit this for the liberated north.
Among these groups is the group of 'Junud al-Sham,' as it has been proven that some of those affiliated with it are involved in security and criminal cases. And their leaders have been asked to cooperate to control them and hold them to account through due process, but the matter has not been met with responsibility and following it a rumour has been spread claiming the group is to be expelled from Idlib.
Idlib and its fronts are open to all, for the battle is great and necessitates true unity of rank, and cooperation and standing together among all more than any day and past, but concealing the wanted people has nothing to do with responsibility.
Taqi al-Din Omar
'Media Relations Office in Hay'at Tahrir al-Sham.'
Specimen C: Article by 'Ibn al-Shahba' (pro-HTS) on Muslim al-Shishani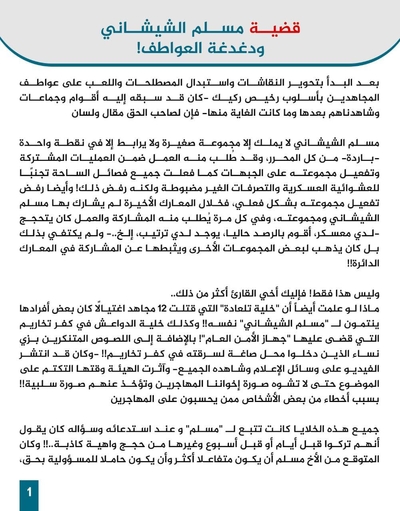 The Case of Muslim al-Shishani and the tickling of emotions.
After beginning to alter the discussions, replace the terminology and play on the emotions of the mujahideen by a cheap weak method, previously undertaken by peoples and groups and we witnessed after them and what was the objective of them, the one of truth has an article and tongue.
Muslim al-Shishani only has a small group and he does not perform ribat except on one cold point of all the liberated areas, and he was asked to work within the joint operations and to make his group active on the fronts as all the factions of the field have done to avoid military randomness and unregulated conduct, but he reject that, and also he rejected truly activating his group, for during the recent battles, Muslim al-Shishani and his group did not participate in them, and every time he is asked to participate and work, he invokes as a pretext: I have a military camp, I am undertaking observation currently, I have an arrangement etc. And he has not been content with that but also he has been going to some of the other groups and dissuading them to participate in the ongoing battles!!
And not only this! For you oh brother reading this, is more than that.
What if you knew also that the 'Tal'ada cell' that killed 12 mujahideen in assassination had some of its members who were affiliated with 'Muslim al-Shishani' himself!! And likewise the Dawa'esh [Islamic State guys] cell in Kafr Takharim that was destroyed by the 'Public Security Apparatus'! In addition to the thieves disguised in women's clothing who entered a jeweller's shop to rob it in Kafr Takharim! And the video spread on media and all witnessed it, and the Hay'a at the time preferred to keep quiet about the matter in order that the picture of our mujahideen brothers should not be distorted and a negative picture should not be taken about them!! Because of mistakes from some of the people who are affiliated with the muhajireen.
All of these cells were affiliated with 'Muslim' and when he was summoned and asked, he said that they left days ago or a week ago and other flimsy false pretexts! And it was expected from the brother Muslim that he should be more cooperative and should be bearing responsibility in truth, but his avoiding of holding accountable those affiliated with him and his lack of bearing responsibility placed on his shoulder has been the central issue in every case!!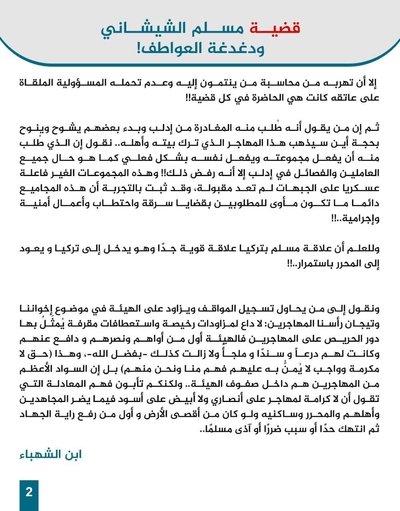 Then indeed those who say that he was asked to leave Idlib and some of them began to groan and lament with the pretext where will this muhajir who abandoned his home and family go? We say: what he was asked to was to make his group and himself truly active as is the case with all those operating and the factions in Idlib, but he rejected that!! And these groups that are not active militarily on the groups are no longer accepted, and it has been established by experience that these groups are always a refuge for those wanted in cases of theft, ihtitab and covert and criminal operations!!
And let it be known that Muslim has a very strong link with Turkey and he enters Turkey and returns to the liberated areas continuously!!
And we say to those trying to register positions and attacking the Hay'a on the issue of our brothers and crown of our heads the muhajireen: there is no reason for cheap attacks and disgraceful attempts to stir up emotions in which there is representation of the role of the one concerned for the muhajireen, for the Hay'a is the first to have given them refuge, supported them and defended them. And it has been a shield for them and a support and refuge and it is still as such- by the grace of God- and this is a right not a privilege and an obligation, and not something bestowed as a gift on them, for they are of us and we are of them. Indeed the greatest strength of the muhajireen are inside the ranks of the Hay'a, but you refuse to understand the equality that says that there is no dignity for a muhajir over an ansari or a white over a black in what harms the mujahideen, their people, the liberated areas and its inhabitants, even if he is from the furthest end of the earth and the first one to have raised the banner of jihad then he transgresses a limit or causes harm or brings injury to a Muslim.
'Ibn al-Shahba'
Specimen D: Abu al-Fatah al-Farghali of Hay'at Tahrir al-Sham on the Controversy
Q: As-salam alaykum. How are you Sheikh Abu al-Fatah? What is your pronouncement on what is being published regarding the case of Sheikh Abu Muslim al-Shishani? And is it allowed to ask him and his group to leave the field of jihad?
A: Wa alaykum as-salam wa rahmat Allah wa barakatuhu. What I know is that he was not asked to leave, and it is not allowed to expel a mujahid in the path of God from the land of jihad, but any mujahid seeking steadfastness in the field of jihad, this is an obligation on him. And he must also comply with what the group of the mujahideen are upon from organising the affairs of jihad and the like, and God knows best.
Specimen E: Statement by Muslim al-Shishani (2 July 2021)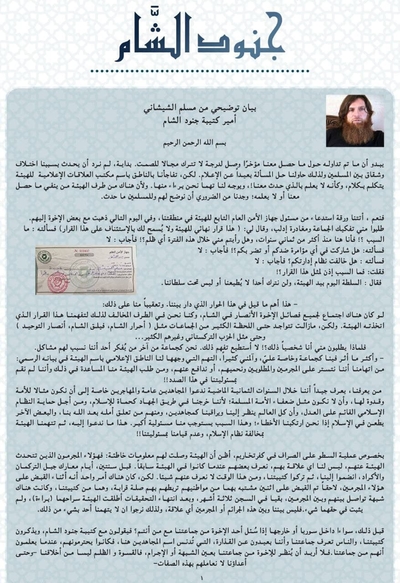 Junud al-Sham
Clarifcation statement from Muslim al-Shishani the amir of the Junud al-Sham Battalion
In the name of God, the Compassionate, the Merciful
It seems that what was circulated concerning what happened with us recently has reached a point that does not leave a space for silence. In the beginning, we did not want there to occur because of us a disagreement and splitting among the Muslims, and therefore we tried to resolve the issue far removed from the media, but, we were surprised by the one speaking in the name of the media relations office for the Hay'a, speaking out, and as though he does not know of what happened with us! And he directs against us accusations we are innocent of, and since there is on the part of the Hay'a the one who denies what happened with us or does not know of it, we have found it necessary to clarify for them and the Muslims what happened.
So yes, there came to us a document of summons from the official of the Public Security Apparatus affiliated with the Hay'a in our region, and on the following day I went with some of the brothers to them. They asked me to dismantle the group and leave Idlib, and he said to me: 'This is a definitive decision by the Hay'a and it is not allowed for you to appeal against this decision.' So I asked him: 'What is the reason? For I am here for more than eight years, and have you seen from me during this time any oppression?' So he responded: 'No.' So I asked him: 'Have I participated in any conspiracy against you or harming you?!' So he responded: 'No.' So I asked him: 'Have I contravened the system of your administration?' So he responded: 'No.' So I said: 'So what is the reason then for the likes of this decision?!' So he said: 'The authority today is in the hands of the Hay'a, and we will not leave alone anyone who does not obey us or is not under our authority.'
This is the most important of what was said in this discussion that occurred among us, and in comment on our part on that:
If there were a coming together of all the factions of the Ansar brothers in al-Sham, and we were in the side contravening that, we would have understanding for this decision that the Hay'a has taken, but, there are still present until this moment many groups like Ahrar al-Sham, Faylaq al-Sham, Ansar al-Tawheed and even the likes of the Turkistani Party and many others besides them.
So why they ask that from me personally? I cannot undersand that. We as a group are the last of those anyone should think we cause problems for them.
- And most of what impacted us as a group and in particular me, and pained me a lot, is the accusation that the media spokesman in the name of the Hay'a directed at us in his official statement: among his accusation against us is that we shield criminals and wanted persons and protect them, or we defend them, and that the Hay'a asked us for help in that and we did not undertake our responsibility in this regard!!
Whoso knows us, knows us well that during the past eight years we have been calling on the mujahideen in general and the muhajireen in particular to the necessity of our being an example for the Ummah and a model for it, and that we should not be like the weak of the Muslim Ummah, because we came out in the path of jihad as protectors for Islam, and in order to protect the Islamic system that is established on justice, and that every knowledgeable one should look towards us and observe us as mujahideen, and among them those whose hopes have been connected after God with us, and some others attack Islam when we commit mistakes. And this cause requires from us greater responsibility. This is what we call to, then the Hay'a accuses us of contravening the system of Islam, and not undertaking our responsibility!!
With regards to the assault operation on the money-exchanger in Kafr Takharim, I think that the Hay'a has received erroneous information, for these criminals about whom the Hay'a speaks, we have no relation with them. We know some of them when they were in the Hay'a previously. Two years ago, in the days of the battles of Jabal al-Turkoman and al-Akrad, they joined us, then they abandoned our battalion, and from this time we do not know anything about them, but, there was one issue in that when these criminals were arrested, subsequently two suspected individuals among their people were arrested, linked to them by kin relationship, and these two people are of our battalion, there was a suspicion of contact between them and the criminals. The two people remained in the prison for three months, and after the end of the investigations, the Hay'a released the two of them on account of their innocence, and nothing was proven against them, so there is no link between us and these crimes or criminals, and therefore we ask that no one accuse us of anything from that.
Before that, whether inside or outside Syria, if one of the brothers from our group was asked: with whom are you? They would say: with the Junud al-Sham Battalion. And they would mention our battalion, and the people would know our group and that we are far removed from the filth that disgraces the name of the mujahideen here. So they respected them when they knew that they were of our group. So I do not want the brothers from our group to be viewed with the eye of suspicion or criminality, for harshness and oppression are not of our ethics, and even our enemies, we do not deal with them through these qualities.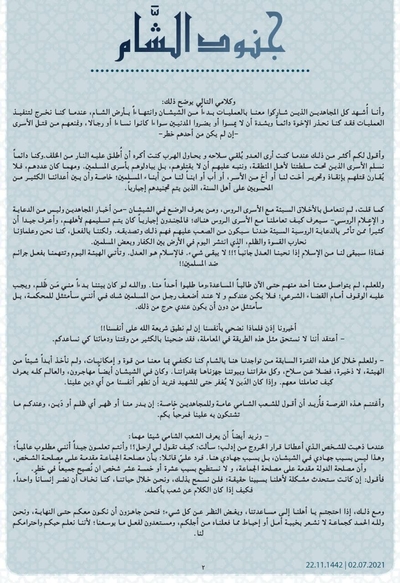 And my following words clarify that:
And I call as witness all the mujahideen who participated with us in the operations beginning from Chechnya and ending with the land of al-Sham. When we were coming out to conduct operations, we were always warning the brothers and strongly so not to infringe on or harm the civilians, whether they were women or men, and we banned them from killing the prisoners, if there was no danger from any of them.
And I say to you more than that when I saw the enemy throwing aside their weapons and trying to flee, I hated that fire should be opened at them from behind. And we were always handing over the prisoners who were under our authority to the people of the region, and we warned them not to kill them, but rather to exchange them with the prisoners of the Muslims. And whatever was their number, their killing could not be linked with saving and liberating a sister of ours or a brother from imprisonment, or a father or a son of ours from the sons of the Muslims; especially as among our enemies have been many of those affiliated with the Ahl al-Sunna, who are forcibly conscripted.
As I have said, we have not dealt in bad ethics with the Russian prisoners, and whoso knows the situation in Chechnya from the news of the of the mujahideen and not from the Russian media and propaganda, will know how we dealt with the Russian prisoners there, for those conscripted forcibly were handed over to their people. And I know well that many of those impacted by the evil Russian propaganda against us, it will be difficult for them to understand and believe that, but we in truth, we and the our 'ulama were waging war on harshness and oppression that have spread today in the land among the disbelievers and some of the Muslims.
So what will remain for us from Islam if we sideline justice?!! Nothing remains, for Islam is justice, and the Hay'a today comes and accuses us of committing crimes against the Muslims!!
And let it be known, none of them has contacted us until now asking for help, and they have not asked for one of us, and by God, if there were between us a transgression on my part, and thus requiring to stand before the Shari'i judiciary, let there be no doubt among you and among the weakest man of the Muslims that I would stand before the court, indeed I would so without there being an objection on my part to that.
Tell us then why do we sacrifice ourselves if we do not implement the Shari'a of God on ourselves!!
- I believe that we do not deserve the likes of this manner in treatment, for we have sacrificed much of our time and out blood to help you.
- And let it be known that during all this preceding time of our presence here in al-Sham, we were content with force and capabilities we have, and we never took anything from the Hay'a, not even ammunition let alone weapons, and all our bases and homes were prepared by us through our capabilities. And there were in Chechnya also muhajireen and all the world knows how we dealt with them, and if debt is not forgiven even for the maetyr, we want to cleanse ourselves of any debt upon us.
And I take this opportunity and wish to say to the Shami people in general and the mujahideen in particular: if there occurs from us appears any oppression or debt, and you have something to complain against us, welcome to you.
- And we also want the Shami people to know something important:
- When I went to the person who gave us the decision to leave Idlib, I asked: 'How can you tell me to leave?! And you know well I am wanted globally, and this is not because of m jihad in Chechnya, but because of my jihad here.' So he replied to me saying that the interest of the group comes before the interest of the person, and that the interest of the state is preferred to the interest of the group, and we cannot because of ten or 15 people become all in danger. So I say: if a problem will actually happen to our people because of us, we will not permit that, and during our life we have been afraid to harm one human being, so all the more so if the talk is regarding a people in their entirety.
And with that, if, oh our people, you need our help, and regardless of everything, we are ready to be with you until the end, and we, and praise be to God, as a group do not perceive disappointment or thwarting of what we have done for your sake, and we are ready to act in what we can, because we know your love and respect for us.
Specimen F: Statement by Abu al-Abd Ashidaa' (27 June 2021)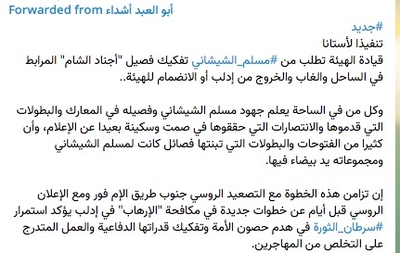 New
In implementation of Astana,
The Hay'a's leadership asks Muslim al-Shishani to dimantle the faction 'Ajnad al-Sham' [sic] performing ribat in the Sahel and al-Ghab and to leave Idlib or to join the Hay'a.
And all those in the field know the efforts of Muslim al-Shishan and his faction in the battles and heroisms that they offered and the victories that they realised in silence and calm far removed from the media, and that many of the conquests and heroisms that factions claimed, Muslim al-Shishani and his groups had a white hand in them.
Indeed the coinciding of this step with the Russian escalation south of the M4 highway and with the Russian announcement days ago of new steps to combat 'terrorism' in Idlib confirms the continuation of the cancer of the revolution in destroying the fortresses of the Ummah and dismantling its defensive capabilities and gradual work to get rid of the muhajireen.