At this point, the sharp deterioration in the economic and living situation in Lebanon is apparent to observers and has frequently been written about. Syrian refugees in the country stand to be hit particularly hard by this deterioration, and many undoubtedly want to flee. Below is an interview I conducted with one person originally from Jalin in Deraa province and currently residing in Lebanon as a refugee. He hopes to escape to Europe. This interview was conducted on 17 July 2021. Any parenthetical insertions in square brackets are my own.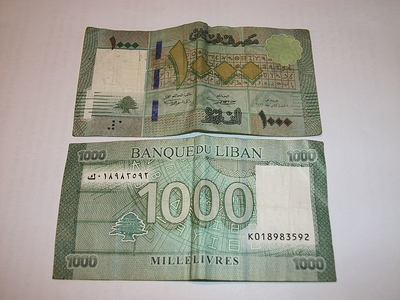 Q: When did you come to Lebanon and for what reasons did you come?
A: I came to Lebanon around 8 months ago because of the events that are in Syria and the war. I don't have a sum for me to go to another place. The cheapest thing is to go to Lebanon. The situation in Deraa is either you join the army and are assassinated or you don't go to the army and you remain wanted and you cannot work or do anything or go to the checkpoints.
Q: How has the living situation in Lebanon deteriorated recently? And how has the deterioration impacted your life and the life of Syrian refugees in Lebanon?
A: In Lebanon the living situation, from the first moment I came, has seen the dollar rise and its situation is heading for the worse. If I work, I eat, and if I don't work, there is no food. You cannot gather a lira [Lebanese pound] here in Lebanon and today the dollar has reached 24,000 Lebanese lira [pounds] and the worker's pay is 40-50,000, which doesn't suffice for food. There are people who came with me and have returned back to Syria and there are people who have money who are going to Europe. And I have tried to register with the UN to resettle but it has not worked out for me, so things are closed off to me from all sides, and may God provide deliverance- that is the best thing, brother.
Q: Are the Syrian refugees trying to leave Lebanon and go to other places? And are some of them trying to return to Syria? As for you yourself, where do you want to go and why?
A: The Syrian refugees who have money or have someone outside with money, they are leaving, and those who don't have money and have nothing against them in Syria, are returning. And those who have something against them in Syria, they cannot return like me. I am looking for someone to lend me a sum so I can reach Europe and work and help my family because the situation in Syria and in Lebanon is the same thing.
And here in Lebanon if I am caught and there is something against me in Syria, they will hand me over to Syria and I will no longer get out from prison.
Q: Do you have a message for any Syrian thinking of fleeing to Lebanon?
A: Everyday youth are leaving Syria but they come with money and they go from Lebanon's airport to Libya and from Libya to Italy, and I myself want to leave but I don't have the sum for me to reach my destination and I am waiting for deliverance from God. This is the situation brother.