Readers will remember that I previously conducted an interview with the American-born media activist Bilal Abdul Kareem on the general situation in northwest Syria (Idlib and its environs) in February 2020, at a time when Syrian government forces backed by Russia were launching an offensive on the area, displacing large numbers of people. Bilal was subsequently arrested and imprisoned by Hay'at Tahrir al-Sham (HTS)- the main insurgent organisation in control of Idlib and its environs- in August 2020. The group then announced his release in February 2021 in a statement issued via its media relations office.
Bilal's experiences with HTS are particularly relevant amid the group's attempts to reach out to the West and calls by some for Western countries to engage with HTS on the grounds that it does not pose a threat to the West and has cracked down on jihadists in Idlib who are perceived to have challenged the group's hegemony. There are serious questions to be raised about the more authoritarian approach to governance HTS has taken over time with its evolution, issues of judicial process in the areas under its control, and the fate of those detained by the group's security apparatus.
Below is the interview conducted today with Bilal (who, it should be noted, is no longer within the areas controlled by Hay'at Tahrir al-Sham).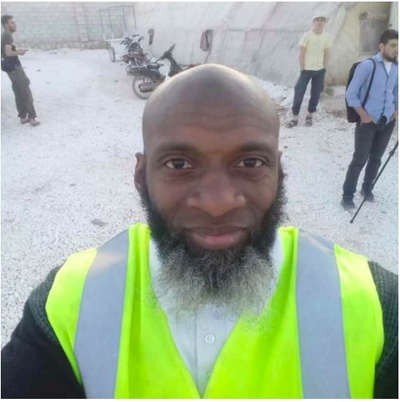 What were the cirumstances of your arrest? Were you assailed and then simply placed in a vehicle and taken away?
Answer: I filed a report one Thursday evening in August of last year asking the HTS authorities what their stance was regarding torture. We'd received countless allegations, some in detail, regarding the ill treatment of prisoners in HTS run detention centers. Two hours later after I prayed Maghrib prayer and entered the street from the Mosque, two car loads of armed masked men jumped out and arrested me. I couldn't say I was surprised or shocked. I knew that telling the truth about what HTS was doing to their prisoners was going to put me on unstable footing and I was right.
For how long were you held before your 'trial' commenced and how many times were you interrogated? And what were the formal charges brought against you? Were you subject to torture or duress to try to extract a confession? Could you see or hear other prisoners being tortured?
Answer: I was held for four and a half months without having been able to contact my family, I had no lawyer and thus no way to prepare a case to defend myself. I was charged with four charges. Bear in mind that throughout this "process" I never had any formal charges written down. I was never handed anything official from anyone. As for my charges they were as follows:
-Incitement against the authorities
-Relations with groups threatening security
-Defamation of the judiciary and security sectors
-Knowing the whereabouts of individuals wanted by the authorities
I myself, praise be to Allah, was not subject to physical torture. I was kept in solitary confinement for more than 6 months but I was not beaten. However the screams of those in the interrogation rooms were plain for all in the detention facilities to hear. It isn't even something they try to hide. HTS leader Abu Muhammad Jolani lied on television when he said that he doesn't torture detainees and all 4 or 5 million people in these territories know that. From time to time I was able to actually see the bruises on other detainees as a result of their interrogations. However the screams of those being tortured could be heard almost on a daily basis.
Formally speaking there is supposed to be a 'Justice Ministry' of the Salvation Government that is independent of HTS. What is the reality of the situation? Is there really an independent judiciary or anything resembling due process?
Answer: There is no such thing as an independent judiciary. It doesn't exist. The Salvation Government that is so often spoken about in the media is something no one on the ground here in Syria talks about. The Salvation Government is a media front for HTS. I'd be surprised if one in one hundred Syrians know the name of the president of the Salvation government. No one refers to him about anything. Those outside of Syria are led to believe that there is a real Salvation government and thus they can shift the blame or make bogus claims as Abu Muhammad Jolani did in his interview with US journalist Martin Smith that HTS doesn't control any prisons and that they are all under the Salvation government. That claim is a complete lie. Period.
What was the official sentence handed against you and what was life like in prison? Were you well fed? Could you leave your cell for exercise? Was there sufficient lighting or natural light in the cell? Were you moved between locations?
Answer: I, not surprisingly, was found guilty of all charges. They sentenced me to one year in prison. When they told me that I was guilty I let out a huge laugh. I mean a real laugh as if someone just told me a joke. I told them that I used to write stand up comedy but I can't write material like them. I made it clear to them that there was no justice whatsoever in this judgement and sentence and it was funny that I cover their torture and killings and the perpetrators go free while I, who neither kidnapped or tortured anyone, has to do a year in prison. It was black comedy. No pun intended.
I was shifted around to 4 different prisons. The food was sufficient praise be to Allah. However the most I was allowed out of my cell was once per week and that was not systematic at all. In one facility I was never allowed out. I just resigned myself that this was my situation and I just had to deal with it. Like it or not, if you are going to speak out against injustice then some people, some of them powerful people, are going to be unhappy with you.
HTS officially claimed you were freed following mediation from the 'notables of the Atmah region'. What is the truth about this?
Answer: That is what it appeared to be on the surface to the untrained eye. However I was a political dissident in their eyes. No amount of mediation from people local on the ground would have meant anything to them unless they wanted it. I believe that they saw my detention as being detrimental to their project of trying to gain western legitimacy and I was released as a result of that. I thank those brothers who were a part of the group that saw my release, but the reality in my estimation, is that HTS used that as a means to get rid of a prisoner whom they were not benefiting from his detention. Allah knows best.
Is the HTS project something resembling an Islamic project or is it simply another authoritarian group in the region like many ruling governments?
Answer: They are just another authoritarian group with Islamic undertones. Nothing more. They are using the symbols of Islam to give them a certain kind of Islamic legitimacy so they can recruit fighters. However in reality there is no more Islamic justice here than you find in other Muslim countries. Torture, bogus trials, and no justice are the hallmarks of most of the regimes in this part of the world. HTS is simply joining their ranks. I'm not so interested in the symbols of Islam like beards, Islamic chit chat, and the like. Show me some of the Islamic justice that was promised and we can talk.
What is your view of the way the group tries to appeal to the West and Western media?
Answer: It isn't surprising. Most dictatorships want legitimacy from the west. Unfortunately with all of the western talk about human rights etc., they have no problem at all to do business with any and all dictators and violators of human rights provided the dictator has something to offer. He's got to have oil, gas reserves, strategic positioning etc. We will have to see what Jolani is offering in exchange for that legitimacy. That will tell whether his play for acceptance will be successful or not.