As readers of this blog know, I sometimes document for historical purposes the lives of individual fighters who have died during the war in Syria. In this case I document the life of Ammar Haitham Jardi, an early 'martyr' of the National Ideological Resistance who fought in the ranks of the Republican Guard.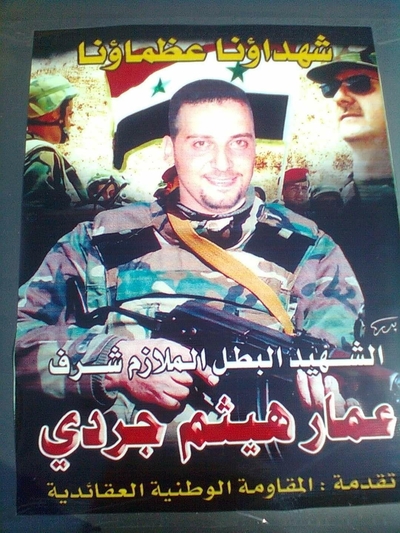 'Our martyrs are our great ones: The hero martyr lieutenant by honour Ammar Haitham Jardi: presented by the National Ideological Resistance.'
Ammar was born on 30 May 1986 in Damascus though his family origins go back to the Syrian coastal region. He studied law in the University of Aleppo and became affiliated with the National Ideological Resistance. He subsequently sought employment with the customs authority and he then joined its administration in Damascus. He was then informed that he would be sent to provide support for the Republican Guard. So he joined the Republican Guard on 22 August 2013.
He then went immediately to fight in the Barzah region and he fought in it and remained there until the command informed him of an assignment to assault a command base of the insurgents in Barzah called 'the Red House.' He was the one who opened the door of the base as the officer had ordered him to do. They then assaulted the place and he was wounded in a number of places in his body, after which he was transferred to the hospital and operations were performed on him over the course of three days. He died of his wounds on 30 September 2013.
He was buried in his ancestral village of al-Ariqib in Jablah countryside.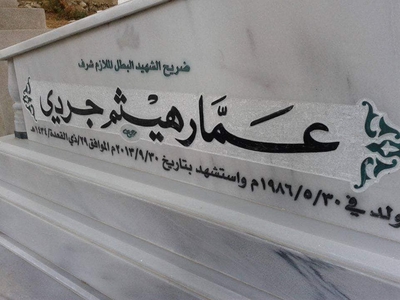 The tomb of Ammar Haitham Jardi, recording his name, date of birth and date of death.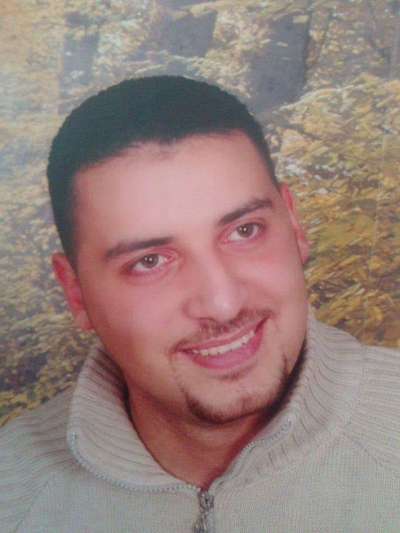 Another photo of Ammar.