Previously on this blog I covered the story of the French muhajireen-led group Firqatul Ghuraba, whose leader Omar Omsen was arrested by Hay'at Tahrir al-Sham (the dominant insurgent faction in Idlib and its environs) in August 2020. As of the time of writing, Omsen remains imprisoned. A statement has now been issued by Omsen's family on the ongoing imprisonment of Omsen. As with other cases of arrests by Hay'at Tahrir al-Sham, there has been little transparency for the family about the judicial proceedings.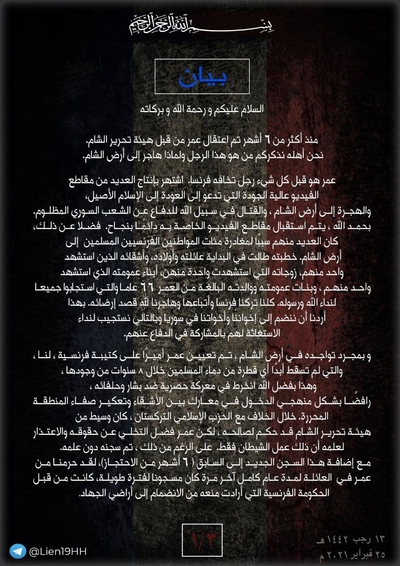 In the name of God, the Compassionate, the Merciful
Statement
As-salam alaykum wa rahmat Allah wa barakatuhu
Since more than 6 months Omar has been arrested by Hay'at Tahrir al-Sham. We as his family remind you who is this man and why he migrated to the land of al-Sham.
Before everything, Omar is a man whom France fears. He became well-known for producing number of high quality videos that call for returning to original Islam, migration to the land of al-Sham, fighting in the path of God to defend the oppressed Syrian people. Thanks be to God, his video clips are always successfully received. In addition to that, many of them were a reason for the departure of hundreds of French Muslim citizens to the land of al-Sham. His preaching touched in the beginning his family and children, and his brothers of whom one was martyred, his wives of whom one was martyred, his male cousins of whom one was martyred, his female cousins and his mother who is 66 years old. They all answered to the call of God and His Messenger. We all left France and its followers and we migrated for God intending to please Him. Thus we wanted to join our brothers and sisters in Syria and also answer the call of help for them by participating in defending them.
And by merely his presence in the land of al-Sham, Omar was appointed amir over a French battalion for us, which has never shed a drop of the blood of the Muslims during the 8 years of its existence, and this person by the grace of God got involved only in battles against Bashar and his allies, rejecting as a matter of manhaj entry into battles between the brothers and contaminating the purity of the liberated areas. During the dispute with the Turkestan Islamic Party, an intermediary from Hay'at Tahrir al-Sham had ruled in his favour, but Omar preferred to relinquish his rights and apologise for he knew that that is the work of Satan only. Despite that, he was imprisoned without his knowledge. With the addition of this new imprisonment to the preceding (six months of detention), we have been deprived of Omar in the family for a period of a whole year. The last time he was imprisoned for a long time, it was by the French court that wanted to prevent him from joining the lands of jihad.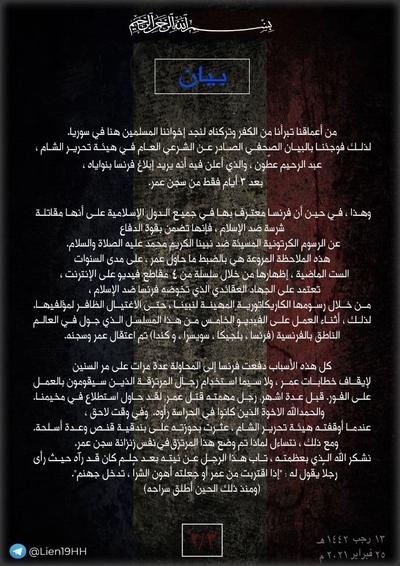 From our depths we disavowed disbelief and we abandoned it in order to find our Muslim brothers here in Syria. Therefore we were surprised by the press statement issued from the general Shari'i official in Hay'at Tahrir al-Sham- Abd al-Rahim Atoun- in which he announced that he wanted to inform France of his intentions. That was only 3 days after the imprisonment of Omar.
This is so, and in the time in which France is recognised in all the Islamic states for the fact that it is fighting fiercely against Islam, for it guarantees by force the defence of cartoons that defame our Noble Prophet Muhammad (prayers and peace be upon him). This terrible observation is exactly what Omar tried over the course of the past six years to show through a series of four video clips on the Internet, relying as it does on the ideological jihad that France is waging against Islam through its caricature drawings that defame our Prophet, even to the point of assassination in support of their artists. Therefore, during the work on the fifth video of this series that travelled through the French-speaking world (France, Belgium, Switzerland and Canada), Omar was arrested and imprisoned.
All of these reasons have pushed France to try on a number of occasions over the years to stop the sermons of Omar, especially using the mercenary men who will undertake the job immediately. Several months ago, a man whose job it was to kill Omar tried to conduct reconnaissance in our camp. And praise be to God the brothers who were on guard saw him. And later, when Hay'at Tahrir al-Sham arrested him, it found in his possession a sniper rifle and multiple weapons. And with that, we ask ourselves why this mercenary was placed in the same jail cell as Omar. We thank God by His greatness, this man repented from his intention after a dream that he had seen where he saw a man saying to him: 'If you approach Omar or make him the lesser evil, you will enter Hell'- (and since then he has been released).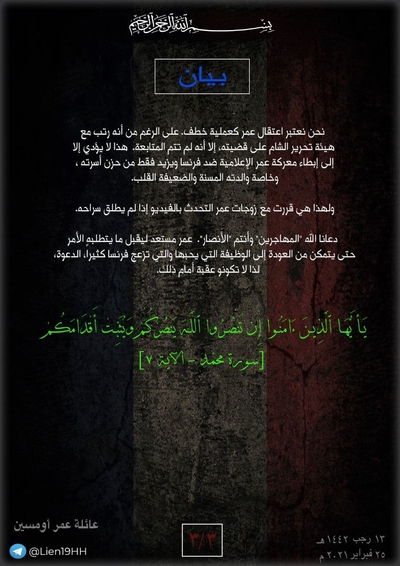 We consider the arrest of Omar to be a kidnapping operation. Despite the fact that he made arrangements with Hay'at Tahrir al-Sham for his case, it was not followed up. This only leads to the slowing of Omar's media battle against France and only increases the sadness of his family, especially his elderly mother who suffers from hear trouble.
Therefore she has decided with the wives of Omar to speak on video if he is not released.
God called us 'the muhajireen' and you are the 'ansar.' Omar is ready to accept what the matter requires so as to be able to return to the job that he loves and which annoys France a lot: da'wa. So do not be an obstacle in front of that.
'Oh you who have believed, if you support God, He will support you and plant firm your feet'- Surat Muhammad Verse 7.
Omar Omsen's family
13 Rajab 1442 AH
25 February 2021 CE.