For prior parts in this series, see:
Ansar al-Tawheed Medical Office Article
Ansar al-Tawheed Medical Office Article (2)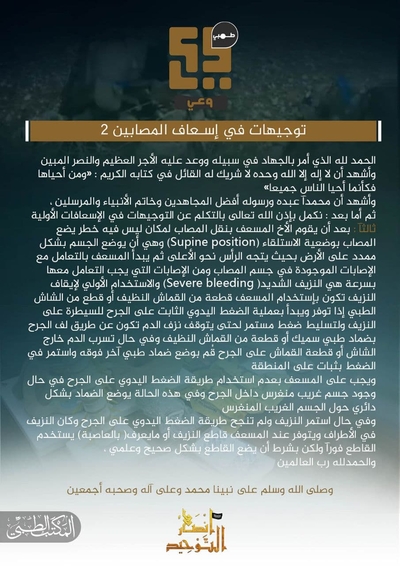 Medical awareness
Directives on aiding the wounded 2
Praise be to God who has commanded jihad in His path and has promised for it the great reward and the clear victory, and I bear witness that there is no deity but God alone with no partner for Him, who says in His Noble Book: 'And whoso saves a life, it is as though he has saved all mankind.'
And I bear witness that Muhammad is His Servant and Messenger, the best of the mujahideen and seal of the prophets and those sent.
Then as for what follows: we finish by the permission of God Almighty in speaking about the directives in the first aid.
3. After the aiding brother transfers the wounded to a place in which there is no danger, he is to place the wounded in a supine position and it is whereby the body is placed in an extended way on the ground so that the head faces upwards. Then the person giving aid starts to deal with the wounds present on the body of the wounded and among the wounds that must be dealt with quickly is the severe bleeding and the first application to stop the bleeding should be via the person giving aid's use of a piece of clean cloth or pieces of gauze if available. And he starts the process of strong hand pressure on the wound to control the bleeding, and to impose continual pressure so that the bleeding stops it should be through wrapping the wound with thick medical bandage or a piece of clean cloth. And in the event that the blood leaks outside the gauze or piece of cloth on the wound, place another medical bandage on top of it and continue to press firmly on the area.
And the person giving aid must not use the means of hand pressure on the wound in the event of the presence of a foreign body implanted inside the wound and in this case the bandage should be placed in a circular way around the implanted foreign body.
And in the event that the bleeding continues and the means of hand pressure on the wound does not succeed and the bleeding is on the sides and the person providing aid has a haemostat he should use it immediately but on the condition that he places the haemostat correctly and scientifically.
And praise be to God the Lord of the Worlds.
And God's blessings and peace be upon our Prophet Muhammad and all his family and companions.
Medical Office
Ansar al-Tawheed.