For prior parts in this series, see:
Ansar al-Tawheed Medical Office Article
This article is the second in what is supposed to be an ongoing series by the medical office of the jihadist group Ansar al-Tawheed. Published on 26 January 2021 CE and attributed to one 'Abu Mousa al-Tibbi' ('Abu Mousa the Medical Guy'), the article concerns the provision of (first) aid to those who are wounded during the course of battle.
Below is the article with my translation.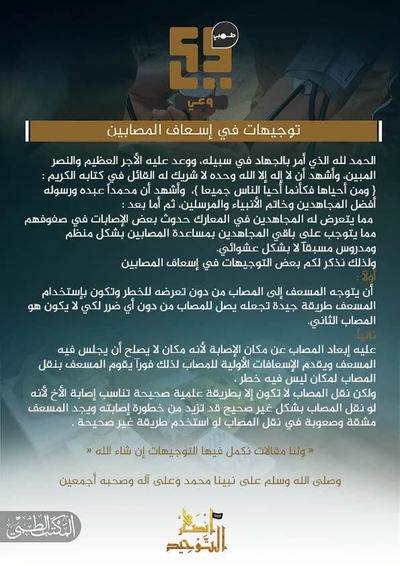 Medical awareness
Directives in providing aid to the wounded.
Praise be to God who has commanded jihad in His path, and promised for it the great reward and clear victory, and I bear witness that there is no deity but God alone with no Partner for Him as He says in His noble Book: 'And whoso saves a life, it as though he has saved all mankind.' And I bear witness that Muhammad is His Servant and Messenger, the best of the mujahideen and the seal of the prophets and those sent. Then as for what follows:
What the mujahideen are exposed to in the battles is the occurrence of some wounds in their ranks, which requires the rest of the mujahideen to help the wounded in a way that is organised and considered beforehand, not in a random sense. Therefore we remind you of some of the directives in giving aid to the wounded:
That the one providing aid should head to the wounded without himself being exposed to danger and that should be through the one providing aid's use of a good route that enables him to reach the wounded without any harm, so that he should not be the second person wounded.
One must distance the wounded from the place of the wound because it is a place not suitable for the one providing aid to sit in and offer first aid to the wounded, therefore, immediately the one providing aid should transfer the wounded to a place in which there is no danger.
But transferring the wounded must only be through a correct scientific way that is in accordance with the brother's wound because if the wounded were to be moved in a way that is not correct may increase the danger of his wound and the one providing aid may find hardship and difficult in transferring the wounded if he were to use a way that is not correct.
And we have articles in which we will complete the directives if God wills.
And God's blessings and peace be upon our Prophet Muhammad and all his family and companions.
Medical Office
Ansar al-Tawheed.