Hamam al-Alil sub-district is located to the south of Mosul city in Ninawa province. Previously under the control of the Islamic State, it was liberated by Iraqi forces in late 2016. To learn more about the present situation in Hamam al-Alil, I conducted an interview with the media of the Hamam al-Alil Sub-District Directorate. The interview is slightly edited and condensed for clarity. Any parenthetical insertions in square brackets are my own.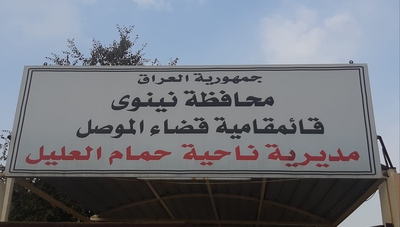 Q: What is the number of inhabitants in Hamam al-Alil currently?
A: The number of inhabitants of the sub-district of Hamam al-Alil is around 113,000 people and its area is around 310,000 dunams and all the inhabitants of the sub-district are from the tribes of al-Jubur, al-Lahib, Albu Hamdan, al-Akidat, al-Hadidiyeen, Albu Badran, al-Sharifat and the rest of the tribes.
Q: How is the services and humanitarian situation in general? For example the electricity and water? What are the most important projects of the Hamam al-Alil municipal office during the past year?
A: With regards to the services situation, it began to improve after the liberation and during the past year of 2020 from paving streets and services offices. Likewise the projects reached the 100% completion rate and among them various rates, from streets and schools, and the most important project that is considered the face of the sub-district of Hamam al-Alil is the project of renovating and rehabilitating the building of the mineral water baths and it is hot sulphuric and healing water at the same time. As for electricity, it is the state of the entire province of Ninawa, reaching seven hours of supply, and there are civilian generators. With regards to the water projects, they are very good.
Q: Are any NGOs helping you in these efforts?
A: As for the NGOs, we have a share of them in rehabilitating the water projects, such as the NGO Oxfam, the International Red Cross and the International Medical Committee, and likewise the World Health Organisation. And we are awaiting other NGOs with whom mutual understandings have been struck to operate inside the sub-district, likewise the NGO UNDP whose projects are services, and likewise UNICEF. This is one aspect.
Q: What are the most important problems? For example there is no money for investment?
A: As for investment, we have suggested a number of times investment opportunities like a tourist town but without success. And we hope during this year by the permission of God that we should have an opportunity of reconstruction [/construction] projects and also that we should attain high levels in the rural development projects for some of the villages.