Jihadist organisations usually maintain a variety of different offices to manage their affairs on the ground, and the group Ansar al-Tawheed, whose origins lie in the old Jund al-Aqsa, is no exception. Recently the group's 'medical office' put up an announcement for a 'medical course' that I translate in full below.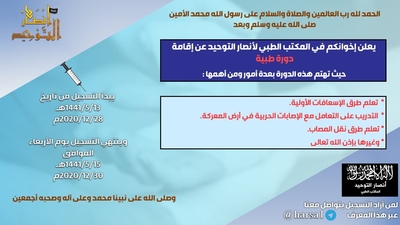 Ansar al-Tawheed
Praise be to God the Lord of the Worlds and prayers and peace be upon the Messenger of God Muhammad al-Amin (God's peace and blessings be upon him).
Your brothers in the medical office for Ansar al-Tawheed announce the establishment of a medical course in that this course is concerned with a number of matters and of the most important of them:
* Learning means of first aid.
* Training on dealing with war wounds in the land of the battle.
* Learning means of transporting the wounded.
* And other such matters by the permission of God Almighty.
Whoever wants to register, let him contact us on the following Telegram handle: @harsa1
Registration begins from date 13 Jumada al-Awal 1441 AH/28 December 2020 CE.
And registration ends on Wednesday corresponding to 15 Jumada al-Awal 1441 AH/30 December 2020 CE.
And God's blessings be upon our Prophet Muhammad and all his family and companions.
Ansar al-Tawheed: Medical Office
------------------------
(Update 2 January 2021): the other main offices of Ansar al-Tawheed are its military and Shari'i offices in addition to a media department. There is the idea of a da'wa office but 'we are lacking the support of the channels,' according to a media guy for the group.