Most of the readers of my blog are probably aware at this point of a series of controversies surrounding the New York Times reporter Rukmini Callimachi. The initial spark was the arrest of one 'Abu Huzaifa al-Kanadi' by the Canadian authorities on the charges of a 'hoax-terrorism activity': that is, making false claims about his alleged past involvement with the Islamic State in an attempt to create panic and fear among Canadians. 'Abu Huzaifa'- as is well-known- was a central figure in the New York Times podcast 'Caliphate' that won a Peabody award and has been downloaded millions of times.
Since the arrest of 'Abu Huzaifa,' there have been multiple articles in various outlets concerning Rukmini and various stories she has worked on, including a story in which I was involved. Of course, I have had discussions with colleagues and others regarding these controversies (including Rukmini herself), and I have had time to consider and reflect on these matters. Several people I know have participated in a broader Twitter pile-on against Rukmini, tweeting every piece with negative things to say about her in an apparent bid to destroy her, hoping that she will either resign from the New York Times or that the paper will fire her.
My message in short to these people, and others tweeting with fury about these controversies: calm down. I mean this seriously, for your own benefit. I am well aware that by commenting on the matter in this way I am likely to alienate many people and draw their ire. However, I do have to ask what is the value in acting in this way?
In the paragraphs that follow, I would like to offer some more specific thoughts on some of the controversies surrounding Rukmini. I do hope that these words of mine inject more nuance into the debates and tone down the atmosphere of outrage and hate generated on the airwaves of Twitter, leading people to reconsider the issues more carefully.
1. In general, it is disturbing to see how accusations of lying and fraud have been thrown against Rukmini without due consideration as to the meanings of these terms. There is a fundamental difference between honest errors and deliberate misrepresentations. None of the various controversies about Rukmini substantiate claims of lying and fraud against her. To be sure, some of the reports covering the controversies- such as Jacob Silverman's piece in The New Republic- have noted this point, but I am concerned it has been lost amid much of the social media outrage.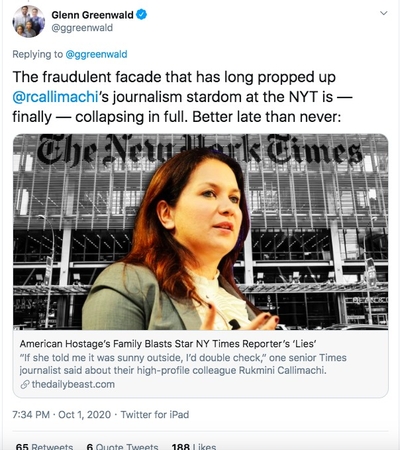 2. I have to call out articles that offer no new information or insights on these controversies, but simply recycle what is already out there and seem to be driven more by outlet/newspaper rivalries and/or a desire to milk attention from the controversies. A recent piece in the Washington Post is an example of this problem.
3. The controversy over the New York Times' publicising of forged Islamic State receipts: I believe I should revisit this controversy since I discussed the matter with the New Republic, and some further clarifications should be offered. First, it is not as though Asaad Almohammad, the individual who supplied the receipts, emerged out of nowhere and Rukmini came to rely on him for no apparent reason. This was rather an individual who had been making himself known in the analytical community as someone with supposedly good access to sources on the ground in Syria, based on his apparent past working in intelligence. He had already written (with another author) studies that were published in Perspectives on Terrorism and West Point's Combating Terrorism Centre. At the time the story came out, Asaad was a research fellow at the George Washington University's Program on Extremism, which has been working to translate, redact and analyse Islamic State documents Rukmini collected in northern Iraq. No doubt Asaad wished to have media attention drawn to the supposed receipts as a scoop in order to promote his paper on alleged Islamic State infiltration of the al-Qa'ida-loyalist group Hurras al-Din, which was released after the publication of the New York Times story.
In general, the assumption in the field of research is that other researchers are at least trying to get at the truth, even if they might make significant errors on the way. In other words, a basic trust by default is extended to other researchers so that apparent findings are given serious consideration, and there could be an aspect of truth to some of the data even if other data are erroneous. That basic trust was extended to Asaad by Rukmini and others. In retrospect, the extension of that trust to him was an error.
The fundamental problem was Asaad's lack of transparency about his materials. He was not willing to share all of them with me prior to the publication of the story. The result was that while I could deem one set of purported letters he had as fake since they contained obvious signs of forgery, I could not make a similar case with the supposed receipts as I did not have access to all of them. Rukmini and I also took his word for it that the receipts and the letters had not all come from the same source: again, a basic trust that he was being honest on his claims about the sourcing, even as we thought he was mistaken on the authenticity of the purported letters.
It is not the case that Rukmini somehow deliberately misrepresented my opinions in order to create the story. After a subsequent blog post reviewing the whole situation whereby I noted the problem with the purported receipts (namely claimed payments to someone in Hurras al-Din going back to early 2017 when the organisation definitely did not exist and had not yet taken root), Rukmini was willing to acknowledge the doubts I had raised and worked to correct the error in the original report stating that I had reviewed eight receipts prior to publication. She herself had also become sceptical of Asaad and wished she had pressed him more. The subsequent story that the New York Times did about 'experts divided' on the authenticity of the receipts was a suggestion that editors at the paper had made for dealing with the controversy.
I have also observed some people say that it should have been obvious that the receipts were forged given what is known about the conflict dynamics in northwest Syria, but the reality is more complicated than that. True, the Islamic State declares Hurras al-Din to be an apostate group and that is a clear barrier to organisational cooperation between the two groups, but as I had pointed out both to the New York Times at the time of the initial report and in my subsequent blog post reviewing the whole situation, if the receipts had been authentic they could have shown infiltration of Hurras al-Din at the individual level by Islamic State, and the fact is that a Hurras al-Din document issued by the leadership in early 2019 warns members about affiliation/contact with the Islamic State. One does not issue such warnings if there are no concerns about infiltration by the Islamic State and sympathies among certain individuals. In that regard then, the implications of the documents, if they had been real, would not have been beyond the realm of plausibility.
More generally, it should be noted that the fact that Abu Bakr al-Baghdadi ended up in Idlib in northwest Syria at all was a surprise to the analytical community. No one should harbour pretensions to having expected it. There is still much we do not know about the route Baghdadi took to get there, how many locations he stayed at in Idlib (if any) before the village of Barisha, whether anyone was providing him protection, and so on. Investigating these issues in the current circumstances is virtually impossible, and we may never learn the full story.
Should the New York Times have gone forward with the original story? No. Can there be criticism of how the controversy was handled? Yes. But looking back, at least one benefit for the public good emerged from the debacle: namely, clear evidence of Asaad Almohammad's unreliability, which was demonstrated by his behaviour in this whole affair. Had the controversy not emerged, Asaad would probably still be writing papers today for various institutions, and serious questions about his work would likely be confined to mere whispers in the community. In the meantime, the outlets that previously published his work would do well to review it.
Incidentally, I note that a considerable amount of rage at Rukmini focuses on her identity as a non-native of the Middle East. This is fallacious reasoning: by the same logic, I guess Asaad should have been automatically granted extra credibility on account of his origins from Raqqa, which served as the de facto capital of Islamic State?
4. The 'Abu Huzaifa' controversy: since the news of his arrest on the 'terrorism hoax' charge, various thoughts have gone through my mind about 'Abu Huzaifa' and his story. Sometimes during this period, I have felt that he probably did make up the entire story. But the truth is, I do not know the full story of what is going on here, and neither do you. The best discussion I have seen of the controversy is a podcast with Amarnath Amarasingam and Leah West, which highlights the considerable uncertainties about this case. We do not know the extent of the 'hoax' charge alleged, or why the charge has necessarily been brought now. We do not know what 'Abu Huzaifa' is going to say in response to the charges and whether he is going to cut some kind of deal to avoid a trial. A trial itself may not prove anything definitive, because a key aspect of proving a 'hoax charge' against him would be to determine that his motivation was to cause panic among the Canadian public. We also do not know about the precise nature of the individual's relations with the Canadian security services. It could well take a long time for the full truth to emerge about him, with security considerations preventing the release of some information that would complete our understanding of the case.
A possible parallel case that has come to my mind (and probably some other people's minds) is that of Hassan Butt. For those who may not know, Hassan Butt was a member of the British group al-Muhajiroun and had a prominent media profile for various outrageous claims he made. He then ostensibly left the 'radical' network and even wrote a piece for The Observer that gave the impression he was into ideas of 'Islamic reform.' By his own subsequent admissions, however, he had fabricated much about his past as an ostensible jihadist, but that was not in itself the end of the story. As the journalist Shiv Malik (who was keen to work with Butt) discovered, it would appear that Butt was an informant for the British security services during part of his time in al-Muhajiroun (for a fuller account of these events, see Malik's excellent book on the whole affair entitled 'The Messenger'). The fact that Butt fabricated many details of his life does not mean that his entire involvement with al-Muhajiroun/'radical' networks was a fiction.
I do not know whether this case will turn out to be similar. On a wider level, it needs to be understood that lies and incorrect information supplied by interviewees in this field is a huge problem, but those lies and errors do not necessarily invalidate the entire story. It would be foolish for anyone to imagine that former members of Islamic State always or most of the time tell the truth about their involvement with the organisation and get all details and dates correct. Corroboration is also a difficult enterprise.
While it is easy to imagine of 'Abu Huzaifa' as some kind of media whore who was trying to game the international attention paid to the Islamic State, those who have interacted with him paint a rather different picture. He actually tried to get the New York Times to kill the story, and Amarnath's interactions with the man point to someone who appears to have a post-traumatic stress reaction to various incidents that he recounts.
The point is that we need to wait and see how this case transpires. While it is fair to criticise the New York Times for having made him a central figure in the Caliphate podcast (personally speaking, I would have made the documents the central feature of the story, even if it does not make for such riveting story-telling), the criticism can be made in a reasoned manner with broader reflections on the issues surrounding interviews with people who claim to have been involved with Islamic State. The New York Times should at least be credited for working to re-report the story. Other outlets that gave 'Abu Huzaifa' a platform (e.g. VICE) would also do well to revisit their interviews with him.
5. Whatever mistakes Rukmini has made during her years of reporting (and point 3. counts as a mistake in my view, for example), it strikes me as grossly unfair to dismiss her entire record as though she has made no genuine contributions to this field of study. No one can doubt the authenticity of the jihadist documents she gathered in both Mali and Iraq, and whatever claims people want to level against Rukmini that she 'stole' documents (unfair claim, in my view), the documents contribute something significant to our understanding of how jihadist groups have administered areas under their control. Can one disagree with Rukmini's interpretation of the documents? Yes. Are these documents the key to understanding these groups? No, and it is simply a strawman to suppose anyone is claiming as such. Do the documents have limitations like other forms of source material for understanding these groups? Yes. Can we have debates over ethics of collection and redaction of the documents? Yes. But the contribution to this field of research cannot be denied, and it comes across as petty to write it all off, especially as Rukmini was keen from the outset to make the Iraq documents available for public viewing and research, and I am happy to be contributing to that effort.
On a broader note, Rukmini is human and fallible. That is also true of you and me. No researcher or journalist in this field should be elevated to a heroic status in which the work becomes unquestionable and considered the final word. To illustrate this point, allow me to note the case of the martyr Hisham al-Hashimi, who was assassinated in July this year. Hashimi was renowned as a leading authority on the Islamic State and quoted in an array of media outlets. However, that does not mean Hashimi's information was always correct. Like all of us, Hashimi made his mistakes, and certain things he publicised raise some ethical issues.
For example, I noticed in June 2016- during the campaign by Iraqi forces to recover Fallujah from the Islamic State- that Hashimi tweeted photos of purported Islamic State lists of members of the organisation in the Fallujah area along with their alleged salaries. Yet the purported Islamic State documents are clear forgeries. To begin with, they are marked with 'Islamic State of Iraq' even though the Islamic State had ceased to use this name in 2013. Further, all the personnel listed seem to have salaries of $600: extremely implausible considering that salaries in Islamic State have been reckoned according to an individual's circumstances such as number of wives and children. A couple of individuals are listed as being present in the 'security apparatuses' and cooperating with 'the mujahideen of the Islamic State' but 'all the information is registered with the Shari'i amir.' This makes no sense at all.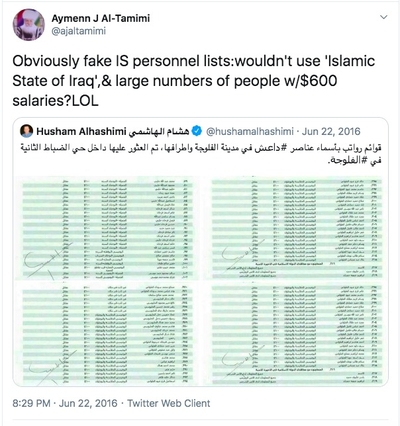 Besides, there are ethical issues to be raised about open publicising names of people in the Fallujah area as purported members of Islamic State, especially those who might be entirely innocent of the accusation. It should be noted that hundreds of people from the Fallujah area went missing, likely detained by Hashd groups on accusations of Islamic State affiliation. How much has the publicising of fake Islamic State personnel lists like these ones that Hashimi tweeted contributed to the problem of innocent people being disappeared on accusations of Islamic State affiliation?
It was also Hashimi who was the source for the original story about Abu Ali al-Anbari as a supposed former Ba'athist-era general who then became a Salafi jihadist and represented the epitome of the supposed Ba'athist element in Islamic State (a narrative pushed to blame unfairly the Ba'ath Party for the Islamic State problem). In reality, Anbari had no such background.
What does all this show about Hashimi? Does it show that he was a fraud whose work should be dismissed in its entirety or simply that he sometimes made mistakes in his work even as he made some real contributions to understanding Islamic State? The answer is clearly the latter. And what would be the point in venting in anger about these mistakes or doing a Twitter thread to 'expose' him? The man is a martyr, for God's sake. If anything, one thing people in this field should learn from Hashimi's memory on a personal level is the need to be less angry. Hashimi was kind to others and did not waste his time venting personal anger at those who disagreed with him or criticised his work. Look how I criticised his tweeting of the fake documents in my somewhat disrespectful tone in 2016, but Hashimi was always respectful towards me and spoke highly of my work.
Regrettably, this field suffers considerably from ego contests and lack of ability to air criticism publicly in a respectful manner. We should not be creating false senses of consensus and refrain from critical public discussion of each other's work for fear of upsetting cliques. At the same time, we should not decide to pile on every complaint we have against a person's work in a bid to discredit that person when it suddenly becomes the hot trend on Twitter. Granted, the matter differs somewhat when there is outright fraudulent behaviour, such as stealing work without attribution and outright fabrication. But as noted, there are no such charges against Rukmini.
It is high time to recognise that this is a field in which our understanding of events and sources will continuously evolve. If we revise our conclusions on the authenticity of certain sources and the reliability of certain accounts, then so be it. That is not a failure, but a strength. We are all fallible and expressing opinions that are fallible, and in the end we will be remembered as footnotes and sources for future historians to debate and discuss. Please: some humility and calm are in order.
---------------------------------
(Update 20 October 2020): Asaad Almohammad wrote to me on 18 October 2020 and says that he gave Rukmini permission to share with me from the outset all the documents he supplied to her as part of the story. To support this claim he supplied a screenshot featuring correspondence with Rukmini in which there are 14 attached images sent to her in an email sent on the early morning (presumably this is EST) of 30 October 2019. In an email dated to the evening (again, presumably EST) of 29 October 2019, he says in response to a query from Rukmini about sharing receipts with me: 'I don't mind sharing these files [receipts etc.] with him if you trust he'll be professional about it'- (I quote this part since Asaad has made it public anyway).
However, the account Asaad gives does not quite square with the facts. I was only shown four receipts. Further, when in an email on 31 October 2019 I asked him to supply all eight receipts, he responded that he only had approval to share them with Rukmini. It was not until 8 November 2019 that I was given the opportunity by Asaad to review all eight receipts. Therefore Rukmini did not have permission to share all the documents with me from the outset. Perhaps it was not Asaad's decision as to whether all the documents could be shared from the outset, but the point I was making about transparency is that the verification process should have involved sharing with me from the outset all the documents for review.
-----------------------------------
(Update 10 October 2021): Shehroze Chaudhry has now admitted he made up the whole story, in return for which the prosecution has dropped its charges of a 'terrorism hoax.' My take: I believe the explanation that Shehroze concocted a fantasy to escape from his more ordinary life. Media attention (which he did not necessarily seek from the outset) then led him to spin more tales.