The restoration of national grid electricity to the areas of Ninawa province recaptured from the Islamic State in 2016-2017 has been an important aspect of the return of some form of normal life to those areas, since electricity constitutes a key public service. In Ninawa province, the Ninawa Electricity Distribution Directorate (Ninawa Electricity Distribution Branch), affiliated with the Electricity Ministry, is the body responsible for the distribution of national grid electricity to various users (e.g. residents, businesses and government offices). On 25 October 2020, I conducted an interview with the Engineer Ahmad Amjad Muhammad Ali, head of the Ninawa Centre Electricity Distribution Directorate (also called the Ninawa Centre Electricity Distribution Branch). This branch covers what is considered the centre of Ninawa province. In the interview we discussed the national grid electricity situation in the province.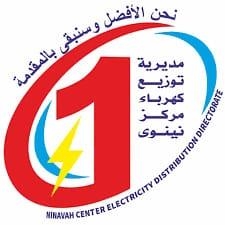 Q: What are the sources of national grid electricity in Ninawa currently?
A: Ninawa's sources are: (i) the Mosul dam and the generation in it relies on the extent of discharge of water, (ii) the al-Qayyara gas station of capacity 125 MW that operates on gas-oil currently, (iii) the al-Mansur gas station, (iv) the Khurmala investment station from Arbil, (v) connection lines with the national network.
Q: Generally for how many hours does the national grid electricity come in Mosul and the other areas in Ninawa? Are there problems from cut-off of electricity and why?
A: The average hours of supply currently while we are in the autumn is around 18 hours. Of course the cut-off of the current causes many problems in various sectors, in particular the agricultural, industrial and offering of services.
Q: What is the proportion of destruction in the electricity network in Ninawa because of the war? in what areas is there the greatest proportion of destruction? And how are the efforts of restoring the electricity network going?
A: The proportion of the destruction of the network is more than 85%. The greatest proportion of destruction is in the old city at 100%. Praise be to God the network has been entirely restored.
Q: What are the most important accomplishments of the Ninawa Electricity Distribution Directorate and what are the most important challenges it faces currently?
A: The most important accomplishment is restoring life to the electricity network entirely and operating the projects of water, sewage, government foundations, health foundations and educational foundations while supplying all subscribers with electricity current within global specifications. The most important challenges are the lack of availability of liquidity and lack of existence of sufficient production of electricity to cover the actual need of the province and cover the future expansions.