The living situation in Idlib and its environs in northwest Syria is not easy. Packed with displaced people, the area also suffered from the rapid deterioration of the Syrian pound. While there has been a transition to the Turkish lira and it has eased the pressure of costs of living somewhat, there is still the fundamental problem of lack of viable income and savings from the outset. Both muhajireen and locals have set up small businesses for various reasons such as making ends meet and raising money to provide aid to the needy. Previously on this blog I have covered examples of these projects, such as the German Bakery in Idlib, KFC Idlib and Idlib Online.
Today, I conducted an interview with Handmade Idlib, a small business that makes simple goods such as colouring books, wall decorations, bookmarks, prayer charts and greeting cards. Any parenthetical insertions in square brackets are my own.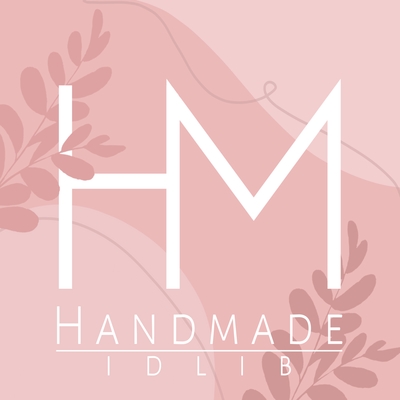 Q: When did you start your business and for what reasons did you start it? Tell us about the kinds of products you make?
A: We attempted to start this business in 2018. We didn't have any experience in running our own business, but we were determined to try our best. We started really small and still are a really small business consisting of only two members in our team. We were not sure with what to start but one day we got inspired by the concept of Ramadan Planners. So that was our first project.
We taught ourselves everything like how to design something digitally and turn it into a physical product, with the really simple means we had/have. We started designing on a Smartphone and didn't even own a printer. Now we own a few more helpful equipments.
We make all kinds of stationary and paper products like cards, notebooks, planners, posters and learning products for kids. We have many more ideas and plans for the future in sha Allah.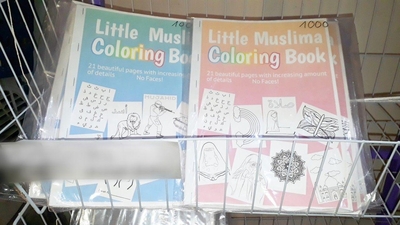 Examples of products made by Handmade Idlib.
Q: Where have you put your products for sale and where do you sell them currently?
A: At first we only produced by orders and it was a tricky thing to figure out the logistics of everything. Since we don't have a general post delivery service in Idlib areas, things are kind of complicated. After 2 years we started to put our products in a popular shop in Idlib. We are still trying to figure out the best possible way.
Q: Are all prices of making your products and the income from sales in Turkish liras now? Has the transition to the Turkish lira helped your business in any way? Has the transition helped people in Idlib in general? How is business going for you?
A: Generally the currency used here is Turkish lira now yes. But if you go to wholesale shops they will tell you the dollar price since the Turkish lira is not the most stable currency at the moment. Still way better than the Syrian lira [pound] of course. We think that yes the transition has helped the people of Idlib in general because now the earning of one will not drop in value in one day anymore, so that the people are able to make a living again. By making a living I mean that it's now a little less impossible. It is really hard here in terms of that. People don't buy as much since most people struggle with their financial situation. And that's of course bad for business, but also sad from a human perspective.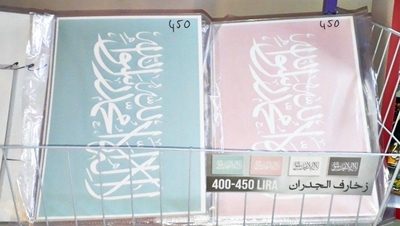 Products from Handmade Idlib. Note the pricing in this photo is in Syrian pounds. The transition has been made to the Turkish lira along with pricing of many goods in U.S. dollars.
Q: Do you use the money you make from sales for any charitable projects? If so can you give examples?
A: Unfortunately the business doesn't make enough to live from it. It's not that profitable. The little money that does come in, goes directly back into the business. So you could call it more like a passion project than an actual good business.
And even though the odds are against a business ever working out to be successful here in Idlib, we try to stay positive and hopeful for the future. We believe that with hard work and faith everything is possible, with the permission of Allah.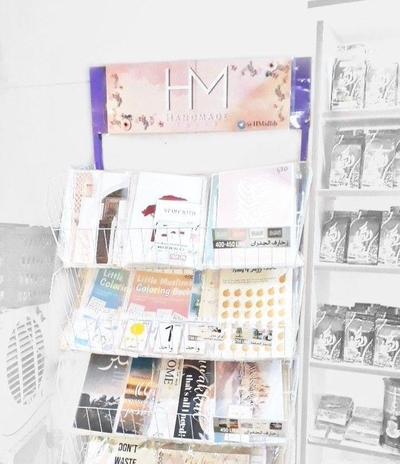 Q: You are witness to the situation in Idlib. Do you have a message for the Ummah on the situation in Idlib?
A: To be honest, it's hard to say. The situation is not very good. Of course it could always be worse, Alhamdulillah. Maybe our message for the Ummah would be: don't forget your brothers and sisters all around the world. Try to help the ones who need it. With dua, with donations and don't be greedy with both. I know it can be easy to forget in midst of our own struggles. But be sure to always remind yourself that we are responsible for one another even if we don't know each other. We are one Ummah, one body. No matter how far apart we are physically, I pray that the Ummah gets closer and less divided in our hearts.