Continuing in the coverage of the regiments of the 'tribal Hashd' in Iraq's northern province of Ninawa, we turn to Regiment 14 that is led by Omar Fadhil al-Alaf and operates in the area of al-Arabi neighbourhood in Mosul. On 16 October 2020, I conducted an interview with al-Alaf about the history of his regiment.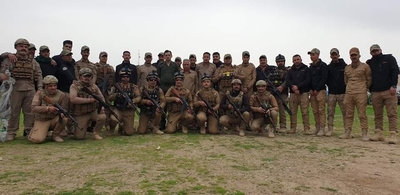 Q: When was Regiment 14 formed and in which area was it formed? And from which areas and tribes are most of its members?
A: The regiment was formed on 16 September 2016 with the rest of the tribal Hashd groups in Arbil by the agreement of the central government and the coalition forces. All the personnel are from the city of Mosul, most of them from al-Arabi neighbourhood. The regiment massed with the security forces in the beginning of the liberation of Ninawa.
Q: In which battles has the regiment participated and what is the number of martyrs?
A: It participated in the liberation of al-Arabi neighbourhood. It has one martyr.
Q: What are the responsibilities of the regiment currently?
A: The responsibilities of the regiment: sector of responsibility is the peripheries of al-Arabi neighbourhood.
Q: How are matters of salaries and arming of personnel proceeding? And how do you assess the security situation today? Do you have a message for the Iraqi government?
A: The salaries: all the fighters are receiving the salaries through the key card. The security situation is very good in general, and also assignments: the regiment carries out arrests of the terrorists according to arrest warrants. Our arming is from the central government during the liberation only.
There is no logistical support for the tribal Hashd groups. There are no additions to the Hashd groups of Mosul- city centre in general.