At the outset, I should clarify that this post is not an obituary for a friend who has died from COVID-19 or from 'complications due to COVID-19' (as we have now been accustomed to read so often in death notices). Nor is this a post about someone who has contracted COVID-19 and is on the verge of dying. Far from it, this is about losing a friend to some sort of madness that has been induced by the pandemic and its socio-economic repercussions. I believe this is an issue that merits further attention amid all the discussions about COVID-19, especially since it seems unlikely that this pandemic is going to end anytime soon. This experience has left me distraught and at a loss as to what to do.
For context, I have known this friend since 2011 or so, back when I was an undergraduate student at Oxford University. I first met him online via Facebook where he had turned his personal page into a blog, having moved on from the world of blogspot sites. Some of my readers and other friends may well remember him from those days. I met up with him in person several times in the middle years of the prior decade when we were in the same region: we went out on nights together, had meals together and even went to a party together held by a mutual friend from the same online circle. Other details of our relationship I prefer not to disclose.
For most of the time I have known him, I found him funny, witty and sometimes insightful, though often I did not agree with his opinions and assessments. He always came off to me as eccentric, though this is not necessarily a bad trait (for the record, I would consider myself to be eccentric). Though some I know over the years found his sense of humour distasteful at times and got annoyed by his opinions and thus cut him off, I am of the view that you only make a few meaningful friendships in your life, and disagreements in opinion especially over political issues and the occasional spat are no reason to cut friends off, especially when they reached out to you and tried to help you during your own low points in your life, as he did for me.
The COVID-19 pandemic has proven in many ways to be a contentious issue, often stirring up partisan political disagreements when in fact society's response should be guided by the scientific evidence (easier said than done, in certain respects). As it happens, this friend has taken a position of what might be called 'soft' COVID-19 denialism: not outright denial of the virus, but rather claiming that COVID-19 is no worse than the flu or even a common cold virus and therefore the precautions taken to try to minimise the spread of COVID-19 are pointless. Essentially, he believes that society has been gripped by an irrational panic, perhaps concealing a deeper fear about the stability of our modern world.
Now, as it happens, I think that while there is a point to be made about irrational behaviour during the pandemic, the general precautions taken to limit the spread of the virus are sound and the virus does not strike me as a mere flu or common cold. Prevention is better than contracting the virus and falling ill. However, the espousal of 'soft' COVID-19 denialism, frustrating as it may be, is not a reason to unleash rage on a long-time friend and cut that person off. Things would be fine if my friend were proceeding with his life as usual, showing regard for regulations and engaging with a variety of world issues while having a stable income.
The problem however is that obsession with 'soft' COVID-19 denialism seems to have taken over his life in a way that is very worrying to me. It is not merely that 'soft' COVID-19 denialism is the only subject he seems to post about on his Facebook page, but he seems to have faced severe fall-out from the repercussions of this pandemic. He has lost his job. To make things worse, he tells me that he has spent a substantial amount of money 'on this corona [COVID-19]: mainly on being able to do it full time, plus Facebook ads.' While these remarks might seem obscure at first sight, what he apparently means is that he has been spending vast sums of money on trying to promote in various ways his messages about COVID-19 (including paying for Facebook advertisements for his pages' posts) in addition to his usual living costs. According to him, his spending has included more than $10,000 from the money given to him by the company that fired him and nearly $30,000 from pension funds. He says that he is about to take out another $20,000 or so and he has also borrowed more than $15,000 from a bank. He also lent a credit card to a friend of his. From all of this, he says, he did not get 'a single penny' and he complains that money was stolen from him (though not clear by whom).* He is also apparently facing the prospect of eviction from his flat by his landlord over rent issues as well as his neighbours. He complains that 'the way everybody betrayed me here is simply unbelievable.'
As I examined his various more recent posts on Facebook, it became evident that my friend is no longer the person I knew all these years. Instead of his usual sense of humour to which I had become accustomed, I find a derangement that has become ever more detached from reality, and it became clear to me why pretty much everyone had stopped engaging with him on his personal page. His posts have now been reduced to his posting dozens of comments on those posts in the form of threads in which he tags various persons' names in a bid to get their attention. But the repetitive, bizarre and incoherent nature of his posts and comments has simply alienated those people. I will illustrate this with some sample screenshots from various posts and threads below (NB: his personal page, and all his posts in it, are public, though I have redacted his name and the names of people he has tagged in these posts).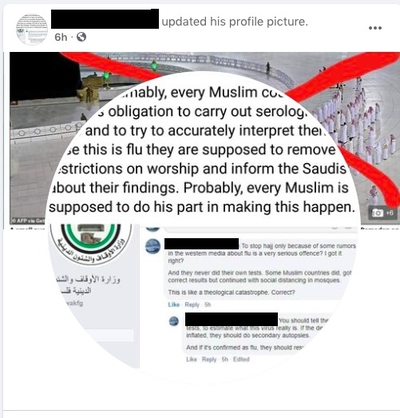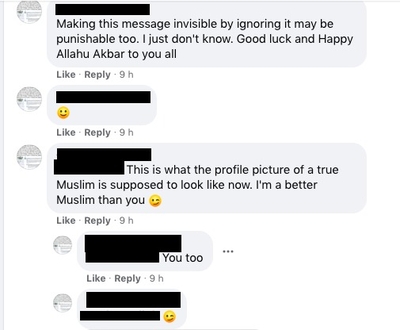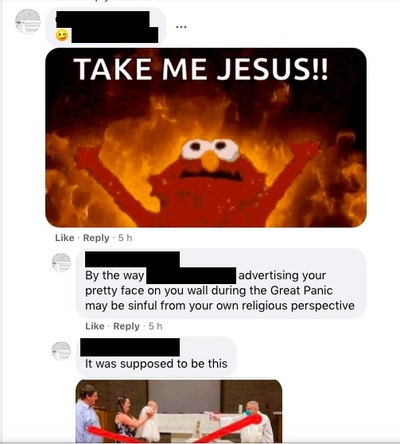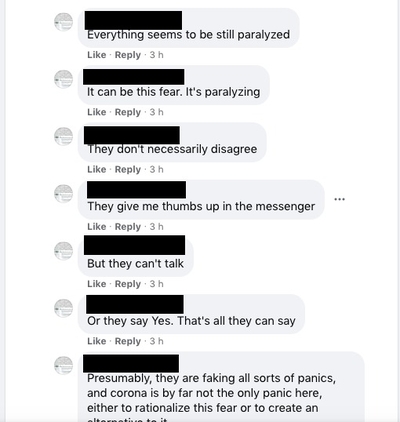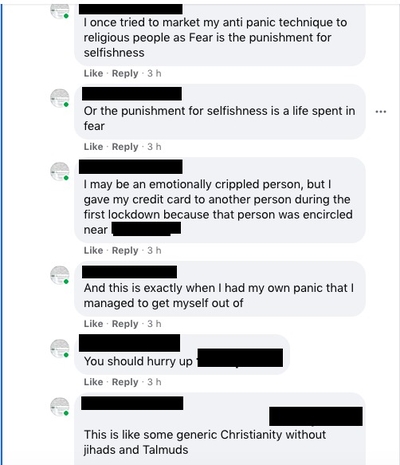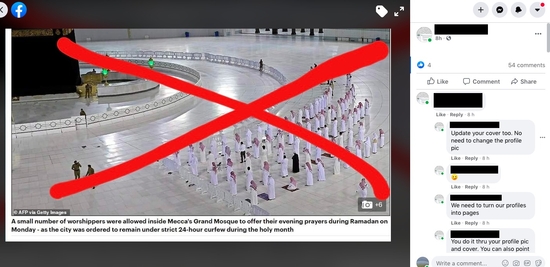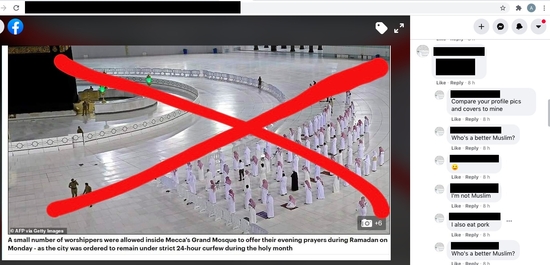 At first, I had thought that what he simply needed was someone to talk to and perhaps engage with some of his ideas in a humorous way. So I mentioned to him some of the research I had done on jihadist perspectives on COVID-19. But this was a grave mistake on my part. It has merely added fuel to his obsession, as he began to go on about the need to wage a 'jihad against the panic in Islam' and somehow thought he could get out the message to the jihadist groups and the Muslim world at large. He even attempted to enlist me in this endeavour: 'This is the highest that you can achieve in your field. You stop being an expert and turn the tables on the sheikhs. You defeat them exactly in the domain they pretend to know the best: theology.'
As my frustration grew, I told him that what he really needed to do was find a job and get some stability back in his life. His response to my advice was that 'I don't accept advices from people who participated in killing pregnant women on ventilators.' When I told him that I have not killed any pregnant women on ventilators (or any person, for that matter), he spouted in reply: 'You all particulated [sic: participated] in this. I didn't get a penny.' When I then asked how I participated in this, he replied: 'Everybody told me to stop caring and find a job. I know that you like killing pregnant women on ventilators. I don't care emotionally. But I think it's wrong.' He then mentioned how he had talked to 'several lawyers' and 'had many posts on the subject' and ran a Facebook ad for it, but according to him, despite his attempts to reach out to 'dozens of thousands of people' no one bothered to put a like or comment.
At this point, I have begun to wonder whether this is a case of psychosis (I am no psychiatrist or psychologist, mind you). I feel upset and distressed and I feel as though I am in a dilemma. On the one hand, it seems he has almost no one to talk to. His immediate family are all far away from him in another land and do not seem to be close to him, and I fear that an ever-deepening isolation from others will aggravate this derangement. On the other hand, trying to engage with him and offer constructive advice has produced no results, and attempting to indulge his ideas, even humorously, seems only to feed the derangement. Given this pandemic and its fallout have little prospect of ending in the near future, I fear there may be no chance of bringing my friend back to his old self. Perhaps it is the case, as a mutual acquaintance who has similarly become alienated from him told me, that my friend is so far gone that unless I am willing to devote a huge amount of time and possibly money, then there is nothing that can be done for my friend. Besides the fact that I am not in a position to devote such time and resources (we are no longer in the same region, for one thing), there is a good chance that further efforts I expend will be of no use. In this respect, then, I feel that I have lost a friend to COVID-19, just not in the sense of actually contracting the illness and dying from it.
I do not know how many similar cases have emerged around the world, if any. I do not know if any of my readers and other friends have had similar experiences with their own friends. I am also well aware that this post strays far from what I normally write about. But I do believe that this story is worth highlighting for the greater need in general to consider the mental health impacts of this pandemic and the disruption it has caused to society. In the meantime, it seems all I can do is hope that my friend- a very bright and talented individual- can get over this crisis someday and return to his old self.
-------------------------
*(Update 28 October 2020): In a subsequent conversation, my friend finally clarified that his money was stolen supposedly by a homeless person he had accommodated at his place. My friend also says that he himself spent most of his money to 'avoid working' so he could 'be on this jihad all the time' (i.e. campaigning against COVID-19 'panic', highlighting a supposed case of pregnant women being killed on ventilators etc.). The further I attempt any reasoned conversation, the more distressing this lack of grip on reality seems. As it turns out, the fact he had a stroke around the beginning of the pandemic (which I only just learned about this evening and is actually referenced in one of the screenshots of his comments above) may be an aggravating factor here as strokes can induce personality changes. In any case, more mental health support is urgently needed during this pandemic.