In Iraq's northern province of Ninawa, the formations of the Hashd in general play an important role in maintaining security. These formations can be split into (i) the larger Hashd groups that have brigade numbers on the Hashd commission and (ii) the smaller Hashd groups that generally have regiment numbers and are often called 'tribal Hashd' but are on the registers of the Hashd commission. Regiment 38, also called 'Bayariq al-Iraq' ('Banners of Iraq'), is an example of the latter type of formation. Its basis lies in the Sab'aween tribe and it is led by al-Sheikh al-Meqdad Faris. Below is an interview I conducted yesterday with a person doing media work for Regiment 38. Any parenthetical insertions in square brackets are my own.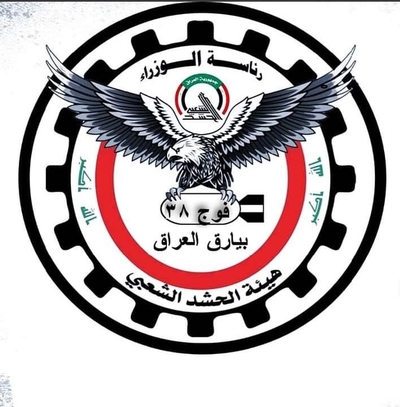 Q: When was the regiment formed and in which area? And from which tribes are most of its members?
A: Regiment 38 was formed in south Mosul. It was the first regiment formed in Mosul province on date 1 August 2014 CE. [Most of its members are of] the al-Sab'aween tribe. The Hashd of the deceased sheikh (God have mercy on him): Sheikh Faris al-Sab'awi, who was martyred at the hand of the Khawarij Dawa'esh [Islamic State] dogs. The regiment was formed on the land of Kurdistan: al-Kuwair area, Makhmour axis.
Q: In which battles has the regiment participated? And what is the number of martyrs?
A: In all of the battles. It has participated in more than 10 battles: the battle to liberate Mosul and Qayyara (which is affiliated with south Mosul). The number of martyrs is more than 70 martyrs until this moment.
Q: Currently what are the responsibilities of the regiment? And how do you assess matters in terms of receipt of salaries and security in the sector of responsibility?
A: First: the responsibilities of the regiment are the sector of the al-Sab'aween: 14 villages, beginning from the peripheries of Makhmour to the peripheries of al-Kuwair. The villages are Kharbardan, Kabrouk, Kudilah, Khabata, al-Makuk, Saydawa, Khaladiya, Salahiya, al-Nasr, Sultan Abdullah, Tel al-Sha'ir, Duwaizat Tahtani, Duwaizat Fawqani, Kashaf.
Are salaries are on keycard. As for security, there are centres of the police and the Iraqi army inside the sector of responsibility.
Q: So security is very good?
A: Yes.