I have previously discussed the 313 Force- an 'Islamic Resistance in Syria' formation affiliated with the Local Defence Forces- in a general overview of the group under the overall command of al-Hajj Abu al-Abbas. Here I discuss a particular contingent within it: the Quwat al-Nukhba.
The Quwat al-Nukhba comprises a contingent of a number of fighters who were the 313 Force from the outset of its formation and have proven their worthiness by one standard whenever the 313 Force has come to rely on them.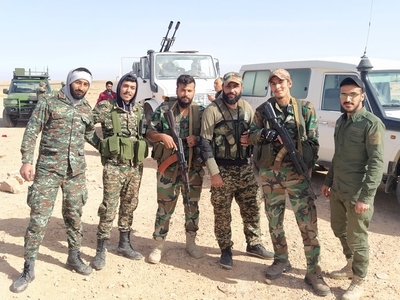 They have participated in battles in a number of areas including:
. al-Quneitra
. Hama
. Deraa
. al-Tanf
. Palmyra
. Deir az-Zour
. al-Kabbana (Latakia)
Among the members of this group (under the command of Muhammad Jalal al-Hiraki/Abu Khalid) are:
. Muhammad al-Kaylani (Shaheed)
. Muhammad Hashma (Karar)
. Muhammad al-Asta (Haydar)
. Ahmad Barazi (Abu Zaynab)
. Maher Jabawi
. Ghazi Ghazawi
. Ahmad Salihani
. Muhammad Kulayb
. Muhammad al-Oqlah (Abu Ahmad)
. Muhammad al-Farakh
. Bashar Rajab
. Ahmad Rajab
. Omar al-Hussein
. Muadh Nahalawi
. Bilal Khidhra
. Iyad Khalid
. Muhammad Hanbalas
. Uday al-Salam
. Khalid al-Uqal
. Ahmad Aoudh
. Ala' al-'Alabi
And in more recent times the Hatem contingent of fighters joined the Quwat al-Nukhba. This included the following fighters:
. Ahmad Abu Hatem
. Ismail Asha
. Nasr al-Muhammad
. Muhammad al-Bouka'i
. Khaldoun Sha'aban
. Abdullah al-Masri
. Ibrahim Abu Hawa
. Yaser Ilham
. Ismail al-Hussein
. Muhammad al-Ramla
. The 'martyr' Mazen Sabbagh
. The 'martyr' Osama Abu al-Khayr
. The 'martyr' Tariq al-Az'at
. The 'martyr' Fareed Khattab
. The 'living martyr' Muhammad al-Taweel
Note the 'martyrs' in question were killed in the battles in Aleppo province in 2 February 2020.
These fighters have fought intensely on all fronts and waged the fiercest battles. Their general role can be described as 'mujahideen of the first rank,' whose primary mission is to conduct assault operations and to support any battalion in need when there are clashes or incidents of ambushes.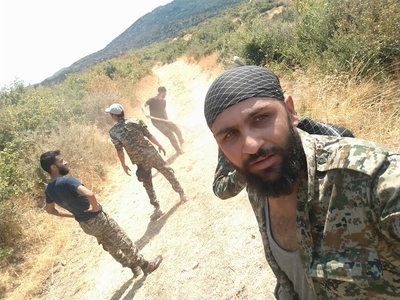 Most recently the Quwat al-Nukhba and the 313 Force in general have been conducting missions in the wider Syrian badiya area to hold ground and conduct sweeping operations to detect Islamic State cells and their hideouts. In addition, as extensive fires broke out in the Masyaf area, the 313 Force sent personnel to participate in controlling and extinguishing the blazes.