Analysis of jihadist groups- and insurgent groups in general- presents many challenges for researchers. Often the data they have to rely on come from the social media output of these groups. Conducting independent field work in the conflict zones in which they operate is an extremely difficult if not impossible undertaking logistically speaking, besides being filled with security risks. It is natural that researchers should wish to gain further insight through trying to conduct interviews somehow with officials and members of these groups.
However, in my view, the researchers must conduct the interviews themselves. They should not be outsourced for others to conduct them. In turn, academic journals should automatically reject articles based on outsourced interviews.
I raise these points on account of an article recently published in the journal Studies in Conflict and Terrorism, one of the leading journals in the field of 'terrorism studies.' The article, entitled 'A Struggle for Power: Al Nusra and Al Qaida in Syria,' is by Antonio Giustozzi, who is also the author of a book on the Islamic State in Khorasan. In short, Giustozzi's argument is that the role of external donors and funding in the evolution of Jabhat al-Nusra into Jabhat Fatah al-Sham and then Hay'at Tahrir al-Sham has been overlooked. His contention primarily rests on purported interviews with twelve members of Jabhat al-Nusra, its successors and the al-Qa'ida-loyalist group Hurras al-Din, in addition to one purported interview with a commander in Ahrar al-Sham.
Yet none of these interviews were conducted by Giustozzi himself. Rather, as he writes in the preface of the article, they were all carried out by 'local journalists, who were selected for their contacts within the jihadist organisations of Syria and have demonstrated their skills when participating within previous projects.' Tracing the note provided by Giustozzi reveals that those projects supposedly led to the publication of a study by Giustozzi and a co-author (Reinoud Leenders) on the National Defence Forces, a key auxiliary force on the government side in the Syrian civil war. That study relied in part on outsourced interviews purportedly conducted with officials in Iran's Islamic Revolutionary Guard Corps, members of 'pro-regime Palestinian armed factions, and Afghan volunteers.' Those interviews were supposedly conducted by 'a research team of three interviewers, based in Damascus and linked to pro-regime militias, who remain anonymous to protect their safety.' Outsourcing interviews then seems to be a regular habit in Giustozzi's work, as it was a key part of his study on Islamic State in Khorasan.
When I examined Giustozzi's article on the evolution of Jabhat al-Nusra, the mention of outsourcing interviews immediately raised alarm bells in my mind. I was also struck on perusal of the article that one of the supposed interviews was with a 'Jabhat Fatah al-Sham commander in Deir az-Zor, November 2016' and that this interview was a source for many claims in the article. The problem is that there was no Jabhat Fatah al-Sham in Deir az-Zor at the time as the group's predecessor Jabhat al-Nusra had been expelled from the area by the Islamic State in 2014. It is possible that Jabhat Fatah al-Sham was operating clandestine cells in the area in 2016, but even then it is strange, to say the least, how such an interview could have been arranged. Do people on clandestine security missions somehow make time to issue a whole bunch of proclamations on their organisation's inner workings?
Giustozzi has issued a response to my criticisms, which I reproduce in the interest of fairness below.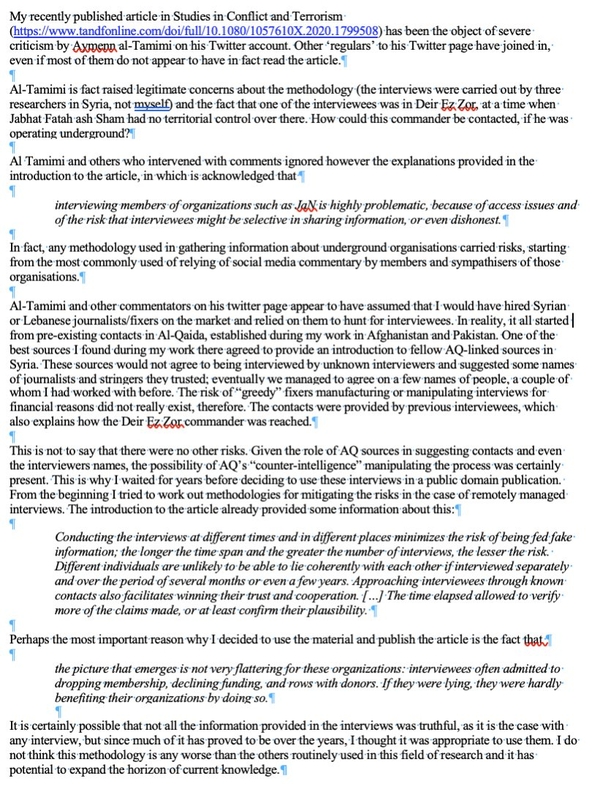 Giustozzi mentions that the 'interviews were carried out by three researchers'. So were these the same three interviewers based in Damascus and 'linked to pro-regime militias'? It certainly seems that way to me. Giustozzi also claims that the process of finding interviewees 'all started from pre-existing contacts in al-Qa'ida' from his work in Afghanistan and Pakistan, as one of them supposedly 'agreed to provide an introduction to fellow AQ [al-Qa'ida]-linked sources in Syria.' However, if Giustozzi already had a contact in al-Qa'ida who could introduce him to 'AQ-linked sources in Syria,' why could that source not vouch for him to the fellow 'AQ-linked sources in Syria' such that they could agree to be interviewed by Giustozzi himself? Why should they insist on having a third-party of supposedly trusted 'journalists and stringers' conduct the interviews?
Giustozzi insists that 'the risk of 'greedy' fixers manufacturing or manipulating interviews for financial reasons did not really exist' because the supposed sources mentioned 'journalists and stringers they trusted.' But this is a non-sequitur. In his article, Giustozzi mentions that 'interviews carried out for this article were funded through small consultancy projects, over the years.' Clearly then, there was financial incentive involved for the people Giustozzi employed to conduct the interviews.
I should add that hiring fixers to help arrange interviews is not an inherently bad thing, but it only makes sense to use such fixers when you are conducting the interviews yourself. You also need to have a clear idea of the people to whom you wish to speak and the environments in which they operate. That is, the interviewees should be those whose identities you can verify in some way. For instance, I hired a fixer during a research trip to northeastern Syria in early 2018. My goal for the most part was to gain a better understanding of local governance and security there, and my fixer was able to arrange a number of interviews, all with known and verifiable entities and persons. While I consider the fixer to have done a very competent job and find him very likeable (I still talk to him to this day), I would not simply pay him from a distance to go conduct interviews for me even in an environment like the regions of the Autonomous Administration where you can more easily verify identities. Now imagine outsourcing interviews to people you have not met and involving inherently clandestine organisations and secretive personalities in a topic considered much 'hotter' than studying local governance projects in northeastern Syria. The far greater incentive for fabrication and manipulation cannot be denied.
Further, I note that Giustozzi does not provide a satisfactory explanation for why the reader should believe in the plausibility of a supposed interview with a Jabhat Fatah al-Sham commander in Deir az-Zor in 2016. He says that the contact was provided by 'previous interviewees'. But still, how logistically would this interview have worked? Why would someone presumably on security assignments, if he was indeed there, agree to an interview and talk about sensitive matters involving the organisation? Moreover, Giustozzi himself says that 'the interviewees were selected among available contacts as the most likely to be knowledgeable about the debates among the AQ-aligned groups.' This raises the additional question of why the Jabhat Fatah al-Sham commander in Deir az-Zor would be selected then, even assuming the interview is real. The group's main leaders and administration were based in northwest Syria at this point: someone working in Deir az-Zor on security assignments would be distant from the internal happenings at that point.
In short, Giustozzi's explanation of his methodology only raises more problems and questions. But there is another glaring issue that Giustozzi did not address in his response: namely, many claims attributed to the supposed interviewees are so bizarre on so many counts that they raise severe doubts about the identities of those interviewees. Other extremely odd statements in the article seem to have no citations but probably go back to the purported interview data. The problem is not simply a matter of whether everything interviewees say is true (of course no one expects that), but rather the fact that there are so many weird claims and assertions so the whole enterprise is cast into doubt. Did Giustozzi and the peer reviewers (whoever they were) not consider the claims and statements carefully and compare with other lines of evidence to make a reasoned determination of their plausibility? Giustozzi writes in his article that 'verifying much of what the sources said was hard if not impossible.' That should have been a red flag to examine more closely the plausibility of the claims attributed to the sources and the identities of the purported sources.
Here are some examples of bizarre claims and assertions in the article:
. That Jabhat Fatah al-Sham in 2016 was 'still receiving commanders and people from AQ in other countries like Yemen, Saudi Arabia, Libya, Egypt, Nigeria and Pakistan.' That commanders [update 31 August 2020: or even ordinary fighters] from al-Qa'ida in Nigeria would still have been joining Jabhat Fatah al-Sham at that point is particularly bizarre. In fact, there are no figures in Jabhat al-Nusra and its successors that I can think of who were ever part of al-Qa'ida in Nigeria.
. That Hay'at Tahrir al-Sham was originally an al-Qa'ida-conceived project or that the formation of the Hay'at Tahrir al-Sham initially reconciled many al-Qa'ida-loyalists to the organisation (claims attributed to Jabhat Fatah al-Sham/Hay'at Tahrir al-Sham 'sources'). No other lines of evidence support this view. It is true that many analysts initially assumed Hay'at Tahrir al-Sham was an al-Qa'ida project, but the testimonies that emerged in the online debates through 2017 show that the formation of Hay'at Tahrir al-Sham was in fact the true organisational break from al-Qa'ida, and only increased the rift with the al-Qa'ida-loyalists. Abu al-Khayr al-Masri, a 'deputy' of al-Qa'ida-leader Ayman al-Zawahiri and based in Syria, had already distanced himself from Jabhat Fatah al-Sham once it became clear that Zawahiri rejected that rebranding and concept of a 'secret' allegiance.
Also, had Hay'at Tahrir al-Sham initially been al-Qa'ida-engineered, then its formation would not have prompted the defection of Sami al-Oraidi (an al-Qa'ida-loyalist) on the grounds that Hay'at Tahrir al-Sham was disobeying al-Qa'ida. Oraidi had stayed in Jabhat Fatah al-Sham, probably because it was agreed to maintain a secret link to al-Qa'ida and so he thought a reconciliation with al-Qa'ida could be engineered even after Zawahiri made clear his rejection of the rebranding. But Hay'at Tahrir al-Sham was rather hurriedly set up and al-Qa'ida had no role in creating it, prompting his defection. Oraidi also says that Abu al-Khayr al-Masri had no role in the creation of Hay'at Tahrir al-Sham.
. That the Qatari government, private Gulf donors, and Turkey were ever pressuring other factions like Ahrar al-Sham and Faylaq al-Sham to join Hay'at Tahrir al-Sham. If Qatar and Turkey in particular had been pressuring Ahrar al-Sham and Faylaq al-Sham to join Hay'at Tahrir al-Sham, they certainly would have joined. It was actually Ahrar al-Sham's own ties to Turkey and a desire to avoid falling under 'terrorist' classification that probably led to the breakdown of the original merger discussions with Jabhat Fatah al-Sham at the end of 2016. There is also no evidence to support the claim that Saudi Arabia was ever involved in any initiatives for other opposition groups to merge into Hay'at Tahrir al-Sham.
. That once the Qatar crisis began in June 2017, the Qatari government turned against Hay'at Tahrir al-Sham and then 'exercised maximum pressure on Jund al-Aqsa to leave the new formation and join IS [Islamic State].' No citation is given for this specific claim. It is possible that the claim goes back to purported interviews with a Hay'at Tahrir al-Sham commander and member of the group's financial commission given other citations in the paragraph. But I will let the statement speak for itself in terms of its own implausibility.
. 'At the peak of the [financial crisis], HTaS [Hay'at Tahrir al-Sham] was forced to stop paying salaries to its men. Only Saudi Arabia and UAE reportedly increased funding, but not to the extent of making up for the losses. The local collection or revenue also collapsed...Relations with AQ Central had seemingly improved and AQ Central had at that point slighly [sic] increased support for HTaS, but largely due to HTaS' agreement to send members abroad as requested by AQ.' All part of one paragraph and no citations, but looking at a citation at the end of the paragraph about Hay'at Tahrir al-Sham still sending fighters abroad in December 2018 to various locations at al-Qa'ida's request, I suppose the claims come from purported interviews with a member of Hay'at Tahrir al-Sham's financial commission and a Hay'at Tahrir al-Sham commander. The absurdity of the statements should be self-evident. If they were in any way true and Hay'at Tahrir al-Sham were somehow doing al-Qa'ida's bidding in late 2018, then what would be the reason for the existence of the al-Qa'ida-loyalist group Hurras al-Din that the author discusses in the next section?
. 'AQ [Central] is telling HTaS to help in operations in Europe, because HTaS also has people from Europe. Yes, they requested us to send people there to perform attacks. HTaS gave the green light'- (quotation attributed to a Hay'at Tahrir al-Sham commander in Idlib in September 2017). This statement goes completely against the Hay'at Tahrir al-Sham's policy of refraining from external operations.
. ' Indeed, according to one source the Saudi government approached HaD [Hurras al-Din], advising it to cut off relations with Qatar, in exchange for receiving even greater support from Saudi Arabia, even double what Qatar was paying.' An absurd claim.
. 'We're trying to find other supporting counties [sic] and donors and to some extent we are successful and have established contacts with UK and US officials and they have promised support and funding to us'- (quotation attributed to a member of Hay'at Tahrir al-Sham's financial commission, Idlib, March 2018). Not sure why anyone in Hay'at Tahrir al-Sham's financial commission would say something remotely like this...
The bizarre assertions not only call into severe doubt the credibility of the purported interviewees and their identities, but they also make for an article that is frankly a mess in attempting to explain the sequence of events and shifts in financial support behind the evolution of the various groups.
As it happens, I put many of the claims in the article to Hay'at Tahrir al-Sham's media contact official 'Taqi al-Din Omar'. Unlike the purported sources in Giustozzi's article, 'Taqi al-Din Omar' is a well-known figure in this field one can readily contact via Telegram. He found the claims bizarre and amusing and had the following to say on the matter:
'In general, the words are a collection of lies and misrepresentations that have no basis of truth. And all of these people with whom he conducted the claimed discussion are unknown persons with regards to us. My account is present and well-known. It was possible to confirm from us directly before publication.'
I am astonished the article passed peer review and that the editors of Studies in Conflict and Terrorism agreed to publication. To the editors and reviewers: if you are reading this, please take a very serious look at the article again. I am also aware that similar concerns have been raised about Giustozzi's book on Islamic State in Khorasan.
To conclude, I would like to offer a few pointers on compiling interview data in the contexts of researching jihadism and conflict zones in general:
1. Do NOT outsource interview work. Not only is this approach lazy, but it also provides very fertile opportunity for promulgation of nonsense. Do all interviews yourself.
2. It is fine to use fixers to arrange interviews that you are going to conduct, but exercise caution and discretion. Ideally you would work with the fixer directly on the ground. In any case, know what you are looking for, be familiar with local contexts and try to verify the interviewee identities in some way. Also, avoid blind trust in fixers and/or seeking too much from them. Some can start out honest in what they deliver but then become deceitful later on.
3. Be realistic in your overall expectations. You are not going to get dozens of members of jihadist groups giving you stunning revelations on the inner workings of their groups.
4. Do not be disheartened if compiling interview data for a particular issue is not possible. There are still other channels of research such as compilation and analysis of open source material.
5. If you have some doubts about a particular interview, it is best to refrain from using it or at least indicate a caveat about the interview.
-----------------------------
Update (30 August 2020): 'Taqi al-Din Omar' adds the following comment about the possibility of field work inside Idlib and its environs:
'I draw your attention Mr. Aymenn to the fact that visiting Idlib for researchers and journalists is available and very much facilitated, so there are no security dangers in it or difficulties as you mentioned in the beginning of the article. In this time in which I write to you there is a Turkish delegation inside. And last week there was with us a delegation from the French-Swiss newspaper Le Temps, and soon we have an appointment with the English BBC. So the issue of direct investigation is open and in a very good sense if God wills.'