On Telegram there are a variety of social media campaigns on the grounds of raising awareness about the plight of Muslim prisoners and helping them. Last year, I highlighted one such campaign called 'Free the Female Prisoners' regarding the women held in the camps controlled by the Syrian Democratic Forces (SDF). More recently, I came across another campaign called 'Izzat ul-Ummah' ('Honour of the Ummah') via the channel of the Al Shaam Charity Foundation (which is another name for the Merciful Hands). Izzat ul-Ummah broadcasts in multiple languages and also has a page on Facebook alongside its Telegram channels. Today I conducted an interview with the campaign about its aims and activities. Any parenthetical insertions in square brackets are my own.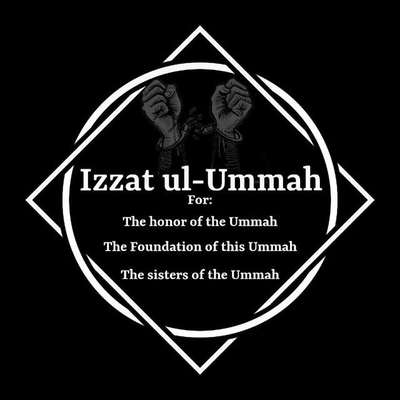 Q: When was Izzat ul-Ummah campaign founded and who is behind it exactly? Are you linked to a faction in the field of Al-Shaam?
A: بسم الله الرحمن الرحيم
الحمد لله والصلاة والسلام على رسول الله
[In the name of Allah, the Compassionate, the Merciful: praise be to Allah and prayers and peace be upon the Messenger of Allah].
Just over three months ago, the project which you know as Izzat ul-Ummah was formed. This project does not belong to an individual, nor does it belong to a selective group. Rather it is a collective effort of brothers and sisters from different parts of the world working together with sisters unjustly imprisoned towards a common objective. The nature of Izzat ul-Ummah is international and not restricted to a single land, but given that the project is in its initialization stage, and due to our limited capabilities at the moment, we are forced to focus on local objectives.
Q: What causes are you trying to highlight exactly? Is it for example suffering of Muslims in SDF camps? Can you talk more about the plight of those Muslims? How is your campaign trying to help those Muslims?
A: For those who care to remember, we would like to take you back to the Seerah after the Treaty of al-Hudaybiyah in which the Muslims made a peace treaty with the mushrikeen [polytheists/idolaters] of Quraysh. As a condition in this treaty the Muslims must return anyone who made Hijra from Makkah to Madina. Though the condition of the treaty was to return all Muslims who made Hijra to Madina from Makkah, Allah revealed an Ayah abolishing the part of the treaty in which obligated them to return Muslim women to the mushrikeen [60:10]. The point we wish to derive from this is that Allah made it impermissible for the Muslimah to ever be in the hands of disbelievers.
The correlations that can be derived from this Ayah in relation to our beloved sisters unjustly imprisoned is worthy of contemplation. In this Ayah Allah begins by commanding the believers to examine the Muhajirat (Muslim women who made Hijra). Ibn Abbas (R.A) mentions this means "Asking them to testify to the shahadatan", while Mujahid (R.A) added "Asking them why they made Hijra".
When we look at our sisters in the hands of the disbelieving PKK, and these questions are asked, are they Muslims? And why did they make Hijra? Such questions would bring about the answer we all know: Yes, they are Muslims, and they made Hijra so they may live underneath the Shari'a. Now who with true Iman in their heart can fault them for this?
After confirming that they are indeed Muslims, Allah's next statement:
فَإِنْ عَلِمْتُمُوهُنَّ مُوْمِنَاتٍ فَلَإ تَرْجِعُوهُنَّ إِلَى الْكُفَّارِ
"...then if you ascertain that they are true believers, then do not send them back to the disbelievers..."
If we as an Ummah do not negate the Iman [faith] of our beloved sisters imprisoned by the hands of the enemies of Tawheed [monotheism], then it becomes unlawful for us to sit idly by while our enemies do away with our honor anyhow they wish. Would you like for your wife to be handled by another man, or your sister to be abused and put in a makeshift toilet segregation prison in which she is stripped of her garments and her Awrah is completely exposed, while the PKK take pictures to share amongst themselves? And Allah knows best what else they do. Just a glimpse at the reality of camp al-Hol in which our sisters suffer daily abuse and humiliation.
Last month The Kurdish Red Crescent reported that at least 517 people, 371 of them children, died in 2019 in the largest camp, al-Hol. Many of them perished from preventable diseases, and according to the UN Commission of Inquiry from pneumonia, dehydration or malnutrition. The children of the Ummah are dying by the numbers while the Ummah sits idly by. Is there no Iman left within this Ummah as a whole? The other camp al-Roj, located in the Rojava region, though in comparison to al-Hol is more accommodating in terms of living conditions and medical services, the sisters of al-Hol dread the thought of being forcefully sent there. The reality of al-Roj camp is what one may describe as a forced rehabilitation center with the illness being Tawheed and the cure being immorality and kufr. It is no wonder the sisters of al-Hol dread such an environment. The niqab, long wide hijab/khimar, and black or thick layered clothing are all forbidden, meaning our beloved sisters are forced to uncover their faces and wear colorful clothing that exposes the shape of their bodies. To make matters worse, living amongst them are displaced Iraqi and Syrian men and teenagers, which only opens the door of immorality.
Not conforming to these rules exposes our beloved sisters to having their Hijab completely ripped off in public in front of both men and women and designated to a segregated prison in which physical and psychological means of torture are inflicted upon them. The Qur'an is not allowed to be brought in, music and television are used as a psychological tool in normalizing immortality amongst sisters, and threat of the dreaded segregated prison and all its means of torture are used as means of ultimatums in which they find themselves in a situation of losing their Iman by betraying their fellow sisters or facing the harsh penalty of the segregated prison in which at times their children accompany them.
We hope to raise awareness to the Ummah by giving our beloved sisters a platform on which they can express themselves to the Ummah, hoping to remind the Ummah of it's obligation.
Q: Why is it necessary for the Ummah to support the campaign and how can they support the campaign exactly?
A: Allah swt [the Exalted and Almighty] said:
"Zakah expenditures are only for the poor and for the needy and for those employed to collect [zakah] and for bringing hearts together [for Islam] and for freeing captives [or slaves] and for those in debt and for the cause of Allah and for the [stranded] traveler - an obligation [imposed] by Allah . And Allah is Knowing and Wise."
[At-Taubah 9:60]
Our beloved prophet ﷺ [Allah's peace and blessings be upon him] said:
"The Believers, in their mutual love, mercy and compassion, are like one body: if one organ complained, the rest of the body develops a fever."
He ﷺ also said:
"No man forsakes a Muslim when his rights are being violated or his honour is being belittled except that Allah will forsake him at a place in which he would love to have His help."
[Bukhari & Muslim]
Imam Malik said: "It is obligatory on the people to redeem prisoners with their money. There is no debate on this point".
Ibn Taymiyyah said: "Freeing the prisoners is one of the greatest compulsory deeds and spending ransom money and other means towards that, is one of the greatest ways to come close to Allah."
Al-Qurtubi said: "Our scholars have said that ransoming the prisoners with money is waajib (obligatory), even if one dirham does not remain in the Islamic Treasury."
Ibn Hajar Al-Haythami said: "If the enemy captures a single Muslim, it becomes wajib (Obligatory) on everyone who has the ability to rush to their rescue (even without seeking anyone's permission)."
These are statements of Allah swt, His messenger ﷺ, and our righteous scholars. I believe these are more than an adequate response in relation to the necessity of the Ummah in supporting this campaign.
As for how the Ummah can support, then the most important aspect is freeing our beloved sisters. First and foremost by sincere Du'aa [prayers], by paying ransoms, and by supporting them in their daily necessities, and a dedicated contribution in raising awareness about their situation.
May Allah guide this Ummah and bring us back to our days of honor.