The depreciation of the Syrian pound is being felt strongly across all areas of Syria and not just in those controlled by the Damascus-based government. Those affected areas include Idlib and its environs that are formally under the control of the Hay'at Tahrir al-Sham-backed Salvation Government. The impact has been so severe that the Shura Council tied to the Salvation Government convened a meeting on the deteriorating economic situation and determined to work to switch to use of the Turkish lira as soon as possible.
To talk more about the impacts of the deterioration of the economy and depreciation of the Syrian pound on everyday life, below is an interview I conducted today with a muhajir residing in Idlib.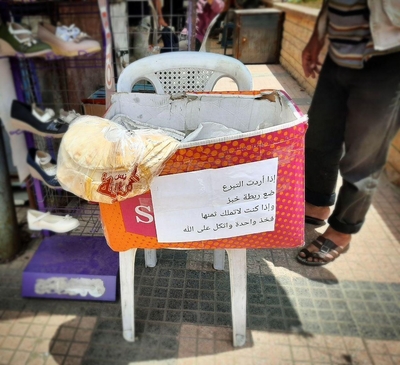 'If you want to donate, place a bundle of bread. If you do not possess its price, take one and put trust in God'- (via Telegram).
Q: Have you noticed any changes in services provision recently as Syrian pound declines? For example in electricity and water provision? What is that like now?
A: Electricity which works through fuel generators are working less. Maybe only one hour a day. That's by far not enough. By one hour they can't even charge their main devices. Mobiles, refrigerators are not working properly. Change in water supply differs from place to place. Where people have to fill their tanks through water cars the same effect is happening. Prices for water delivery increases.
Q: What kind of price increases have you observed with various goods?
A: There is no good whose price didn't increase. More or less they tripled in a short time. Shops closed mostly because of this. People are not capable and ready to spend for something which cost 600 Syrian pound, now 1800.
Q: Are people in general eating less because of the deterioration of the Syrian pound?
A: I didn't experience this personally. And of course it depend on the social status. But those in the refugee camps and who are completely dependent on the Syrian pound have no alternative than being careful what to eat and what not.
Q: Recently the Shura Council of Salvation Government decided to work to replace Syrian pound with Turkish lira. How widespread is use of Turkish lira in Idlib already and do you think this will help resolve people's difficulties?
A: You won't find the Turkish lira in daily life. Till now it didn't have any role to play. Maybe the whole-seller or the exchange offices dealt a lot with it. But the ordinary people had no relation with it. Yes. If it will spread and be accepted it can give a certain stability compared to the Syrian pound which seems completely collapsing. Resolving sounds exaggerated but easing the current situation for sure.
Q: What do people think is the cause of the collapse of currency and deteriorating economic situation? Other thing is let's suppose situation still deteriorates, night people start protesting against ruling govt and groups in Idlib?
A: Simple people don't care who is really responsible. In areas of Assad they demonstrate against the regime, in Euphrates Shield area they do it against the Interim Government. In Idlib against the Salvation Government. Everything going wrong in Idlib is attributed to the Salvation Government/HTS [Hay'at Tahrir al-Sham]. Before it was Ahrar [al-Sham] at Bab al Hawa. Before it was Daesh [Islamic State]. Before FSA. That's a human trait. Finding somebody to blame. But not taking responsibility.