Previously the main operations room in Idlib and its environs for the jihadist factions besides Hay'at Tahrir al-Sham and the Turkistan Islamic Party was the 'And Rouse The Believers' operations room. This operations room consisted of the al-Qa'ida-loyalist group Hurras al-Din, Jama'at Ansar al-Islam and Jabhat Ansar al-Din. Now two more factions led by ex-Hay'at Tahrir al-Sham commanders have joined with these three groups to form the 'So Be Steadfast' operations room. One of those two factions is Tansiqiyat al-Jihad, led by Abu al-Abd Ashidaa, while the other is Liwa al-Muqatileen al-Ansar, led by Abu Malik al-Shami (Abu Malik al-Talli). Note that the founding statement excludes Ansar al-Tawheed, which similarly stayed out of the 'And Rouse The Believers' operations room.
Below is the founding statement of the 'So Be Steadfast' operations room translated by me.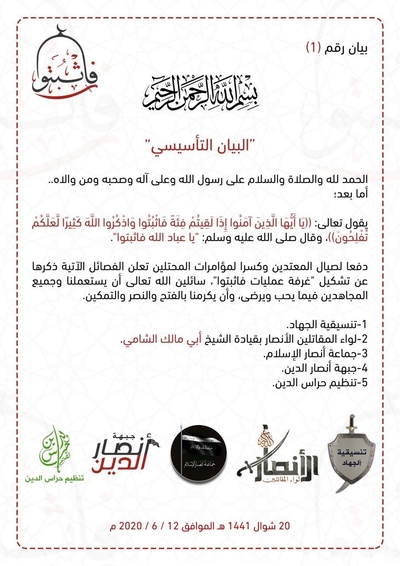 Statement no. 1
So Be Steadfast
In the name of God, the Compassionate, the Merciful
Founding Statement
Praise be to God and prayers and peace be upon the Messenger of God, his family, companions and whoso is loyal to him. As for what follows:
The Almighty says: 'Oh you who have believed, when you encounter a group, so be steadfast and remember God a lot, that you may be successful.' And SAWS said: 'Oh servants of God, so be steadfast.'
In order to repel the attack of the aggressors and to break the conspiracies of the occupiers, the following factions mentioned announce the formation of the 'So Be Steadfast Operations Room'. We ask God Almighty to use us and all the mujahideen in what He loves and is pleased with, and to ennoble us with conquest, victory and enabling.
1. Tansiqiyat al-Jihad
2. Liwa al-Muqatileen al-Ansar led by Sheikh Abu Malik al-Shami.
3. Jama'at Ansar al-Islam
4. Jabhat Ansar al-Din
5. Tanzim Hurras al-Din
20 Shawwal 1441 AH corresponding to 12 June 2020 CE