As I have noted before, there are many muhajireen ('foreigners') in the area of Idlib and its environs in northwest Syria performing a variety of functions, including military, media and educational work. Among them are the Albanians under the 'Xhemati Alban' group associated with Hay'at Tahrir al-Sham. The latest interview in this regard is with a source connected with the group's media production and output. This interview was conducted on 6 April 2020. Any parenthetical insertions in square brackets are my own.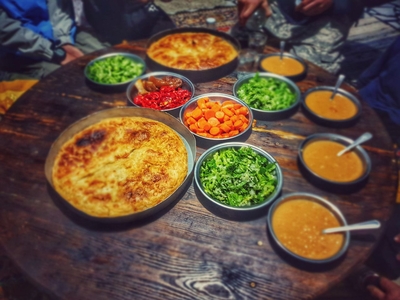 Q: How do you feel about the current situation in general? Do you worry it will be a 'frozen conflict'?
A: Well, it's just like the other 'agreements'. Now corona virus is slowing a little the regime and Russia. And it's also moving the focus from us. But we are prepared for further battles and they're going to happen- that's for sure.
Q: I mean can the mujahideen launch an offensive if they want? Or Turkey effectively has veto over that?
A: Yes, the Mujahideen can launch an offensive. It's normal to have losses during the battles and you regroup yourself during these times. The regime is getting weaker everyday. And their economy is at a worse situation. It's only about Russia and their support. But also Russia is getting weak: their economy, everything. Now specifically during this crisis with the Corona virus: Russian oil and their borders, their population and their health system. They're really busy and a great economic crisis is ahead for them. In Shaa Allah the right time will come when we'll retake our lands and the whole Syria. They can't handle this battle: definitely it's a long battle.
Q: So basically the hope is to wait until the regime is sufficiently weakened from within, then launch the attack?
A: Well the revolutionary leaders are studying every possible situation. Things are changing very fast, and everyday the situation is changing globally.
Q: Some worry the Turkish intervention will make Idlib like 'Euphrates Shield'. Do you fear that?
A: No, it's not going to be like that. Euphrates Shield is totally different from Idlib: the groups there, their success. Idlib is different and the Syrian people have their hopes on Idlib and the groups inside Idlib. I can say until now Idlib is a story of success, because a society is being built there. Institutions are functioning inside of Idlib. It's behaving like a state, despite the war and difficulties.
Q: Sure but now there are more Turkish forces and the factions from Euphrates Shield? Inside Idlib I mean.
A: They don't have the upper hand and they do not have the public support. The people of Idlib and the whole Syria aren't going to forget those that sacrificed for them. And they're still sacrificing, and the mujahideen are well connected with the local people.
Q: So in your view what was the reason for the losses of territory in the last battles?
A: Look, people may give statements and reasons and analysis, but no one knows best about the reasons like those that are inside the fronts and are dealing with the battles. There are a few videos about the amount of airstrikes and how heavy they were. But no one can really describe how Russia and regime were bombing, specially Russia. It was worse than during the Chechen wars, worse than Grozny. Heavy battles were taking place, it's one day for them and another one for us. This is how Allah azza wa jal [God Almighty and Exalted is He] explained us on the holy Qur'an. The Mujahideen were defending all these territories and they sacrificed a lot, and no one was giving up. It's normal that sometimes during the war you use your political supporters, and also Islamically is allowed to cooperate with them against your enemy. But at the end of the day it's our territory and we're going to defend it even if we are isolated on a small village. New generation are coming. No one is going to forget this and many are going to take revenge.
Milions were killed and massacred and still some insist and believe that Assad should stay in his position and rule Syria with his gang, even though now we're dealing with an occupier which is Russia. Because the reality tells you that Assad is not ruling and Assad is now a Russian puppet. We also have Iranian militias. Look how Ghouta is now. Look how is Homs. Hama. Totally destroyed and people are starving to death. It's a tick tack bomb for them.
Q: Yes. And how do you feel about the civilian life and governance in Idlib? Some say the Salvation Government is a failure. What do you think? And has daily life changed much because of Coronavirus concerns?
A: Well, I can't say it's a failure because we're on a state of war and it's a new government dealing with millions of people, millions of refugees and with a weak economical system. They're trying to deal with all these things and they're working really hard: it's normal to have problems and make mistakes, because there are many enemies inside and outside. It was really important to offer safe and security for the people living inside Idlib. The security apparatus of HTS was dealing with all the threats inside Idlib. We have Daesh [Islamic State] cells, regime cells and some gangs, and they made an impressive progress on that. Look the situation now, we don't see any Daesh suicide attack, we have less gangs, etc.
Also during this time the Salvation Government was working to build a healthy educational system, even though Russia and regime were continuously bombing schools. And also the health system which is really important during the war, and it was a direct target for Russia and the Assad regime. Now we have less hospitals, less doctors. This is a difficult situation to deal with and many would fail and give up. But people are working and striving day and night for the Syrian people and their wellness and specially during this Corona crisis. We have many refugee camps, less hospitals. So it's hard to deal with this crisis but Alhamdulilah [praise be to God] till now things are going well and the people of Idlib are contributing on it side by side with the government and the Mujahideen. It was an isolation for the Syrian people since the beginning of the revolution, and now with this Corona virus this same isolation is being felt by almost all the globe. At least they taste what the free Syrian people were being through during all this time. Alhamdulilah we are believers and we believe that Allah after all this is going to open a way for us and for the free Syrian people to make progress on new territories and stay freely inside of their home.
Q: And then after the downfall of the regime in Damascus, what would come next? The revival of a Khilafa [Caliphate] on the Manhaj al-Nabuwa [on the Prophetic Methodology]?
A: Alhamdulilah that we are believers and we believe that before the Last Day will come we're going to the again the Khilafa on the Prophetic Methodology. And sure it's going to start from Syria, with or without us that's going to happen. That's the will of Allah and everyone believes that. When people hear about the Khilafah they think about Daesh proclaimed Khilafah, but that's totally different. Khilafah is built upon justice, upon the law of Allah. Khilafah is benefical for Muslims and non-Muslims. It rules by the law of Allah Almighty.
---------------------------
[Update (30 March 2021): Title description and introduction modified to give a clearer background of the interviewee's perspective, though it should be noted that the interviewee's remarks reflect only his perspective and not necessarily Xhemati Alban as an organisation].