The region of Idlib province and its environs in northwest Syria continues to witness heavy fighting between rebel forces and Syrian government forces, with a huge displacement of people who have fled towards the border areas with Turkey. While the rebel forces have lost a substantial amount of territory over the course of this campaign, they have launched a counter-offensive on a front in eastern Idlib province.
To talk more about the present situation is a returning interviewee: Abdussamed Dagül, a German muhajir of Turkish origin who serves as a war correspondent and recently interviewed Hay'at Tahrir al-Sham leader Sheikh Abu Muhammad al-Jowlani. Incidentally, I am aware some people objected to my previous description of him as a war correspondent, but I consider the objection spurious. A war correspondent does not necessarily have to be neutral or working for a major media outlet. Attempts to crack down on his social media presence are also unfair and pointless, in my view.
This interview was conducted on 24 February 2020. It is slightly edited for clarity. Any parenthetical insertions in square brackets are my own.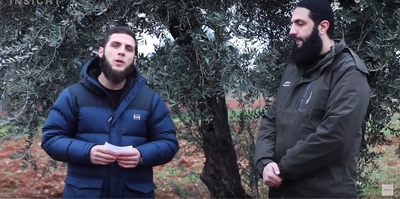 Abdussamed (left) with Abu Muhammad al-Jowlani (right)
Q: In your view why have the factions lost so much ground recently? Some say they did not prepare adequately for this campaign and assumed ceasefires would hold. Or is it just that the other side has way more firepower and manpower?
A: Firstly we have to understand against whom and what kind of power the factions are putting up a resistance and fight. Russia is the second strongest country and army in the world. They brought in nearly all their military strength into Syria. They tested dozens of new military weapons and devices in Syria. They take every centimetre of land through their famous scorched earth policy, that means: bomb everything down in the area before actually sending in ground troops to declare victory. So all these reasons led to the fall of the areas, not because of the fighting factions not preparing or doing enough rather that the defense lines broke and fall and the fighting factions were forced to retreat to areas without trenches and cave systems, having to guard the frontlines sitting under olive trees at open space and flat land. Also the Russians use their reconnaissance drones very well which makes you unable to move your forces on the frontlines and use your supply routes as you wish. Everything the drone sees moving is getting hit after maximum 2-3 minutes by Russian war planes. I hope and believe that now since the frontlines are more hilly and mountainous areas the Russian and Iranian-backed Assad militants will have more difficulties and face much stronger resistance by the fighting factions. There are many other reasons why so much ground was lost but these are from my view the main ones worth mentioning.
Q: Of the various factions, is it fair to say that HTS [Hay'at Tahrir al-Sham] is still doing most of the fighting? Or are the other factions like NFL [National Front for Liberation] playing a more prominent role? What about factions of Euphrates Shield? Are they entering in significant numbers?
A: Yes of course HTS is doing the main fighting and puts in the most military strength into the defensive battle against this military offensive, but to say that only HTS is working would be unfair. NFL is putting also manpower and especially ATGM [anti-tank guided missile] strikes in which disables the enemy from moving their tanks and vehicles freely on the frontline. Also other smaller groups on the ground are working all together with HTS and NFL in the Fath al-Mubeen operations room to be able to resist against this military offensive. Factions from the Euphrates Shield area have entered the greater Idlib area but the numbers are not so significant up until now and also they are not experienced to fight against an enemy who has the upper hand in the air. They fought ISIS and the SDF/YPG which has no air power, so they find it difficult to integrate into this battle.
Q: Some talk of supposed HTS plans to dissolve itself. Based on your encounter with Sheikh Jowlani, did you get any sense that was true? I personally do not think it will happen?
A: From what I understood is that HTS and Abu Muhammad al-Jowlani are ready to do whatever is for the greater benefit of the continuation of the revolution. Also before meeting Abu Muhammad some of the high ranking HTS members were saying that all the military factions are having talks of establishing an united military force, so that could be the reason of the rumors of the dissolving of HTS. But for me it would not be surprising to be honest, as this is not about HTS anymore it is about the Syrian people and the blessed revolution.
Q: What kind of action is Turkey taking now with its troop deployments? Do you expect a full scale operation against the regime? Do you think most of the people of Idlib would welcome a full scale Turkish intervention? Or are they skeptical of the Turkish role?
A: There are a group of people who are skeptical about Turkish presence in Idlib and there are a group of people who are welcoming Turkish presence here. I think Turkey would do a large scale operation on the Assad regime if Russia gave the green light but as long as Russia doesn't give the green light Turkey will only do smaller scaled operations or rather only support the mujahideen with artillery fire and supplying of weapons. I guess M5 is gone and over but Turkey does not want Russia to take the M4 also and take large parts of the greater Idlib area which will make Russia too strong in the region and weaken Turkey's role in Syria and also at the same time create a big wave of refugees and chaos in the greater Idlib area, which neither Turkey nor the EU wants to happen.
Q: If a Turkish intervention is not the solution to this crisis then what is in your view?
A: I can't answer that. I don't know.
Q: Can you talk about the sufferings of the civilians you have seen from the latest campaign?
A: The civilians unfortunately suffered a lot in this recent Russian backed military offensive as the areas which fell in a very surprising fast time where very populated areas where also a lot of civilians from other areas like Khan Sheikhoun and Lataminah were living. More than 1 million civilians were forcefully displaced and many are living under trees and in places without proper shelter. Many charitable organisations and the Salvation Government [HTS-backed civilian government] are doing their best to sort the situation out but it is still a chaos.