Formations of the Local Defence Forces (LDF), which are on the registers of the Syrian armed forces but are backed by the 'asdiqa ('friends'- i.e. the Iranians and Hezbollah), have been playing an important role in the fighting in Aleppo countryside as part of the northwest military campaign. On 11 February 2020 I interviewed Muhammad Jamil Barkawi, who has worked as a war correspondent for the LDF on the frontlines.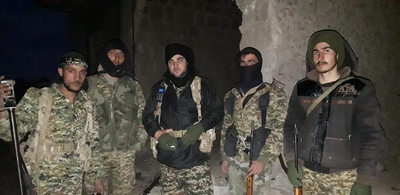 LDF fighters in south Aleppo countryside.
Q: How would you describe the course of the battles generally? What are the reasons for the big success of the forces of the Syrian Arab Army and the auxiliary forces? And generally is there fierce fighting with the insurgents?
A: The battles this time regarding the insurgents are one of fate because they are resisting with everything they have but praise be to God the LDF has united with the forces of the army and the Tiger Forces and we have besieged the insurgents from more than one side and a great number of them have been killed and the rest have been retreating, and there has even been a dispute between the insurgents because they been besieged.
Q: There is much talk of the arrival of more Turkish forces to the areas of the insurgents? What is their aim and have they targeted the forces of the Syrian Arab Army and the auxiliary forces?
A: Yes the Turks are sending forces and the army has targeted more than one Turkish convoy. their aim is to continue reinforcing the insurgents. No, praise be to God they have not targeted anything of the army at all.
Q: Can you talk more about the role of the LDF in this campaign? And what is the importance of the air power in this campaign?
A: The Local Defence is present in all the lands of the Syrian Arab Republic and has been supporting the army in more than one field. And the air power has been a strong support for our friends in terms of destroying the important bases of the insurgents.
Q: After securing the Damascus-Aleppo highway do you expect that the military operations will continue or will there be a temporary ceasefire?
A: They will continue until the liberation of all the lands of the Syrian Arab Republic but they will stop temporarily with regards to the interest of the civilians and will return to complete the liberation of the occupied areas.