Of the fighters on the Syrian government side in the latest round of fighting in Idlib and its environs, some of them have been motivated to fight partly on account of the fact that they originate from localities in the area that fell under insurgent control. One example is 'Jum'a al-Baqir' of the Local Defence Forces formation Liwa al-Baqir. Jum'a was recently killed in fighting on the west Aleppo countryside front and I document his life briefly below.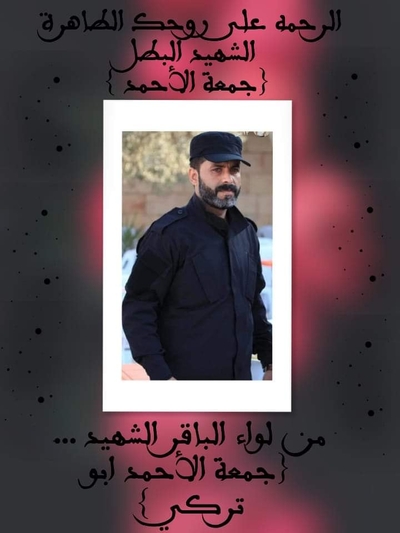 Jum'a's full name was Jum'a Turki al-Ahmad, born in 1980. He was originally from the Aleppo countryside locality of al-Barqoum, which lies along the M5 highway that connects Damascus and Aleppo cities. He was among the original founders of Liwa al-Baqir which became a key formation in the Local Defence Forces in Aleppo province and then expanded its presence to other areas like Deir az-Zor in eastern Syria. Jum'a in military engagements throughout Syria including:
- Recapture of Aleppo city
- Battles of western, eastern and southern Aleppo countrysides
- Hama countryside
- Palmyra
- al-Sukhna
- Deir az-Zor
- al-Mayadeen
- Albukamal
- al-Tanf
- Idlib countryside
Jum'a's specific role in Liwa al-Baqir was that he was the group's security officer: that is, he was responsible for Liwa al-Baqir's internal security. As for the recent campaign in Idlib and its environs, Jum'a's hope was that al-Barqoum would be recaptured.
Jum'a was killed on 2 February 2020 reportedly as a result of a Tow missile. Today, Liwa al-Baqir says that it recaptured al-Barqoum from the insurgents, and this constitutes the revenge for his death.