The Hashd Sha'abi Commission has multiple brigades affiliated with it that are identified by brigade numbers. One of those brigades is the 56th brigade, also known as the Hashd of al-Hawija (named for the al-Hawija area in Kirkuk province). On 21 February 2020, I conducted an interview with a media guy for the 56th brigade regarding the group's history and present status. Any parenthetical insertions in square brackets are my own.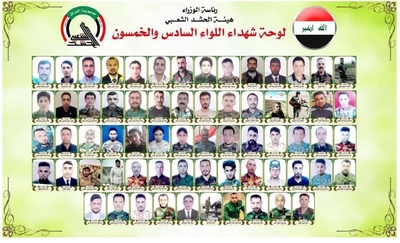 Q: When was the brigade formed? What was its origin?
A: 2016. [There were in the beginning] regiments, then the 56th brigade was formed.
Q: From which tribes and areas are most of its members?
A: From the tribes of the Hawija district.
Q: In which battles has it participated and how many martyrs has it offered?
A: Holding the resistance line of Salah al-Din (Hamrin mountins), participation in the operations to liberate the left side of al-Shirqat, and the liberation operations 'Coming oh Hawija'. Our brigade was the first line in the battle to liberate al-Hawija, as we are of the people of the area. The number of martyrs of the brigade is 69 martyrs since the beginning of the formation.
Q: Where does the brigade operate currently? And how many regiments does the brigade have? And how do you assess the security situation in al-Hawija and Kirkuk today?
A: [It operates in] al-Hawija district and its sub-districts. The security situation is 80% stable. The number of regiments is 8 regiments.