I do not in any way see myself as a 'terrorism expert' especially on the issue of terrorist activities in the West. That said, I do occasionally wish to provide useful resources on the subject. Recently, the monstrous Norwegian academic Thomas Hegghammer (who has a new book on Abdullah Azzam that all jihadism nerds should probably read) drew attention to this brief study published by the Norwegian Police Security Service (PST) on how terrorist plots (both Islamist and far-right) in the West- defined as Europe, North America, Australia and New Zealand- are uncovered and averted, focusing on sources of tips/information and the initial indicators themselves. The study covers 91 disrupted terrorist plots in the period 2012-2019 whereby the initial indicators of how the plots were uncovered are known to the Norwegian Police Security Service. Among other things, the study argues from the data it examines that family and acquaintances of would-be terrorists in particular need to be more willing to step up and inform the authorities. The study concludes with an outline of scenarios (e.g. expression of extremist attitudes and acquisitions of things like firearms for no obvious reason) where people should inform the police and security services of any suspicions they might have, acting on instinct even if they are not fully sure.
According to Hegghammer, the study is significant because it is the first that relies on classified data rather than just media sources. Hegghammer also called for the study to be translated into English. Amarnath Amarasingam had jokingly suggested that I should do so. Not initially realizing that Amarasingam was in fact joking, I undertook this endeavour today before he could inform me it was a joke. For my own part, I am interested in Norwegian considering that it is part of one of my favourite language families- the Germanic languages- and I have been keen to explore similarities and differences with other Germanic tongues I know such as Old English. Also, I have visited Norway twice (2015 and 2017) courtesy of Hegghammer, and was very taken in by the beautiful natural scenery on the train from Oslo to Bergen, not to mention the delicious McChicken Premiere burgers that were available in the McDonald's restaurants there (regrettably, the McChicken Premiere now appears to have been removed from the menu).
Below is the study in the original Norwegian and with my translation. Any suggestions for improvements and/or amendments welcome.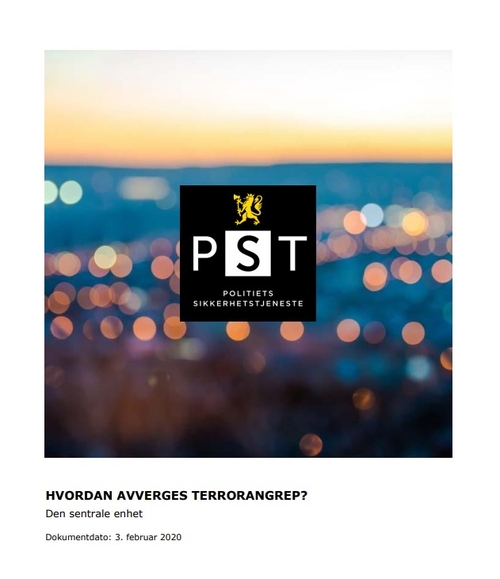 PST: Police Security Service
How are terrorist attacks averted?
The central unit
Document date: 3 February 2020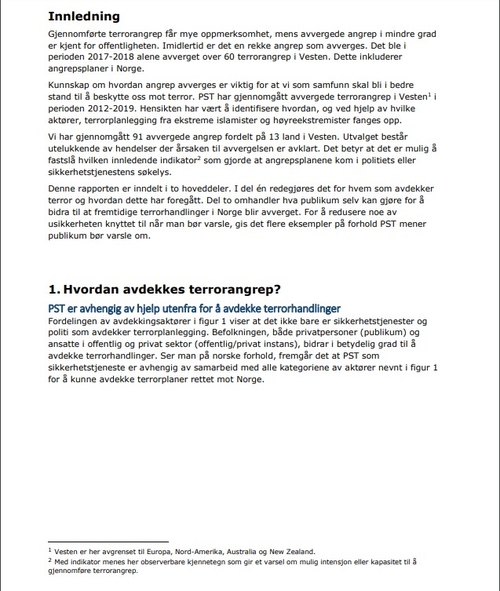 Introduction
Terrorist attacks that are carried out get much attention, whereas averted attacks are less-known to the public. However, there are a number of attacks that are averted. In the period 2017-2018 alone more than 60 terrorist attacks in the West were averted. That includes planned attacks in Norway.
Knowledge of how attacks are averted is essential so that as a society we will be in better standing to protect ourselves against terror. PST has surveyed averted terrorist attacks in the West[i] in the period 2012-2019. The purpose has been to identify how, and by help of which actors, terrorist plots from extremist Islamists and far-right extremists are uncovered.
We have surveyed 91 averted attacks spanning 13 countries in the West. The selection consists exclusively of events whereby the cause of the aversion has been made clear. This means that it is possible to determine which initial indicators[ii] are those that caused the attack plots to come into the spotlight of the police or security services.
This report is divided into two main parts. In part one it is revealed who are those that uncover terrorism and how this has happened. Part two concerns what the public themselves can do so that future acts of terrorism in Norway can be averted. In order to reduce some uncertainty related as to when one should give notice, several examples have been provided of instances where the PST thinks the public should give notice.
1. How are terrorist attacks uncovered?
PST is reliant on external help in order to uncover acts of terrorism.
The distribution of those who uncover in figure 1 shows that it is not just the security services and police who uncover terrorist plots. The ordinary population, both private citizens (the public) and workers in the public and private sector (public/private institutions), contribute in great part to uncovering acts of terrorism. If one looks at Norway's scenarios, it is apparent that the PST as security services are dependent on cooperation with all kinds of actors mentioned in figure 1 in order to be able to uncover terrorist plots directed against Norway.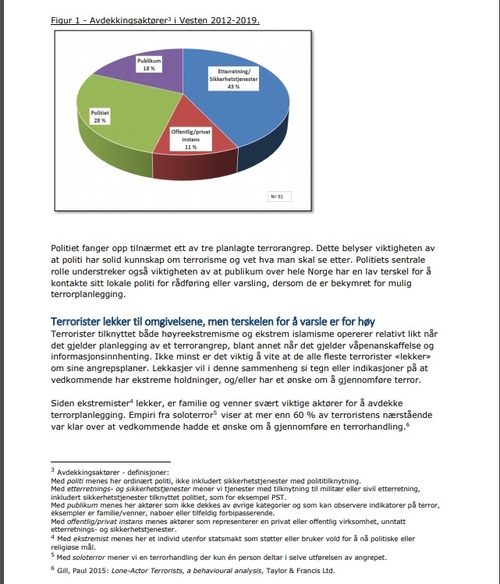 Figure 1- Those who uncover[iii] in the West 2012-2019 (N=91)
Police: 28%
Public: 18%
Intelligence/Security Services: 43%
Public/Private institutions: 11%
The police detect up to approximately one in three planned terrorist attacks. This illustrates the importance of the police having solid knowledge of terrorism and knowing what one should look for. The police's central role also underscores the importance of the public throughout Norway having a low threshold in order to contact their local police for consultation or warning, if they are worried about possible terrorist plots.
Terrorists leak to the surroundings, but the threshold to warn is too high
Terrorists affiliated with both the far-right and extreme Islamism operate relatively alike when it comes to planning of a terrorist attack. This is so, among other things, when it comes to acquisition of weapons and gathering of information. It is thus especially important to know that most terrorists 'leak' about their attack plans. In this context leakers will show signs or indicators that they have extreme views, and/or have a desire to commit terrorism.
Since extremists[iv] leak, family and friends are very important actors in order to uncover terrorist plots. Empirical data from solo-terror[v] show that more than 60% of the terrorists' relations were aware that said persons had a desire to commit an act of terrorism.[vi]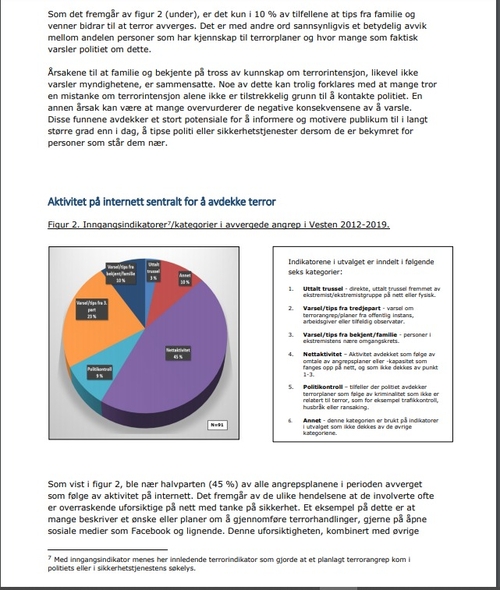 As is apparent in figure 2 (below), it is only in 10% of cases that tips from family and friends contribute to terror being averted. In other words, there is a likely significant discrepancy between the proportion of people who are aware of terrorist plots and how many of those actually warn the police of that.
The reasons why family and acquaintances, despite being aware of terror intentions, likely do not alert the authorities, are complex. Some of it can probably be explained as many believing a suspicion of terrorist intention alone is not sufficient grounds to contact the police. Another reason can be that many fear the negative consequences of warning. These findings show a great potential to inform and motivate the public in a far greater sense than today, to tip the police or security services if they are worried about people who are close to them.
Online activities are central to uncovering terror
Figure 2: Initial indicators[vii]/categories in uncovering attacks in the West 2012-2019
1. Explicit threat: 3%
2. Warnings/tips from third-parties: 23%
3. Warnings/tips from acquaintances/family: 10%
4. Online activities: 45%
5. Police inspection: 9%
6. Others: 10%
Indicators in the selection are divided into the following six categories:
1. Explicit threat: direct, explicit threat promoted by the extremist/extremist group online or on the ground.
2. Warnings/tips from third parties: warnings of a terror-attack/plan from public institutions, employers or random observers.
3. Warnings/tips from acquaintances/family: persons in the extremist's inner circle.
4. Online activity: activities uncovered as a result of mention of an attack-plan or capacity that is found online, and which is not covered in points 1-3.
5. Police-inspection: instances where the police uncover terror-planning as a result of criminality that is not related to terror, such as for example traffic control, domestic violence or search warrants.
6. Others: this category is used for indicators in the selection that are not covered by the other categories.
As shown in figure 2, nearly half (45%) of all attack plots in the period were averted as a result of online activity. This shows of the various experiences that those involved are often surprisingly unaware online with thought for security. An example of this is that many describe an intention or the plan to carry out acts of terrorism, readily revealing this openly on social media such as Facebook and the like.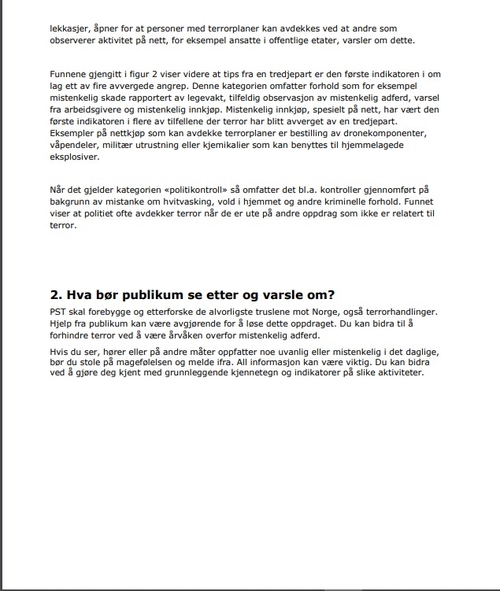 This lack of awareness, combined with other leaks, allow for people with terror plots to be uncovered by others who observe activities online, for example employees in public agencies, and warn of that.
Findings illustrated in figure 2 show further that tips from a third party are the first indicators in about one in four averted attacks. These categories comprise scenarios such as suspicious injury reported by the emergency room, random observations of suspicious behavior, warnings from employers and suspicious purchases. Suspicious purchases, especially online, have been the first indicators in many of the cases where terror has been averted by a third-party. Examples of suspicious purchases that can uncover terrorist plotting are sales of drone components, weapon parts, military equipment or chemicals which can be used to make explosives.
As far as the category 'police inspection' goes, it occurs when (among other things) background due diligence has been done on suspicion of money-laundering, domestic violence and other criminal matters. Findings show that the police often uncover terror when they are out on other assignments that are not related to terror.
What should the public look for and warn of?
PST must prevent and investigate the most serious threats against Norway, as well as acts of terrorism. Help from the public can be vital to accomplish this mission. You can contribute to prevent terror by being alert about suspicious behavior.
If you see, hear or otherwise perceive something unusual or suspicious in daily life, you should act on gut instinct and report. All information can be important. You can contribute by making yourself familiar with basic features and indicators of such activities.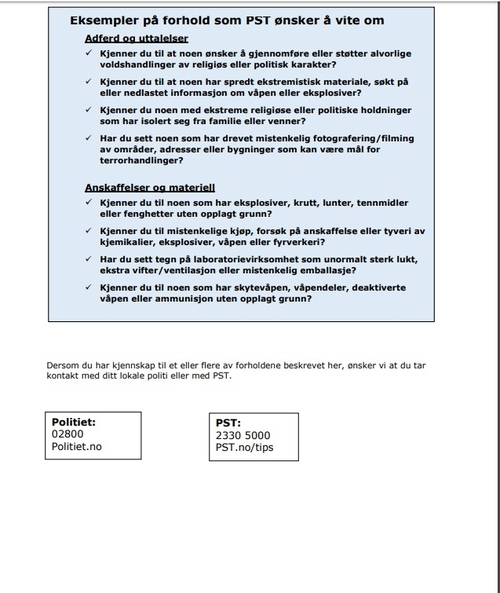 Examples of scenarios of which PST wishes to know
Behaviour and statements
. Do you know of someone who wishes to carry out or supports serious acts of violence of a religious or political character?
. Do you know of someone who has spread extremist material, searched for or downloaded information on weapons or explosives?
. Do you know someone with extreme religious or political attitudes who has isolated himself from family or friends?
. Have you seen someone who has driven suspiciously photographing/filming areas, addresses or buildings that can be targets for acts of terrorism?
Acquisitions and materials
. Do you know of someone who has explosives, powder, fuses, igniters or caps for no obvious reason?
. Do you know of a suspicious purchase, attempt to procure or theft of chemicals, explosives, weapons or fireworks?
. Have you seen signs of laboratory workings such as abnormally strong odour, extra fans/ventilation or suspicious packaging?
. Do you know of someone who has firearms, parts of weapons, deactivated weapons or ammunition for no obvious reason?
If you have awareness of one or more of the aforementioned scenarios, we would like you to get in touch with the local police or PST.
Police:
02800 (police number)
PST:
2300 5000 (PST no./tips)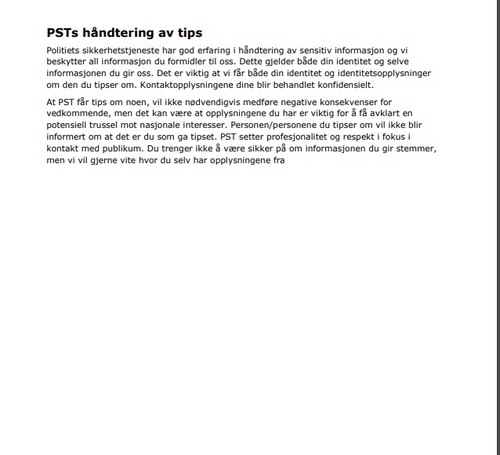 PST handling of tips
The police security services have good experience in handling of sensitive information and we protect all information you submit to us. This includes both your identity and personal information you give us. It is important that we get both your identity and the identity information of the one you are tipping about. Your contact information will be treated with confidentiality.
That PST should receive tips on someone will not necessarily have negative consequences for said person, but it can be that information you have is important in order to clarify a potential threat against national interests. The person/persons you tip on will not be informed of the fact that you are the one who gave the tip. PST focuses on professionalism and respect in contact with the public. You do not need to be sure of the information you state, but we will want to know from where you yourself have obtained the information.
---
[i] West is defined here as Europe, North America, Australia and New Zealand.
[ii] By indicators is meant here observable features that provide a warning of a possible intention or capacity to carry out terrorist attacks.
[iii] Those who uncover- definitions:
. By police is meant here ordinary police, not including security services with police ties.
. Intelligence/Security Services we mean services with ties to the military or civil intelligence, including security services with police ties, so for example PST.
. By public is meant here actors who are not covered by the other categories and who can observe indicators of terror: examples are family/friends, neighbours or random passers-by.
. By public/private institutions is meant actors who represent a private or public institution, except intelligence or security services.
[iv] By extremist is meant here an individual outside state power who supports or uses violence to achieve a political or religious goal.
[v] By solo-terror we mean an act of terrorism where only one person participates in the actual execution of the attack.
[vi] Gill, Paul 2015: Lone-Actor Terrorists, a behavioural analysis, Taylor & Francis Ltd.
[vii] By initial indicators we mean here initial terror-indicators that meant that a terrorist-attack plot came to the spotlight of the police or security services.