The recent events in northwest Syria have prompted much speculation over the region's future and the future of the region's most powerful insurgent group: Hay'at Tahrir al-Sham (HTS), whose origins lie in what was Syria's al-Qa'ida affiliate Jabhat al-Nusra. The formation of HTS is considered to be the full break in ties with al-Qa'ida, and there has been some debate about the group's ideological direction since then.
Some analysis has even gone so far as to see HTS as tending in a nationalist/'secular' direction- a view also held by some of the more al-Qa'ida-loyalist and jihadist critics of the group. I find this line of analysis to be unconvincing and misreading the evidence. For example, that HTS leaders and figures may speak of the 'Syrian revolution' (al-thawra al-souriya) is not evidence of an evolution towards 'secular' language. For comparison, the jihadist cleric and former HTS figure Abu Shu'aib al-Masri (see my interview with him here) also uses the term 'Syrian revolution'.
Abu al-Fatah al-Farghali- an Egyptian cleric who remains inside HTS- has issued a post reaffirming HTS' 'principles' (thawabit) that will not be compromised upon and cannot be violated by any HTS member. It is important to note that the post is in keeping with earlier HTS teachings such as the rejection of democracy (cf. here) and secularism. I also translate this post partly to highlight that HTS still insists on retaining its distinct identity as an insurgent entity and project. There is no evidence to suggest HTS is planning to dissolve itself contrary to some rumours that have recently been spread.
It is best to compare HTS' primary aspirations and priorities with those of the Taliban in Afghanistan. This is not to say that the two movements are exactly alike, but HTS mirrors the Taliban in being a militant Islamic movement that wants to be taken seriously by international actors, giving supposed assurances to them that its territories will not be used as a launchpad for 'external operations', and having as the first ideal goal the establishment of an Islamic government over the entirety of the main country of its operation. However, these points do not entirely exclude the prospect of transnational jihad in the long-run.
Below is Abu al-Fatah al-Farghali's recent post translated.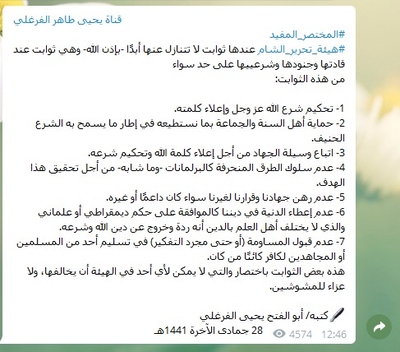 "The useful summary:
Hay'at Tahrir al-Sham has principles it will not compromise on ever- by the permission of God- and they are principles equally among its leaders, soldiers and Shari'i oficials.
Among these principles:
1. Implementing the rule of the law of God (Almighty and Exalted is He) and making His word supreme.
2. Protecting the Ahl al-Sunna wa al-Jama'a [Sunnis] as we can in the framework of what the hanif law permits.
3. Pursuing the means of jihad in order to make supreme the word of God and implement the rule of His law.
4. Not following deviant paths like parliaments- and the like- in order to realize this aim.
5. Not making our jihad and our decision-making hostage to those besides us, supporters or otherwise.
6. Not dishonourably selling out our religion like agreeing to democratic or secularist rule which the people of knowledge of the religion do not disagree constitutes apostasy and going out from the religion of God and His law.
7. Not accepting bartering (or even thinking of it) in handing over one of the Muslims or mujahideen to a disbeliever, whoever he may be.
These are some of the principles in summary that no one in the Hay'a [HTS] can contravene, and no solace to the muddlers.
Written by Abu al-Fatah Yahya al-Farghali
28 Jumada al-Akhira 1441 AH"