Readers of my blog will be familiar with my affection for old Germanic languages such as Old English (Anglo-Saxon) and Gothic. Old Frisian is another old Germanic language and is in fact the closest linguistic relative of Old English. However, the subsequent importation of much non-Germanic vocabulary into English means that the modern descendants of Old Frisian and Old English are not mutually intelligible. In contrast, the student of Old English should be able to understand Old Frisian and start reading texts in Old Frisian within a few days of starting to learn Old Frisian grammar.
Old Frisian is the earliest substantially attested form of the language of the Frisian people, who inhabit regions of the northern Netherlands and far northwest Germany. Though some runic inscriptions have been found dating between the sixth and ninth centuries CE, the corpus of Old Frisian texts attested in manuscripts only goes as far back as the thirteenth century CE (Bremmer 2011). Interestingly, the Old Frisian texts are primarily legal in nature (ibid.).
The following Old Frisian text I present with translation and commentary is an account of the Ten Commandments, taken from the Prologue of the Seventeen Statutes and the Twenty-Four Land-Laws (ibid.). With the aid of my translation and commentary, the modern English speaker should be able to see the close relation between Frisian and English, in particular through comparisons of basic vocabulary.
For an online link to the original text, see here. For Bremmer's book on Old Frisian, buy here.
----------------------------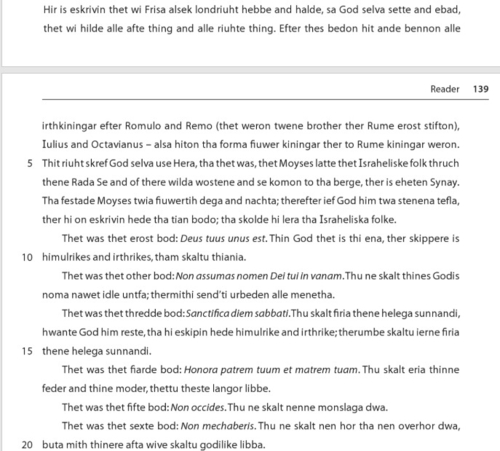 Here it is written that we Frisians have[i] and hold such customary law,[ii] as God himself[iii] set and commanded, that we should keep hold of all lawful things and all right things. [iv] After that, it[v] was mandated[vi] and proclaimed[vii] by all earthly kings[viii] after Romulus and Remus (these were two[ix] brothers who[x] first founded Rome), Julius[xi] and Octavian[xii]- thus were called the first four kings who were kings of Rome.[xiii] God our Lord wrote the law, when it came to pass that[xiv] Moses led the Israelite people through the Red Sea and out of the wild desert and they came to the mountain[xv] that is called Sinai. Then Moses fasted[xvi] for 42 days and nights. Thereafter God gave him two stone tablets, on which He had written[xvii] the Ten Commandments, which he should teach the Israelite people.[xviii]
This was the first commandment: Deus tuus unus est.[xix] Your God who is the One, who is creator of Heaven and Earth.[xx] Him you shall[xxi] obey.
This was the second[xxii] commandment: Non assumas nomen Dei tui in vanam.[xxiii] You shall not take the name of your God in vain. Therefore all perjuries are forbidden to you.[xxiv]
This was the third commandment: Sanctifica diem sabbati.[xxv] You shall celebrate the holy Sunday, when God rested when He had created Heaven and Earth. Therefore you shall eagerly celebrate the holy Sunday.
This was the fourth commandment: Honora patrem tuum et matrem tuam.[xxvi] You shall honour your father and your mother, that[xxvii] you may live the longer.
This was the fifth commandment: Non occides.[xxviii] You shall not commit any manslaughter.[xxix]
This was the sixth commandment: Non mechaberis.[xxx] You shall not commit any fornication or adultery, but with your lawful wife shall you live goodly.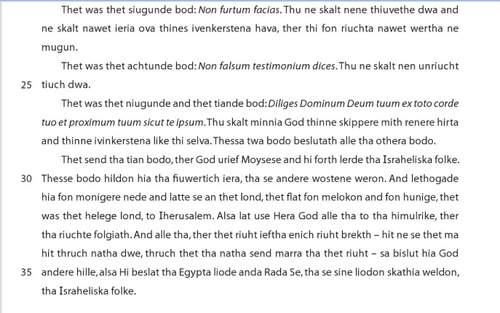 This was the seventh commandment: Non furtum facias.[xxxi] You shall not commit any theft and you shall not yearn for the possessions of your fellow Christian, which cannot legally befall to you.
This was the eighth commandment: Non falsum testimonium dices.[xxxii] You shall not bear any false witness.
This was the ninth and the tenth commandment: Diliges Dominum Deum tuum ex toto corde tuo et proximum tuum sicut te ipsum.[xxxiii] You shall love God your Creator with pure heart and your fellow Christian as yourself. These two commandments comprise all the other commandments.[xxxiv]
These are the Ten Commandments, which God gave to Moses, and he then taught them to the Israelite people. These commandments they held for the forty years, when they were in the[xxxv] desert. And he[xxxvi] redeemed them from much hardship and led them into the land, which flowed with milk and with honey- which was the holy land- to Jerusalem.[xxxvii] So our Lord God leads to Heaven all those who follow the laws. And all those, who break the law or any law- unless one does so out of mercy, since mercy is greater than the law- God locks them up in Hell, just as He locked up the people of Egypt in the Red Sea, as they wanted to harm His people: the Israelite people.[xxxviii]
Notes

---
[i] Present subjunctive form of the verb hebba (/habba). Cf. Old English present subjunctive hæbbe (NB: æ is the ash vowel in Old English) from the verb habban.
[ii] Londriuht: a compound of 'lond' ('land') and 'riuht' (law). A similar compound is found in Old English: land-riht.
[iii] Old Frisian: selva. Cf. Old English: self.
[iv] Old Frisian: thing. Cf. Old English þing (NB: þ is pronounced 'th'). In both Old Frisian and Old English, strong neuter heavy monosyllable nouns do not inflect in the nominative/accusative plural, so distinguishing singular and plural is a matter of context. In this case, we are helped by the adjectives 'alle' and 'riuhte', which are strong adjective accusative plural forms.
[v] Old Frisian: hit. Cf. Old English: hit.
[vi] Old Frisian: bedon. Cf. Old English: bædon (Long ash vowel here). Traditionally, Germanic strong verbs (i.e. those verbs where ablaut is used in the principal parts) are divided into seven classes according to the ablaut observed. In Old English, classes IV and V are nearly identical: e æ æ (long) o for class IV, and e æ æ (long) e for class V. In Old Frisian the distinction between classes IV and V has been lost, with sequence: e e e (long) e.
[vii] In translation I have rendered a passive construction, but strictly the original Old Frisian sentence construct is as follows: verb (bedon)-object (hit)-conjunction (ande)-verb (bennon)-subject (irthkiningar).
[viii] Irthkiningar, another compound word. Cf. Old English: eorþecyning.
[ix] Old Frisian: twene. Cf. Old English: twegen (and Early Modern English twain).
[x] Old Frisian: ther. Both Old Frisian and Old English have multiple ways of expressing the relative pronouns. The Old Frisian ther is indeclinable, just like the Old English þe.
[xi] Julius Caesar.
[xii] Octavian, who became the first Roman emperor (Augustus).
[xiii] A very inaccurate rendering of Roman history. For example, Julius Caesar and Octavian came centuries after Romulus and Remus and were never proclaimed kings, as by their time trappings of monarchy had long been disliked in Roman political culture. Indeed, in devising a new political system in Rome, Octavian tried to avoid impressions that he was establishing a monarchy.
[xiv] Old Frisian text: tha thet was thet (lit. 'when it was that..').
[xv] Old Frisia: berg. Cf. Old English: beorg.
[xvi] The Old Frisian word order here places the verb before the subject on account of the adverb of time 'tha' ('then'). A similar construction occurs in Old English with the cognate adverb þa.
[xvii] Compound construction of preterite of hebba with a past participle.
[xviii] Old Frisian: folk. Cf. Old English: folc.
[xix] I have left the original Latin phrases untranslated in the text but will translate them here. The Latin here reads: 'Your God is the One'. This is not in fact the first commandment but comes from Deuteronomy 6:4. Cf. Vulgate text: audi Israhel, Dominus Deus noster Dominus unus est ('hear Israel, the Lord God our Lord is One').
[xx] Old Frisian: himulrikes and irthrikes (lit. 'the kingdom of Heaven and kingdom of Earth'). Cf. Old English: rice ('kingdom').
[xxi] Old Frisian text: skaltu. This is a contracted form combining skalt ('shall') with thu ('you'- sing./cf. Old English þu and Early Modern English thou).
[xxii] Old Frisian: other. Cf. Old English: oþer. In both languages, this ordinal is generally declined as a strong adjective (whereas other ordinals are generally declined as weak adjectives).
[xxiii] 'Do not take the name of your God in vain'. Cf. Vulgate Exodus 20:7: non adsumes nomen Domini Dei tui in vanum ('You shall not take the name of the Lord your God in vain'). Strictly speaking, 'assumas' in the text is incorrect here as that is a present subjunctive form that would have to be used with ne as a negative command. With non, a future indicative should be used. Also cf. Vulgate Deuteronomy 5:11: non usurpabis nomen Domini Dei tui frustra ('you shall not usurp the name of the Lord your God in vain').
[xxiv] The Old Frisian text contains the form 'send'ti': a contraction of send ('are'; cf. Old English sind) and thi (dative singular of second person singular pronoun; cf. Old English þe and Early Modern English thee).
[xxv] 'Sanctify the Sabbath day': cf. Vulgate Exodus 20:8: memento ut diem sabbati sanctifices ('remember to sanctify the Sabbath day'). Deuteronomy 5:14 clarifies that the Sabbath is the day of 'rest of the Lord of your God'.
[xxvi] 'Honour your father and your mother'. Cf. Vulgate Deuteronomy 5:16: Honora patrem tuum et matrem...ut longo vivas tempore ('Honour your father and mother...that you may live for a long time...').
[xxvii] Old Frisian: thettu, a contraction of thet and thu.
[xxviii] 'You shall not kill'. Cf. Vulgate Exodus 20:13 and Vulgate Deuteronomy 5:17.
[xxix] The Old Frisian text uses what can be called a double negative, though this construction does not negate the original negative. A similar construction is found in Old English.
[xxx] 'You shall not commit adultery'. Cf. Vulgate Exodus 20:14 and Vulgate Deuteronomy 5:18.
[xxxi] 'Do not commit theft'. On the Latin construction here, see the note on non assumas. Cf. Vulgate Exodus 20:15: furtum non facies ('you shall not commit theft'). Also cf. Vulgate Deuteronomy 5:19: furtumque non facies ('and you shall not commit theft').
[xxxii] 'You shall not speak false testimony'. The original Biblical texts (Exodus 20:16 and Deuteronomy 5:20) clarify that you should not bear false witness/testimony against your neighbour.
[xxxiii] 'You shall love the Lord your God from all your heart and your neighbour as yourself.'
[xxxiv] The original ninth and tenth commandments (depending on how you divide them) concern bearing false witness against one's neighbour and/or coveting various possessions of one's neighbour. The Old Frisian text follows Jesus' explanation that the command to love the Lord and the command to love one's neighbour as oneself are the two commands on which all the law and teachings of the prophets hang (Matthew 22:37-40).
[xxxv] Old Frisian: andere, a contraction of an (preposition) and there (definite article feminine singular genitive/dative).
[xxxvi] The subject is supplied here in translation. One can observe a similar construction in Old English.
[xxxvii] Tradition records that Moses died before reaching the Promised Land.