Kukanaya is a village located in north Idlib countryside and is a site of historical remains. The village is administered from the civilian side by a local council that is currently affiliated with the Hay'at Tahrir al-Sham-backed Salvation Government. The council consists of seven members and has the following offices:
- Relief office
- Services office
- Relations office
- Security office
- Education office
On 23 December 2019, I interviewed the head of the local council regarding the humanitarian and services situation in Kukanaya and how that situation has been impacted by the rise in the price of the dollar and the new waves of displacement on account of the recent Russian-backed military campaign launched in the Idlib area.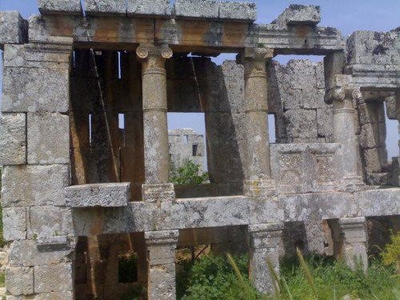 Q: What is the number of original inhabitants and what is the number of IDPs, and have new IDPs arrived on account of the bombing campaign upon Idlib?
A: The number of original inhabitants is 1500, and the number of IDPs 2000. There has arisen a great displacement on account of the current crisis.
Q: How is the electricity and water situation in the locality? And has the rise in the price of the dollar impacted on this situation? How exactly?
A: There is no electricity, and the residents rely on solar power and personal generators. Water: there is a water station in the village supported by the GOAL aid organization for expenses of operation and payment of workers and maintenance, so the situation has not been impacted by the dollar.
Q: The most important projects of the council recently?
A: There are no projects because of the lack of interest of the aid organizations in the village as it is small and the services offered by the GOAL aid organization are distribution of relief packages and supporting the water and bread.
Q: The biggest challenges from the realm of the services and humanitarian situation?
A: From the realm of the services situation the village is in need of much services, from the realm of education, sewage, medical services. The village is in need of an expansion project for the current school as it is small and does not have room for the current numbers on account of the displacement movement: the prior and current of course. Also the village needs health services: a clinic or medical point, as there is no medical service in the village. Our village is a mountainous village with a dry and harsh nature, in which there is no means of living except working outside the village in the neighbouring villages and towns. Therefore the village is in need of making available means of living and productive projects.