Throughout the war in Syria, various localities in the country have each offered a number of 'martyrs' (that is, people who have been killed in various circumstances, such as fighters killed on the frontlines and civilians killed in terrorist/insurgent attacks). For the purposes of recording history it is important in my view to document 'martyrs' locality by locality, and if possible write on their lives individually. After all, in these days when information is more readily accessible, the people who have died in the war should not be confined to mere abstract statistics on casualties.
At most of course I cannot document the 'martyrs' of every locality but only offer sample overviews. In this case I have decided to look at the locality of Arna in the Jabal al-Sheikh region in southwest Syria near the border with the Israeli-occupied Golan Heights. The locality's inhabitants are Druze and the locality is under the control of the Syrian government. Indeed, throughout the war, the locality has remained on the side of the Syrian government. The current number of inhabitants is around 5000-7000.
The office of Mu'assasat al-Wa'ad al-Sadiq ('The True Promise Foundation') in Arna and Jabal al-Sheikh- a branch of the foundation that concerns itself with the affairs of 'martyrs' and wounded on the Syrian government side- has provided a list of 'martyrs' from Arna during the war. This list includes the three-fold names of the 'martyrs', their place and year of birth and the place and date of 'martyrdom'. Note that the total number of 'martyrs' comes to 48 confirmed cases, with two additional people still deemed 'missing' (mafqudeen) and so their final status uncertain.
In subsequent posts I will try to document the lives of each of the listed 'martyrs'.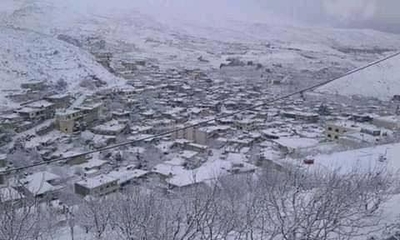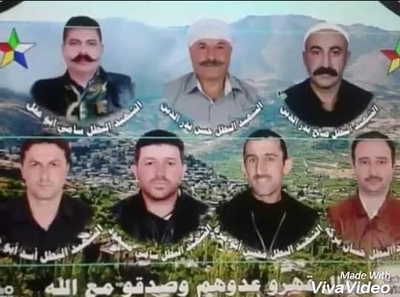 The list of Arna 'martyrs', though note that entries 46-50 I provide below are supplementary to this original document.
Number
Three-Fold Name
Place and Year of Birth
Place and Date of Martyrdom
1
Deyaa Muhammad Habous
Arna/ 1991
Idlib
16th April 2012
2
Isam Nabih Abu Aql
Arna/
1988
Homs
31st May 2012
3
Ismail Hamad Zagheeb
Arna/
1992
Homs
6th December 2012
4
Rakan Qasim Abu Mara
Arna/
1991
Homs
31st February 2013 [typo in original: presumably 21st February]
5
Faris Hassan Zagheeb
Arna/
1991
Homs
27th September 2013
6
Mohsen Saleem Abu Mara
Arna/
1976
Ain al-Sha'ara
6th October 2013
7
Faris Naqoula Shaheen
Arna/
1944
Damascus
18th October 2013
8
Hasan Saleh Baraka
Arna/
1974
Arna
4th November 2013
9
Sami Hassan Mas'oud
Arna/
1977
Arna
4th November 2013
10
Hassan Suleiman Badr al-Din
Arna/
1965
Arna
4th November 2013
11
Assad Hassan Abu Mara
Arna/
1978
Arna
4th November 2013
12
Saleh Muhammad Badr al-Din
Arna/
1964
Arna
4th November 2013
13
Sami Yusuf Abu Aql
Arna/
1964
Arna
4th November 2013
14
Osama Fandi Baraka
Arna/
1996
Arna
10th February
2014
15
Jameel Salman Abu Qays
Arna/
1985
Arna
14th February 2014
16
Salim Muhammad Abu Qays
Arna/
1990
Arna
14th February 2014
17
Tariq Ali Shamous
Arna/
1991
Arna
14th February 2014
18
Osama Khoza'ie Zagheeb
Arna/
1976
al-Quneitra
22nd February 2014
19
Salah Faris Badr al-Din
Arna/
1993
Aleppo
23rd March 2014
20
Shadi Tawfiq Badr al-Din
Arna/
1984
Deir al-Zor
6th May 2014
21
Hassan Abadi Kaboul
Arna/
1990
Idlib
25th May 2014
22
Waheeb Muhammad Zaydan
Arna/
1972
Arna
18th September 2014
23
Ameen Hassan Quraisha
Arna/
1987
Kafr Hawr
6th November 2014
24
Samer Saleh Zagheeb
Arna/
1978
Kafr Hawr
6th November 2014
25
Assad Hussein Abu Mara
Arna/
1977
Kafr Hawr
6th November 2014
26
Aqab Hussein Abu Mara
Arna/
1985
Kafr Hawr
6th November 2014
27
Fahad Hussein Abu Mara
Arna/
1981
Kafr Hawr
6th November 2014
28
Yahya Mahdi
Mas'oud
Arna/
1974
Kafr Hawr
6th November 2014
29
Maher Saqr Kaboul
Arna/
1981
Kafr Hawr
6th November 2014
30
Osama Salman Abu Mara
Arna/
1990
Kafr Hawr
6th November 2014
31
Shuqi Hamad Zagheeb
Arna/
1979
Kafr Hawr
6th November 2014
32
Nawad Hamas Zagheeb
Arna/
1986
Kafr Hawr
6th November 2014
33
Abdullah Munir Zagheeb
Arna/
1995
Kafr Hawr
6th November 2014
34
Salama Sa'eed Zagheeb
Arna/
1976
Kafr Hawr
6th November 2014
35
Sami Ahmad Badr al-Din
Arna/
1970
Kafr Hawr
6th November 2014
36
Suleiman Ahmad Badr al-Din
Arna/
1972
Kafr Hawr
6th November 2014
37
Rami Salman Badr al-Din
Arna/
1989
Kafr Hawr
6th November 2014
38
Muhammad Saleem Abu Mara
Arna/
1980
Kafr Hawr
6th November 2014
39
Nabeel Kanaj Abu Zayd
Arna/
1973
Kafr Hawr
6th November 2014
40
Tayseer Mustafa Zagheeb
Arna/
1971
al-Quneitra
6th March 2015
41

Adnan Sa'eed Abu Mara

Arna/
(lacuna)
Hama
19th April 2015
42
Shareef Majid Abu Mara
Arna/
1992
Deir az-Zor
29th April 2015
43
Wisam Tawfiq Badr al-Din
Arna/
(lacuna)
3rd May 2015
44
Faris Saleem Kaboul
Arna/
(lacuna)
Arna
17th May 2015
45
Salman Mahmoud Baraka
Arna/
1980
Arna
17th May 2015
46
Jameel Hamad Zagheeb
Arna/
(lacuna)
Arna
28th February 2017
47
Mahmoud Khoza'ie Zagheeb
Arna/
(lacuna)
Arna
28th February 2017

48
Suhail Mustafa Zagheeb
Arna/
(lacuna)
Arna
3rd November 2017
49
Maher Saleem Zagheeb
Arna/
(lacuna)
Missing status
50
Muhammad Hussein Abu Aql

Arna/
(lacuna)

Missing status