The town of Harem is located in north Idlib countryside near the border with Turkey and is presently under insurgent control. From the civilian angle, the town is administered by a town council that is currently affiliated with the Hay'at Tahrir al-Sham-backed Salvation Government.
To learn more about the situation in Harem, I conducted an interview with the town council's media on 23 December 2019. Any parenthetical insertions in square brackets are my own.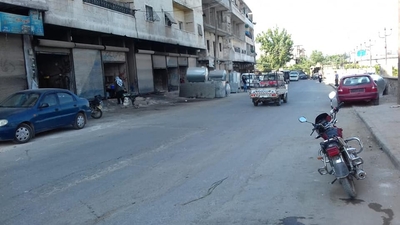 Q: What is the number of original inhabitants in the town of Harem and the number of IDPs in it currently?
A: The number of original inhabitants is currently 50,000: of course the majority of them also are of the origin of the land, but there are IDPs from a number of towns like Aleppo, al-Sham [Damascus] and Homs. The number of IDPs is around 35,000.
Q: What is the number of members of the council and its main offices?
A: The council in Harem embodies a town council and municipal office. There are eight main offices in it: the cleaning office, the technical office, the relief office, the financial office, the services office, the veterinary office, administrative affairs and the police office.
Q: How is the services and humanitarian situation in general?
A: The services situation is fine or below average because of the lack of availability of financial resources for projects. The humanitarian situation is difficult currently on account of the increase of the number of IDP brothers coming to the town, and the lack of ability of the council to secure them residence and refuge in light of the absence of work of the humanitarian aid organisations and emergency programs.
Q: For how many hours are the generators in the town operated currently?
A: The generators are operated for a period of two hours only on account of the expensiveness of the mazout substance.
Q: From where does the water come?
A: As for the water, it is support by the GOAL aid organisation. And it is extracted from springs [/sources] present in the town through operating stations, at an average of one day every week.
Q: What are the most important projects of the council recently?
A: There are no projects currently because of the lack of availability of money.
Q: What are the biggest challenges? Have the rise of the price of the dollar and the new campaign upon Idlib impacted the services and humanitarian situation in Harem? How exactly?
A: The challenges in the work of the council: the most important of them material and it is on account of the great size of the work entailed and the resources are few. Of course the rise of the prices of the dollar has negatively impacted the services and humanitarian situation, and that is because necessities are bought in dollars and the council's income is in [Syrian] pounds.